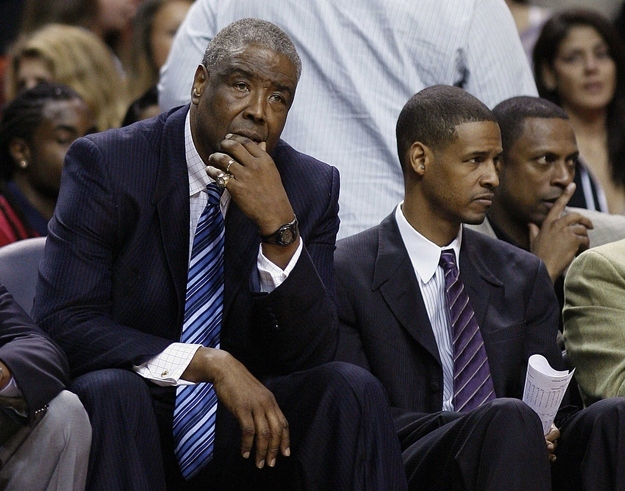 Last season Paul Silas coached the worst team in NBA history, so it's probably fair to say that he's not getting the Laker job recently vacated by Mike Brown. Actually that doesn't go far enough. Mitt Romney has a better chance of getting the Laker job than Paul Silas, and I'm pretty sure he calls the game "basketballs." But let's settle one thing in the shadow of the wreckage that is Mike Brown's coaching career: Paul Silas is the anti-Mike Brown, which is to say he's a good coach who has simply had bad luck.
Silas has worked his ass off for 20+ years as a coach and has yet to have had the fortune of coaching a half-decent NBA roster. If you had to pick the best team Silas has ever coached (talent-wise), you'd end up looking at a three way fight between the 1980-81 San Diego Clippers (Freeman Williams, Phil Smith, Swen Nater, and Jellybean Bryant), the 2000-2001 New Orleans Hornets (Jamal Mashburn, David Wesley, Elden Campbell, and Baron Davis), and the 2004-2005 Cavaliers (second-year LeBron James, Zydrunas Ilgauskas, Drew Gooden, and Jeff McInnis). Woof. Obviously LeBron is one of the greatest players of all time, but that is an ugly looking supporting cast, and I didn't even mention Ira Newble and Robert "Tractor" Traylor's presence on that squad. When he was fired by Cleveland halfway through the 2004-2005 season (while the Cavs were on their way to their first winning record in seven years by the way), it was partially over his butting heads with LeBron James. Dan Gilbert had recently taken over the team when Silas was canned, and the coach left saying that Cleveland would regret the way they babied LeBron and his friends. How much do you want to bet Gilbert wishes he listened? Silas should have gotten to coach those Cavs teams while they competed for a title. Instead? His next job was with a Bobcats team with so little talent that a coaching staff led by Phil Jackson, Red Auerbach, and Jesus (a noted zone-defense expert) couldn't have led them to 10 wins.
I'm not saying Silas is a genius, but maybe in a few years someone will be willing to give him a chance. It'd be a shame if this press conference was one of the last acts of his coaching career.