【重要単語・表現】
be scarred: 傷を受ける
no pun intended: しゃれではなく
upbringing: 生い立ち
hang in there: 頑張れ、へこたれないで
If you're a child of the '90s, it's safe to say you were scarred — no pun intended — by that scene in The Lion King in which Scar throws Mufasa off a cliff.
Well, a new generation of children are now suffering through that scene — and one little girl's reaction has the internet rolling.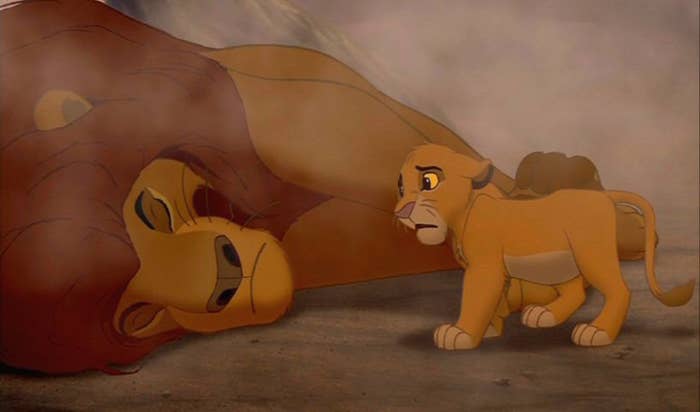 It all started when a father named Ray filmed his two-year-old daughter Bella absolutely LOSING IT as she watched the scene for the very first time — arms flailing, running in place, full-blown screaming...she even got so invested that she dropped her teddy bear.
Ray's video ended up on Twitter, where user @AsvpYammison shared it with the comment: "Everyone has to go through it, sweetheart."
That tweet went insanely viral, with almost 300,000 favs — presumably all from '90s kid who have been through the exact same trauma.
Some reflected on how watching that scene was a crucial part of their upbringing.
Others lost it at the moment where she let go of her teddy bear.
Many parents took the opportunity to share videos of their own kids suffering through the horror.
"I was trying not to laugh," Ray told BuzzFeed of the whole ordeal. "But it brought me back to when I was a kid seeing that scene for the first time."
And when asked what he thought of his daughter's viral fame, Ray's answer was pretty adorable:
I don't have Twitter, but a lot of my friends were showing me. [My] first reaction was shock. But my daughter is so full of life, so I'm glad people can see what I'm blessed with.
Hang in there, Bella! It's all gonna be okay.
【日本語要約】
ディズニー映画『ライオン・キング』を見たことがある人なら誰でも覚えているであろう、あのトラウマ的なシーン。
シンバの父・ムファサが、悪役スカーによって崖から落とされる場面である。
映画公開当時、子供ながらにこのシーンを見て傷ついた人は少なからずいるだろうが、ある女の子が同シーンを見た反応がツイッター上で話題になっている。
彼女がテレビを見ながら悲嘆する様子を収めた動画投稿には「みんが通る道だね」など多くのコメントが寄せられた。