1.
Jess Hatzis, Bree Johnson, and Erika Geraerts, Frank Body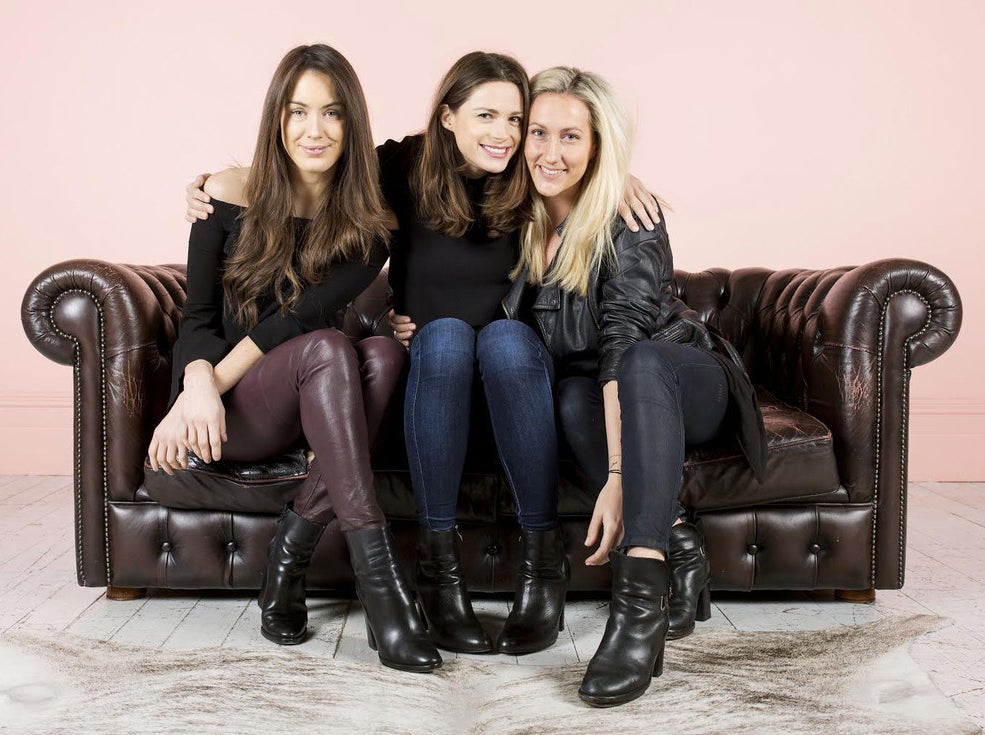 You know those naked coffee-covered selfies all over your Instagram? You've got these women to thank for them. Jess Hatzis, Bree Johnson, and Erika Geraerts co-founded Frank Body in 2013. What started out as a humble coffee scrub has grown into a full range of skincare products, promoted mostly through (unpaid) Instagram. They sell one body scrub every 40 seconds (that's like two while you read this) and the business is expected to exceed $20 million in revenue this year. Join their 660K+ Instagram followers @frank_bod.
Bellabox, a subscription-based beauty box, delivers samples of beauty products right to your door. It's the brainchild of twin sisters Sarah and Emily Hamilton. Based in Melbourne, Bellabox employs 15 staff members, currently has over 40,000 members and has raised $7 million from investors.
3.
Melanie Perkins, Canva
Melanie Perkins has always had an entrepreneurial spirit. At the age of 19 she launched a yearbook software called Fusion Books, which eventually sparked the idea for Canva, an easy-to-use graphic design software that allows anyone to create beautiful designs. Canva, of which Perkins is co-founder and CEO, now employs 80 people, has 7 million users, and was recently valued at $230 million (US $165 million). Oh, and she's only 28.
Kate Kendall started out as a business journalist and editor, but now her investor-backed startup CloudPeeps takes up most (OK, all) of her time. An online talent marketplace, CloudPeeps helps businesses find and work with freelance marketing, content, and community professionals. Kendall was named one of the most influential Australian entrepreneurs on Twitter, and if she weren't CEO of CloudPeeps, she'd be using it.
According to co-founder and Creative Director Nicole Eckels, Glasshouse Fragrances was born in 2006 "out of necessity". After buying a candle that didn't have any scent (the WORST) she noticed a gap in the market between high-end imported brands and cheap non-fragrance candles. When she started out she had no knowledge in candle-making, by that didn't stop her building a $50 million business from it.
Founder and editor-In-chief of Collective Hub, Lisa Messenger is queen of the "let's just jump in" approach to business. She started her own marketing and book publishing company and in 2013 launched a print magazine. The Collective magazine has defied trends in the declining print industry, and is currently sold in over 30 countries. Did we mention she's written 14 books too?
Simone Eyles is proof that it doesn't matter where you live; all you need is an idea and the drive to make it happen. Hailing from the regional NSW town of Wagga Wagga, Eyles co-founded 365cups – an app that lets you order and pay for your coffee remotely, so it's ready when you arrive at the café. A graphic designer by trade, Eyles had no prior experience running a business. But she didn't let that – or geography – stop her.
It's not that Modi Song and Melissa Lee disliked their jobs. But while working in corporate finance together, they spotted an opportunity: bespoke tailored clothing for business professionals with an affordable price tag. That's when they co-founded Joe Button. It started out as an online retailer, but they've since built a showroom in Sydney, and last year the business reported a turnover of over $1 million.
Fed up with eating subpar soggy salads from Sydney's CBD cafés for lunch, Linda Ellis decided to do something about it. So she quit her corporate job and founded Lunch Lady Lou, a healthy lunch delivery service for professionals in Sydney.
Driven by her own frustration of not being able to find shoes she really loved, in 2009 Jodie Fox co-founded Shoes of Prey, an online store that lets you fully customise shoes. After years of continued growth, the company has set up retail stores in both Sydney and the US. Fox was named one of Smart Company's Eight Entrepreneurs to Watch in 2015 and is a firm believer in doing things before you're ready – a mantra we can totally get behind.
Nahji Chu and her family came to Australia as refugees from Vietnam in 1978. She first started misschu in 2007 as a catering business, working out of her home kitchen. Chu has become a pioneer in Australia's street food scene over the years, and misschu now has seven tuck shop locations across Melbourne and Sydney. Our stomachs are forever grateful.
Both full-time lawyers, Alyce Tran and Tania Liu wanted a way to make desk life more interesting. That's when the idea for The Daily Edited, a range of monogrammed leather goods, first came about. Since launching last September, the pair have both quit their corporate jobs to focus on the startup and now receive over 100 orders per day.
Jennifer Lawrence plays Joy Mangano, the self-made woman who rose to become the matriarch of a billion-dollar empire, which began with her breakthrough invention, the Miracle Mop. Discover her inspiring story when Joy hits cinemas this Boxing Day.