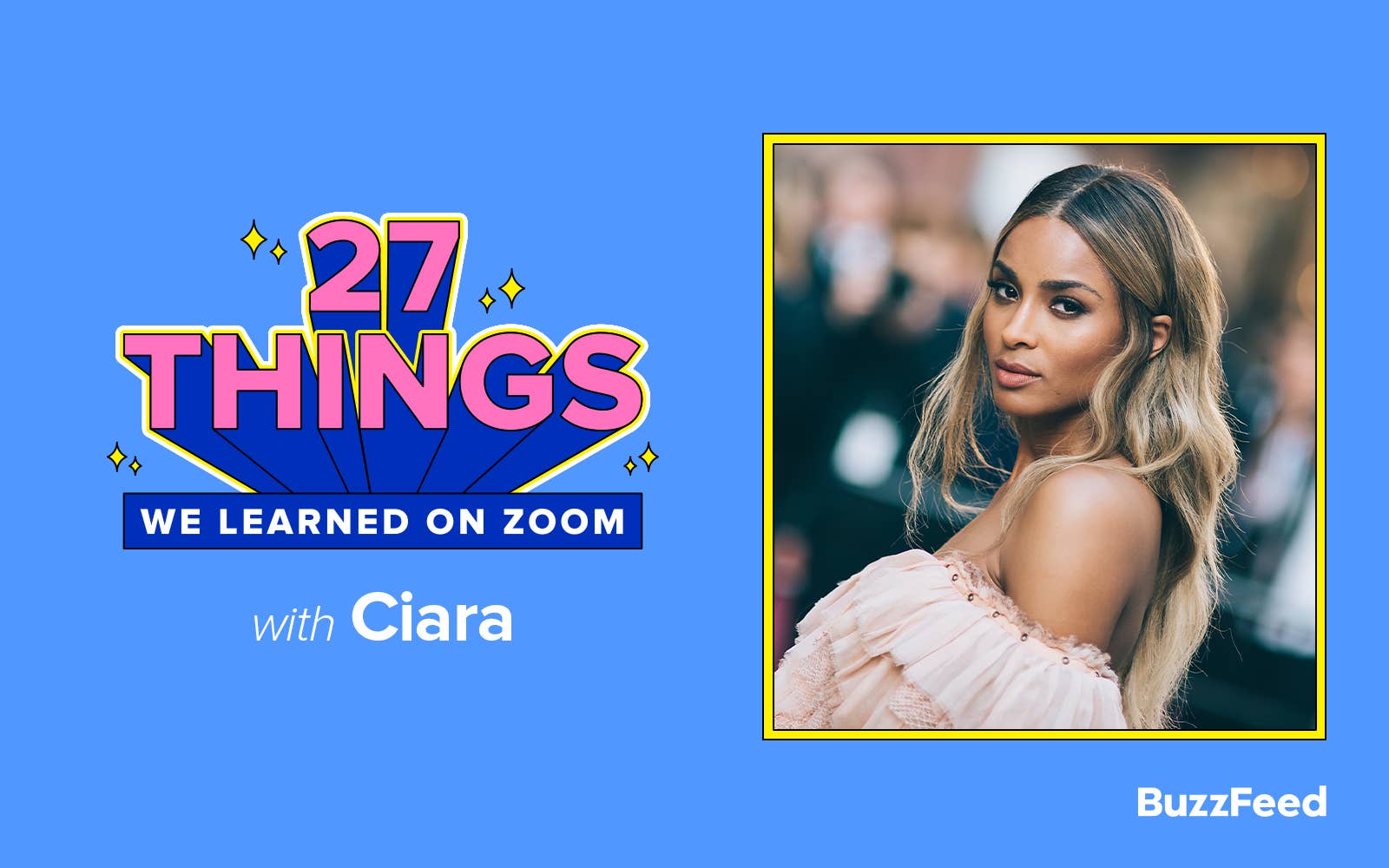 Ciara has been dominating the music industry ever since she released her 2004 bop "Goodies" featuring Petey Pablo. With a Grammy and multiple BET Awards and MTV Video Music Awards under her belt, the multi-platinum artist has proven that she knows how to make a smash hit. In fact, Ciara describes her music as something that will "make you want to dance" with a "mean head bop." And honestly, I can't say she's wrong!
But after finding so much success in Hollywood, Ciara has focused her energy on a new challenge — motherhood. The "Rooted" singer has a beautiful family with husband and NFL player Russell Wilson. Together, they look after their two kids, Sienna and Win, and Ciara's first son, Future, whom she shares with her ex-boyfriend. With Father's Day right around the corner, the Atlanta native has a lot in store for her hubby, so we sat down with her to discuss her family, her romance with Russell, and her exciting plans for the future!
1. Last year, you welcomed your son, Win, during the height of the coronavirus pandemic. What was that experience like?
That experience was obviously very memorable. It's always memorable when you give birth, but there were many things that I never experienced before — whether it was going to my first ultrasound without Russ, without my husband, that was very unique. Seeing the same four walls every day made my pregnancy seem much longer than the norm. Also, giving birth with the mask on my face was like, "What the heck?" It was so surreal that was happening in that moment. But I guess the cool thing about the pandemic — having had different challenges thrown my way — was [learning] I'm good for all of this. I'm built for anything thrown my way. You know, I'm battle tested. That's what I felt like after I got through that phase and we're still getting through it. It's definitely getting a little better, but I know that there's nothing you can throw this mama's way that she ain't going to figure out.
2. Is that part of the reason you decided to partner with All Good Diapers?
What [I] really love about All Good is their mission to impact [people]. When you buy a box of diapers at Walmart, you are also in that same moment donating a day's worth of diapers to a family in need through Feeding America. The actual product itself is really great [too]. My son Win has been sleeping through the night now. When he wakes up, there's no spillover. [All Good has] good leak coverage and leak protection, so it's an amazing diaper all around. The ultimate goal is to donate 10 million diapers by the end of this year. So I'm excited. Let's go!
3. You have three very beautiful children. How are they all different from one another?
Let's start with Future. Future is super charismatic. I'll say that actually all of my babies are energetic and charismatic. Future is very headstrong, he's very opinionated and very smart. He loves to read and he's also very sweet. He's got this little sweet spirit about him. It's magnetic. When he's in the room, the room is brighter. Sienna, when she's in the room, the room is lit! It's definitely brighter. She is a fire power! This girl right here, she's going to run some things. She's going to run the world. She's sassy, vocal, expressive, and loving too. I can tell that she and I are going to be super close and she's also very smart. The way that she digests things that you say to her and the way that she spits it back out to you is just special, so they're doing really well. And then Win, obviously he's a baby. He's 10 months going on 10 years old. He has a lot of energy, he is very strong and he's talking now already. He says, "Come on." He says very cute things and I'm just so curious to see where he's going to land because he has the most energy that I've seen from all the babies so far at this age, so I'm just curious to see what he's going to be doing too, but he's awesome. He's so sweet.

4. What's the most surprising thing you had to learn after becoming a mom?

I feel I've been a pretty patient person in life in general, but you're definitely going to have a lot of patience after having kids because they throw you every curveball you could imagine and sometimes they throw you a curveball every hour of the day. So you've got to have patience. I feel like I've learned that there's so much more to life through my kids than the things that I was focused on before having them. And really, it's just the simple things. Just being able to love one another and spend time with each other is invaluable, so I think my kids have really put that into perspective for me. Just by seeing how their faces light up when we spend time together and seeing how they get excited by the simple things kind of just resets things and puts things back into perspective. I can live young through them and that's also really sweet as well.
5. What are your children's and Russell Wilson's favorite song of yours?

My kids, they do love "Level Up." They also love the classic "Goodies" and "1, 2 Step" as well. It's funny because my song "Got Me Good" has been blowing up on TikTok and Sienna was like, "My back is aching, my bra's too tight." I'm not saying the guys don't like singing that song as much as she does, but I think that "Level Up" was definitely a good jam for us. Future actually pulled a trick on me with "Level Up." He was getting in trouble with me one day when we were at the mall and I said, "Future, five, four, three." Then he said, "two, one, level up, level up!" I was like, "Really?! I really want to get you, but I have to laugh right now."

6. What's one thing you love to do with your family that will never get old?

Dancing. I love dancing with my family. It's always fun and that will never, never get old. Also, we love playing sports in the house.

7. What do you want your kids to learn from you and Russell's romance?
Love is real. Love is powerful. We always keep Jesus at the center of it all, and I hope that they look at us and see the right way to love one another. I hope Sienna sees how a man should love her and that the boys see how men should love women.

8. Father's Day is coming up. How do you plan on celebrating it with Russell?
We do have plans, but if I told you the plans then everybody would know, so I can't tell you [Laughs], but I'm excited. I'm looking forward to it. I just feel good because I have my plans together. Typically, it takes [the most] time to think of the plan. I hope that Russ feels as loved as much as he makes me feel. That's always my goal, for him to know just how amazing of a father he is, so that's the ultimate goal.
9. What does a typical Friday night look like for you guys?

Friday night is date night for us in our house, and we're sticklers about it. It only changes if his schedule goes in one direction and mine goes in another, but we pretty much make it happen or we'll shift to another day in the week. So for date night, we'll go to a nice restaurant that we like or we may have dinner at home, like a nice candlelit dinner. And then if we're really feeling good and we got that sweet tooth, then we'll go get dessert after and then we'll come home and watch a show that we really like together.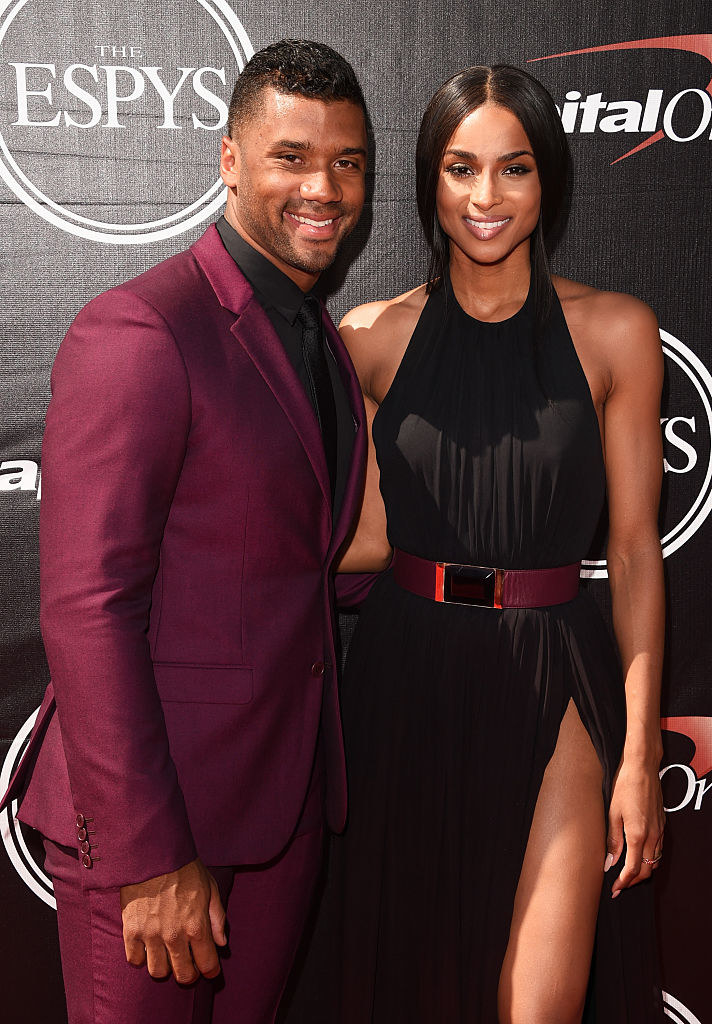 10. What's one quality you grew to love about Russell?
I love his confidence. He's just so confident and anything that he puts his mind to, he goes after it and he gets it done. I admire that about him. I also admire his consistency. He's consistent in everything that he does, so it's pretty special to see.

11. You're a great performer! Do you have a ritual that you like to do before going onstage?

Yeah, I do the same things. I always stretch and I listen to calming music. Sometimes it's energetic, but I like to kind of be calm because it's about to get turnt up. I also pray with my team and I like to drink hot tea as well.

12. Have you ever had any crazy fan experiences?
Yes. I've seen a guy in Brazil and I've seen a girl in Australia with [my face] tattooed on them. I just think that's trippy. For someone to tattoo a face of someone on their body is really deep, like that's really special. That's a superfan to the highest level, so to see that is kind of trippy sometimes.
13. When did you know that you wanted to become a singer?
Ever since I saw Michael Jackson on the TV screen. I remember seeing him smiling [while performing] and thinking that I'm going to do that one day.

14. What was your childhood like?
My childhood was definitely eventful. I loved dancing. I loved laughing. I definitely was a silly girl growing up. I was always very playful and very joyful. I traveled around a bit because I was a military baby. I do want Wikipedia to fix this fact because I was born in Fort Hood, Texas, not Austin, Texas. But nonetheless, I was born in Fort Hood, Texas. I'm obviously from Atlanta, Georgia. That's where I'm from, but in the midst of it all, I lived in Giessen, Germany. I also lived in Madera, California, because my father was in the Army, my mother was in the Air Force. It was really cool being able to have those moments of traveling the world because I really believed that it influenced who I was and who I am today. It made me prepared for everything that I ended up doing in my life.
15. Was there ever a point in your career that you thought about giving up?
That's a good question. I don't know about giving up, because I just don't like the idea of quitting. I'd have to be in a certain place to think that way. There have been times where I questioned: What's going to be my next step, what exactly do I want to do? But giving up is not an option for me. That's just a rule that I have. It's like OK, should I divert and figure out a different plan whenever I'm facing a challenge in a certain situation, but I'm committed to not giving up. It's one thing if you fail at something, but you get back up and try again, right? But to give up, that to me feels like failure.

16. What's one thing you wished you knew about the music business before you started your career?
I think the thing is that when you're young — I was really young when I started in this — is that you kind of walk in with your heart on your sleeve and you just can't do that. In business, there are no emotions. It's all gray. It's black or it's white as far as the technicals go. And once I learned that, it was game-changing because I stopped taking things personally. I realized that it was business. Those are things that you learn along the way, especially as a businesswoman and running my own companies and being in control of it all. You have to make the best decisions, you have to make rational decisions and you can't let your emotions affect those decisions that you make.

17. Are there any songs that you get tired of singing?
Sometimes my own songs [Laughs], but not really. I mean, it has to be a song that someone keeps singing like "Baby Shark." That song after a while it's like no, no. I don't even think Win has heard that song yet and I don't think he's going to hear it. [Laughs]

18. Are you working on any upcoming projects?
You know this! And I'm excited. I've definitely been brewing and stewing up some stuff over here and I can't wait to give it to my fans. I've been saying it's my mission to turn your lip up when you listen to my record. I want you to turn your lip up the whole time. I want you to have a mean head bop. I want that bass to hit you and I want it to make you want to dance. That's my mission.

19. Are there any new R&B artists that you would want to work with?
Snoh Aalegra! She's amazing. I love Alina Baraz as well and Sabrina Claudio. There are some songs from all these girls that I love, and it'd be cool to work with all of them. I think it would be super dope to do something with Lil Baby. He's not an R&B artist, but he's just super dope. I've always wanted to work with Bruno [Mars]. He's not new, but I always thought it would be super cool to work together.

20. Is there anything about your life that you wish you could change?
No, but if I could I would be younger.
21. What's the best piece of advice you've ever gotten?
Sometimes in business, you have to play the game to change the game. That's been good advice for me.

22. What's your favorite karaoke song?
[Sings] "A scrub is a guy who thinks he's fly… I don't want no scrub. A scrub is a guy who can't get no love from me." That's a good little sing back moment.
23. Who's the most famous contact you have in your phone?
Most famous? That's kind of tricky. I feel like that's awkward to answer [Laughs]. Let's just say it's someone I really respect and she is like a big sister to me.
24. When was the first time that you realized you were famous?
The first time that I heard my song "Goodies" on the radio. I was driving through the drive-thru and my song was on Hot 107.9. My song was bumping and they were hyping it up when they were introducing it. I was like, "Wow that's me. This is crazy," and I think I started crying. My eyes started to tear.

25. What's the best thing that happened to you in 2021?
Well, there's been a couple of really good things. We're not there yet, but Russ and I are about to [celebrate] our fifth year anniversary, which is really cool and our kids are having their birthdays and it's pretty amazing and magical.

26. Which one of your music videos was the most fun to create?

That's a hard question! You know, I really loved doing "Lose Control" with Missy Elliott. It's actually her song. It's our song together. That was really crazy. That was really trippy. Obviously, having her on-set with me for "1, 2 Step" was really special and magical. "Level Up" was really fun too. I flew to New Zealand to do that video and I worked with Parris Goebel and her dancers there and we really were like beasty about it. I learned the routine in like 48 hours and we turned around and shot the video like really late at night at this really cool museum there. It was really simple but really fun. I loved the routine we were doing as well and it also marked a very special moment in my career because it was my first single that I put under my new label imprint, Beauty Marks Entertainment, so that will forever be very meaningful and special to me, especially knowing what the song "Level Up" meant to me. That was a tough one to answer though. I don't have just one.
27. Lastly, is there anything left on your bucket list that you still want to achieve?
Yeah, for sure! I've always said that it's one of my ultimate goals to become a billionaire and I still believe in that goal and that dream. And my greatest mission is to impact [others] through it all, so that's always going to be at the forefront of everything that I do. I have a why-not-you attitude, so I'm like, why not? But I'd love to do some more acting. There are places that I want to travel to. I haven't traveled to India. I want to go to India. I want to go to the Giraffe Manor one day. I want to eat with the giraffes. There are so many things that I want to do. I can go on and on and on, but it all skews from business to some cool personal things that I want to do for myself to feed my soul.
Thanks for chatting with us, Ciara! Be sure to follow her and her partnership with All Good Diapers. They're aiming to donate up to 10 million diapers to babies in need by the end of 2021. You can learn more about their mission here.