Charlize loves to spend quality time with her children, Jackson and August.
Yesterday, the mom of two gave her glam squad a break when she had one of her kids give her a makeover.
"To every makeup artist out there... watch out, you've got competition!" Charlize captioned the photo.
In the snap, the "Bombshell" actor wore some bright lipstick, eyeshadow, blush, and a touch of mascara.
"Please don't fire me!!," celebrity makeup artist Kate Lee adorably commented.
As for the rest of Charlize's fans, they couldn't get enough of the actor's new look.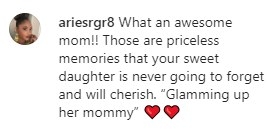 The next time Charlize has to get ready for a Zoom appearance, her new glam squad will be ready!