On Tuesday the Australian government joined the United States and Europe in expelling two Russian diplomats it believed to be operating as spies in Australia.
Russia denies they are spies, but prime minister Malcolm Turnbull and foreign minister Julie Bishop have ordered the pair and their families to leave Australia in the next week.
The expulsions are in reaction to the alleged poisoning of ex–Russian spy Sergei Skripal and his daughter, Yulia, in Salisbury, England, in early March.
Cut to Russia's ambassador to Australia, Grigory Logvinov, who decided to hold a marathon press conference in Canberra on Thursday in the Russian Embassy. It was a wild ride that quickly morphed into a pantomime. These are the highlights: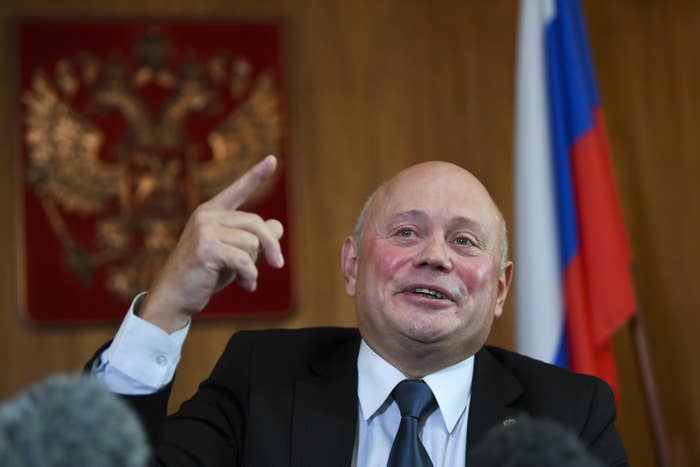 Logvinov said there were absolutely, 100%, zero Russian spies in Australia, punch buggy no returns.
He said the two people expelled from Australia were NOT spies, but were "ordinary diplomats".
"They are absolutely legal career diplomats," he said. "We were strongly opposed when people, without any arguments, without any evidence, called them spies. OK, if I have said we have expelled 23 British spies out of Moscow, would the Brits agree?"
He said it was all a conspiracy.
"Very rude, very primitive and incompetent provocation ... orchestrated by Britain, but I guess coordinated and agreed to by the US," he told the gathered journalists.

He said the "spyish" looking women that were snapped by the Australian newspaper outside the embassy were NOT SPIES, but an accountant, the wife of the cook, and, ah, someone else.
"It is very funny," he said. "On the second issue of today's Australian, you see a guy, very spyish looking – it's actually a driver of the embassy. You see three women, very spyish – one is chief account, the second is wife of the cook, and the third, I don't remember."
And the two men with their faces covered? Nope, absolutely not spies either. They're technicians.
"My chief councillor had interviews with support staff concerning visas and inviting relatives and so on," Logvinov said. "They were photographed after leaving the meeting. That is why they were covering faces.

"Furthermore, they are simple technical staff, drivers, electricians, people doing the water supply, and so on. Because, the embassy, you know, it's small, but quite an old building in poor, poor status, poor situation. It needs permanent repair. That is why we need this technical support staff."
Zero spies minus zero spies is still zero spies!!!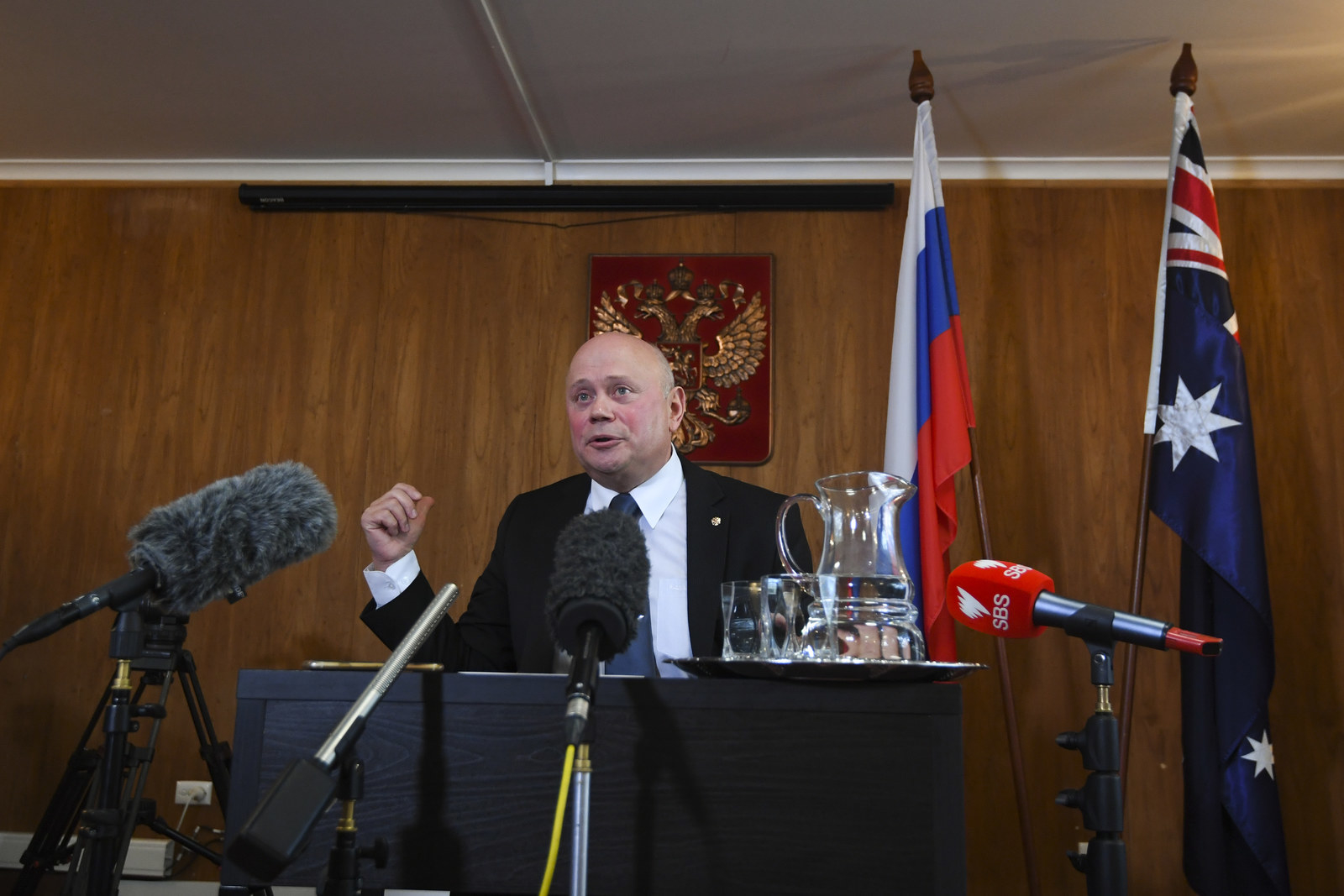 Q: How many spies are left in Australia?

A: Zero minus zero is still zero. The Foreign Ministry is working on different options, to be reported to the president, and the president will take a decision. Once again, Lavrov, the foreign minister – he says the behaviour, boorish, will be retaliated.

Then someone asked him if he realised how "stupid" he sounded for claiming there were no Russian spies.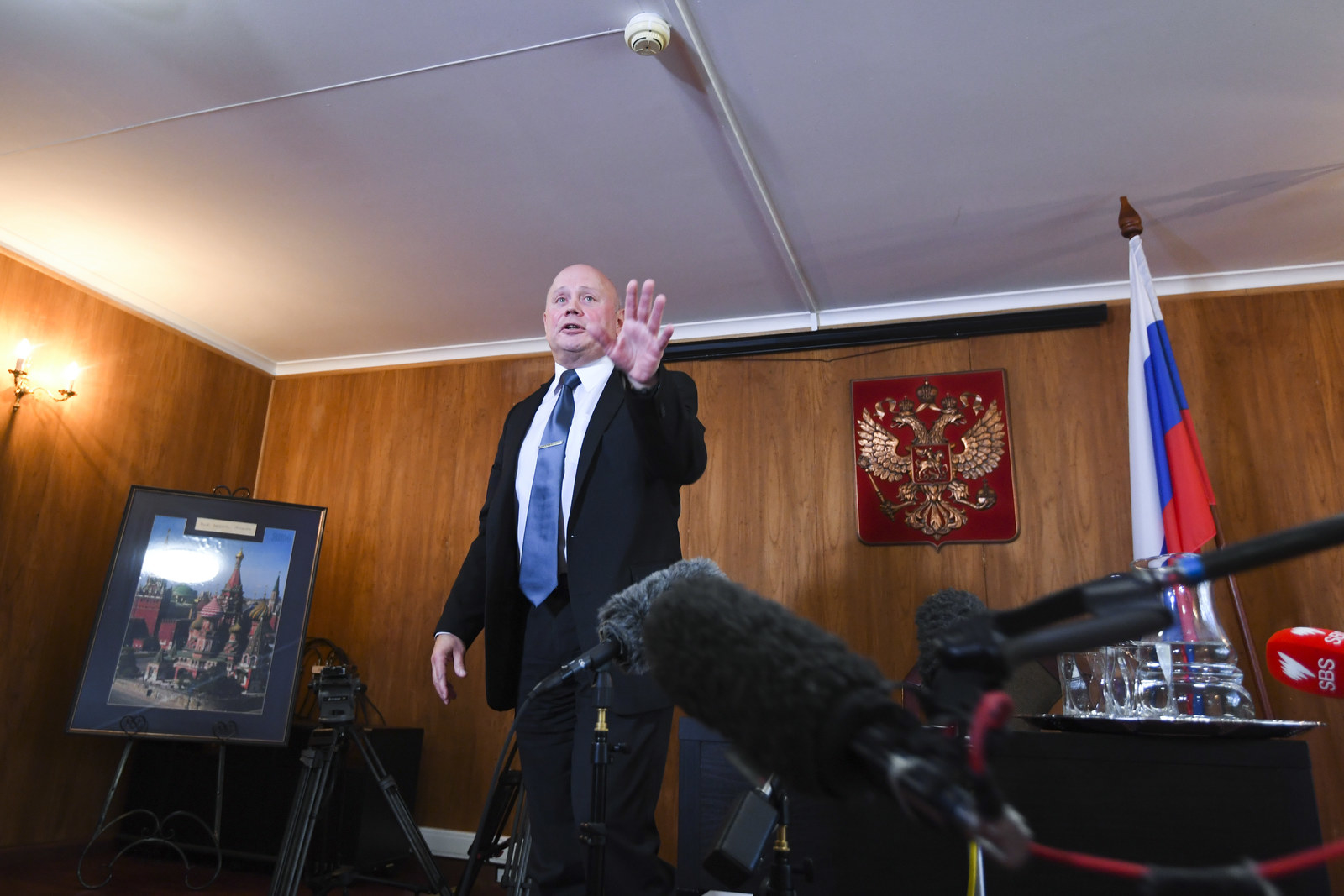 Q: Do you realise how stupid you sound when you say there are no Russian spies in Australia?
A: I do not feel stupid. I know what I am saying.
But he wouldn't say whether Russia would retaliate by expelling Australians from Moscow.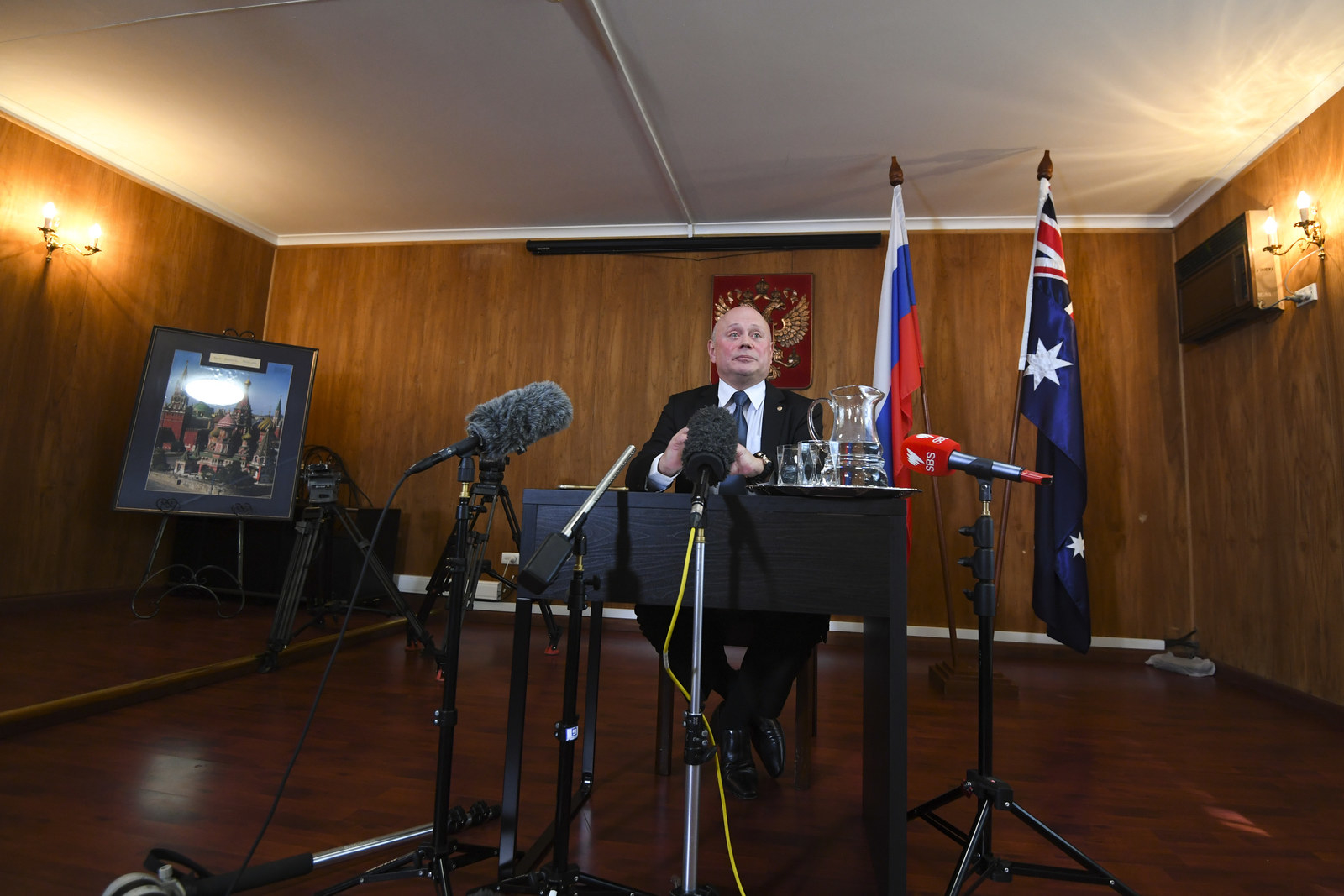 "The final decision is taken by the president or the Russian Federation. The USA already said the embassy of Russia is working on different and relevant options which would be reported to the president and the president would make a final decision."
When asked if he thought it was inevitable that Australian diplomats would be expelled, he replied: "I am not a god; I don't know the final decision. I will mention only it is a traditional process."
Logvinov said Russian embassy staff need protection by the Australian police.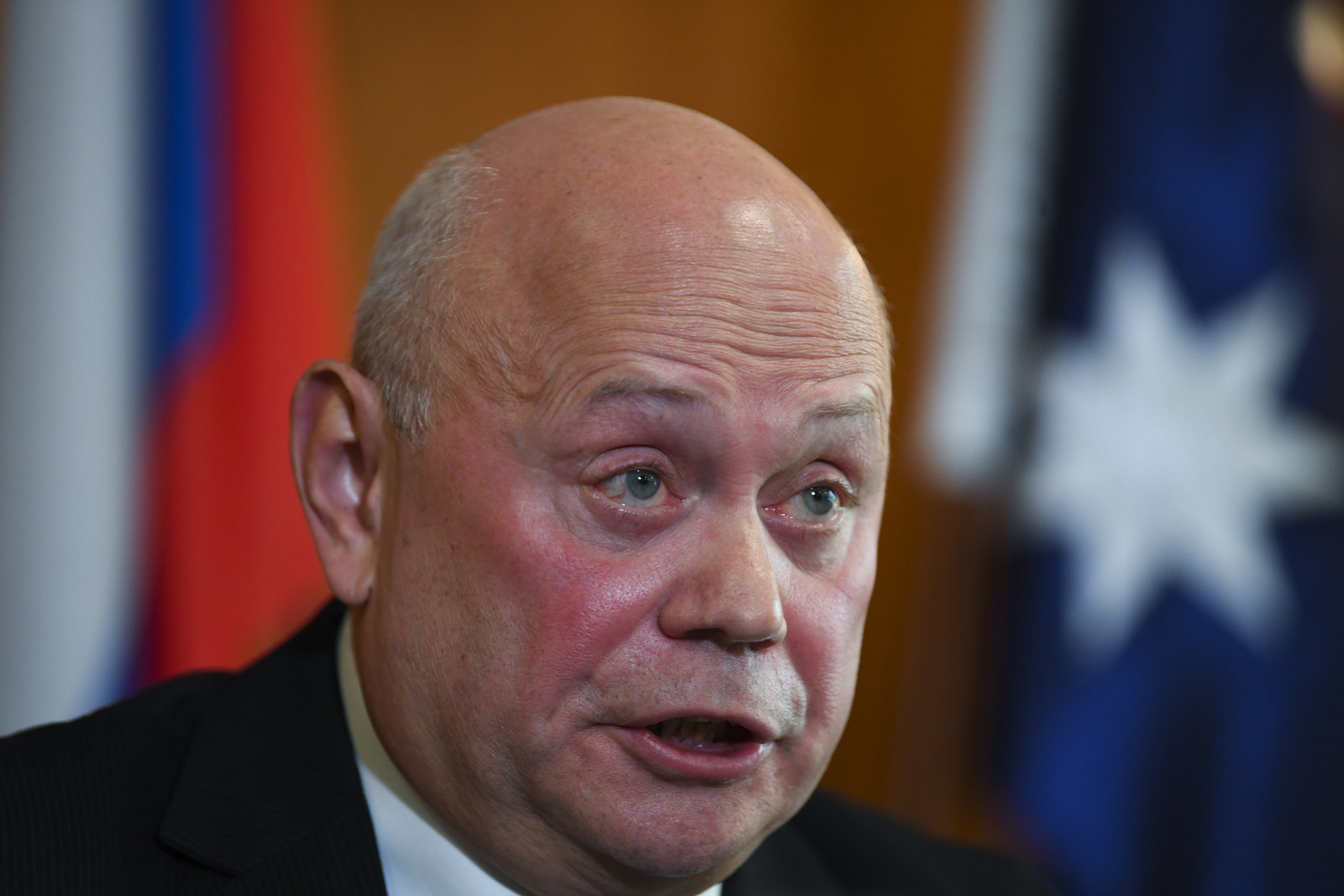 Q: Do you need it?
A: Well, actually, yes.
Q: Why?
A: Why? That is an interesting question. Ask the Americans why they ask for protection agencies and why your Federal Police, they do not have a stationary point there. 24/7, watching in two cars, the American Embassy. Ask why they need such tough security.
He said there were a "couple of cases" of inappropriate behaviour by the government towards Russian Embassy staff, but he refused to elaborate because "[they] agreed not to make any noise of it".
And that staff in the Russian Embassy in Washington have cancer from the machinery the US put outside the building.
"Come to our embassy, for example, in Russia, and see how we have been surrounded [by] certain machinery and appliances and check it in our embassy in Washington, DC, and do you know, I can tell you, a lot of people who spent a long time in Washington got cancer caused by the radiation."
Logvinov claimed there was still "no evidence" Russia was behind the poisoning of the former spy and his daughter, and that it might be a big conspiracy between the US and the UK (but NOT Australia).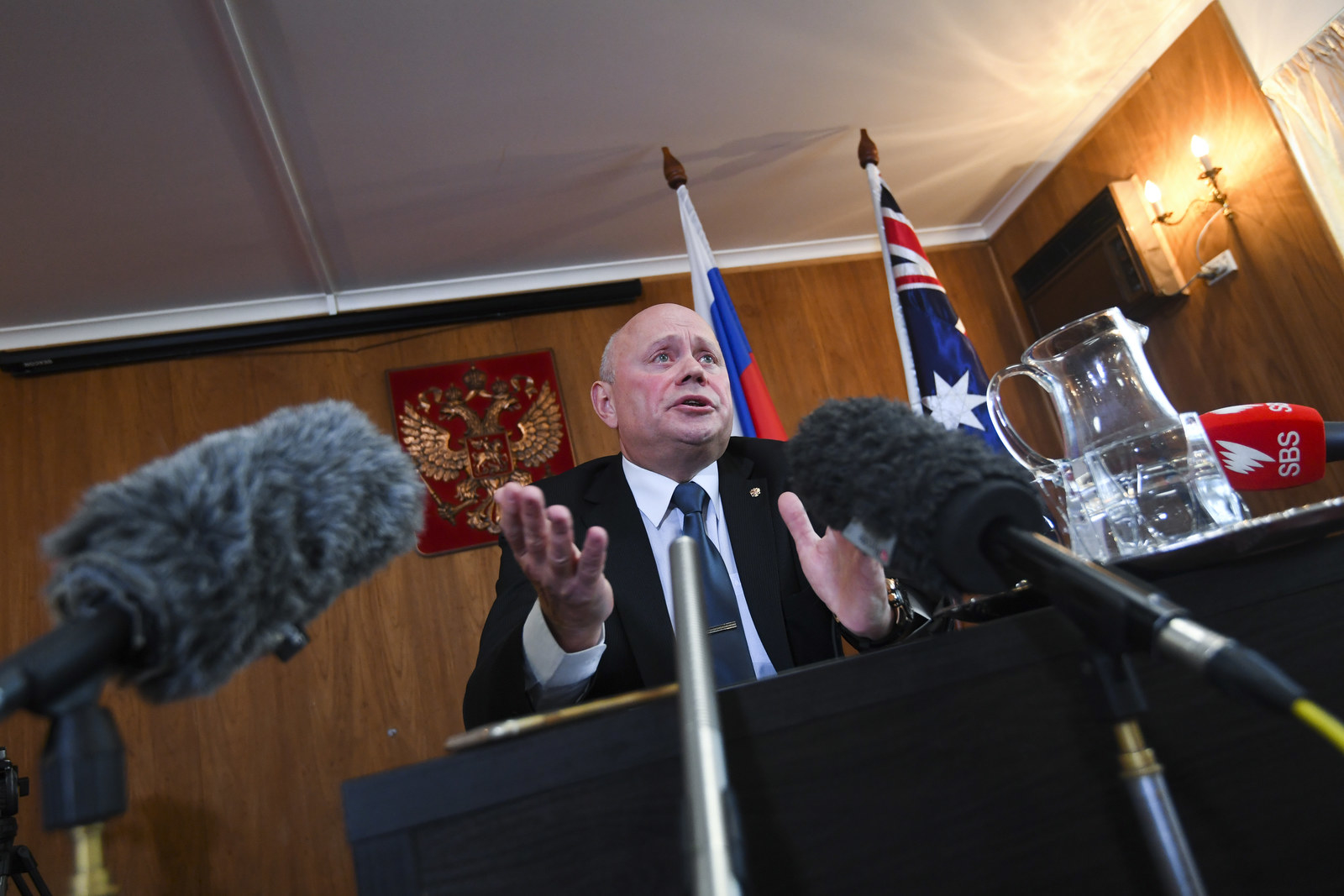 "First of all, do not forget the presumption of innocence. We do not need to present any evidence of innocence. The Brits, they need to. Just think about ... You are talking about the rule of law. In your legal system if one person accuses another person of having a felony and provides no evidence, absolutely, what would happen?"
When asked if it was a conspiracy, the Russian ambassador said: "Maybe... Perhaps it is a destiny of great global power.
"I am asking, who has seen any real medical report besides political statements that they were poisoned with some alleged nerve agent? Actually, how can the British, within one or two days, find that it is a nerve agent which was produced in Russia?
"At least we need to start analysing something [before] we can come to a conclusion. Before we can say it is fabricated, what are we sure about? Why do the Brits not want to follow the provisions? How should we handle these issues? Why don't they want to follow it? Either they do not have [evidence], or this evidence would prove the situation is not the one Brits want to see. They have no evidence. Otherwise it would prove it."
He pointed out Yulia was still a Russian citizen, and asked why Russia would hurt its own citizen.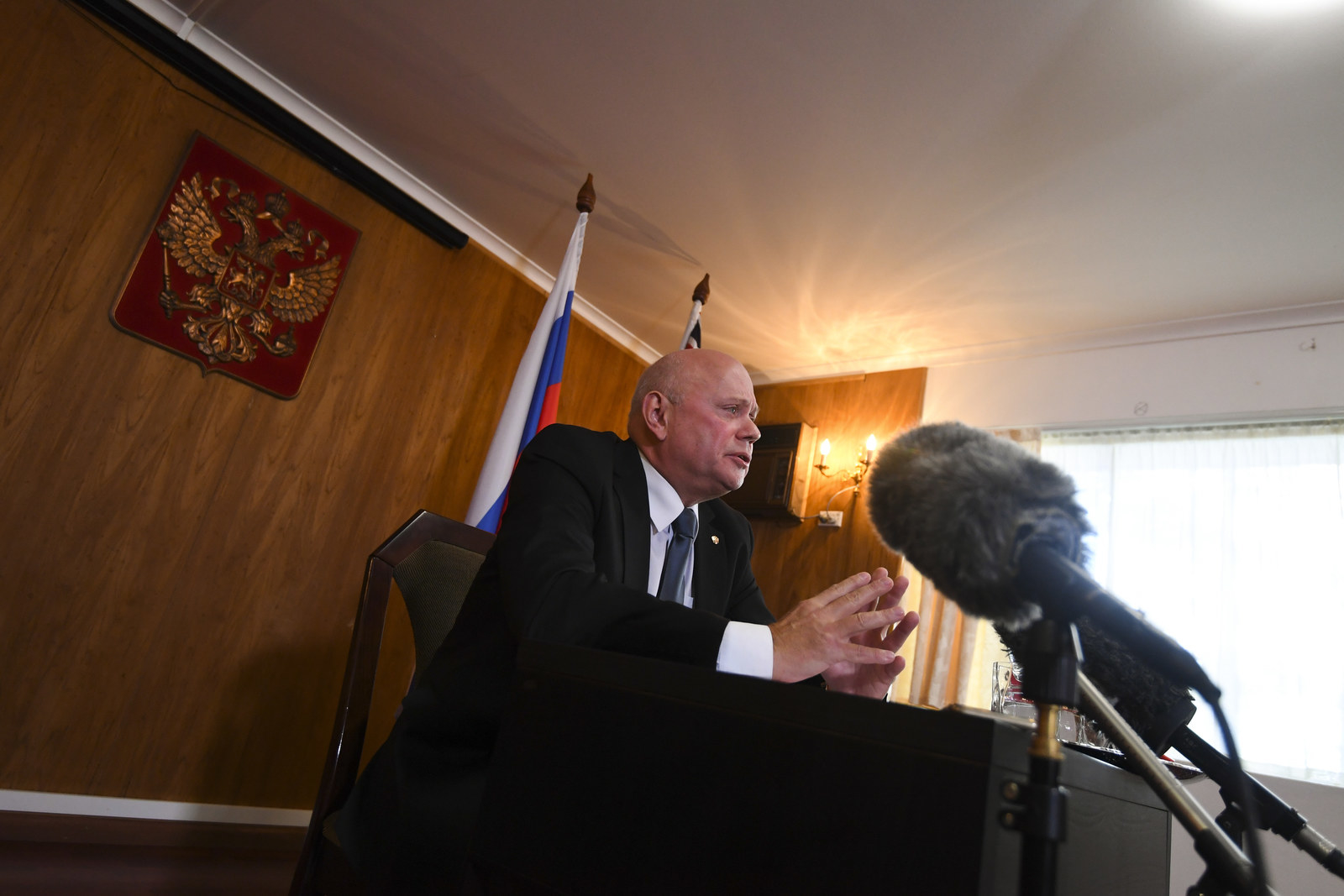 "Second, they accused Russia when using Russian-grade nerve agent in Britain. And by the way, I want to remind you that the daughter of Skripal, she is a Russian citizen. A Russian citizen was assaulted in Britain. So, I ready mentioned that the convention on chemical weapons [has] very detailed provisions. How to address and manage these issues?"
He said he's never heard of ANYONE being poisoned in Russia. Except for food poisoning. And also no-one has been murdered by the government.
"Well, actually, I have never heard of anyone poisoned in Russia," he said. "Perhaps food poisoning.
"Who has been murdered? [Boris] Nemtsov? His murderer was assassinated. Bombings, I've never heard. We have had terror attacks in Moscow, but over a decade ago, with hundreds of people killed by terrorists. They were all investigated. All the guilty found and sentenced. "

And when journalists tried to tell him that independent authorities have identified the poison as being Soviet-made, he doubled down.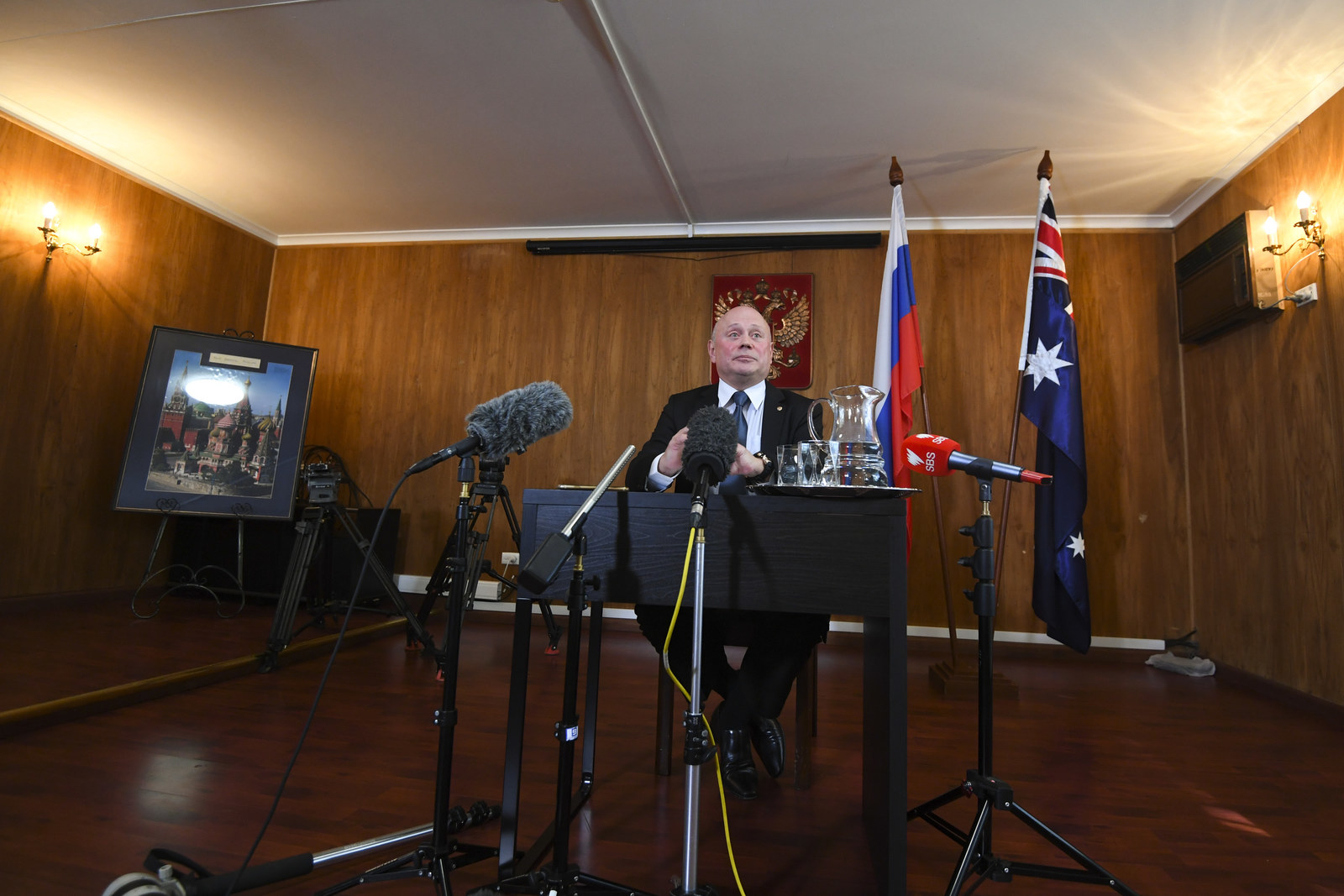 "To identify this nerve agent came from Russia, you need samples of this agent which came from Russia. Where did they come from? Where do the British get them from? Can you tell me?
"Actually, the accusation of the British, this prohibition, chemical weapons, it is a disgrace. The experts have confirmed that ... former Soviet stockpiles, they were annihilated. What is it based upon?
"The investigation is going on for nearly three consecutive years. Not in evidence, not a single evidence was found. Listen. Listen. You are not familiar with the real situations."
Logvinov also said there was no evidence that Russia was behind Malaysia Airlines flight MH17 being shot down over Ukraine in 2014, killing 27 Australians.
"Russia has provided everything in this international investigative committee. They are ignoring the details Russia is providing, and by the way, you know, once again ... under [the] current political situation, if the slightest evidence really, really, proving that Russia was responsible for these tragedies of MH17 was found, there would be a lot in the world – there is nothing.
"That investigation is worth nothing. We provided every detail."
The Russian ambassador said if the Americans are keen, we might be entering a new Cold War.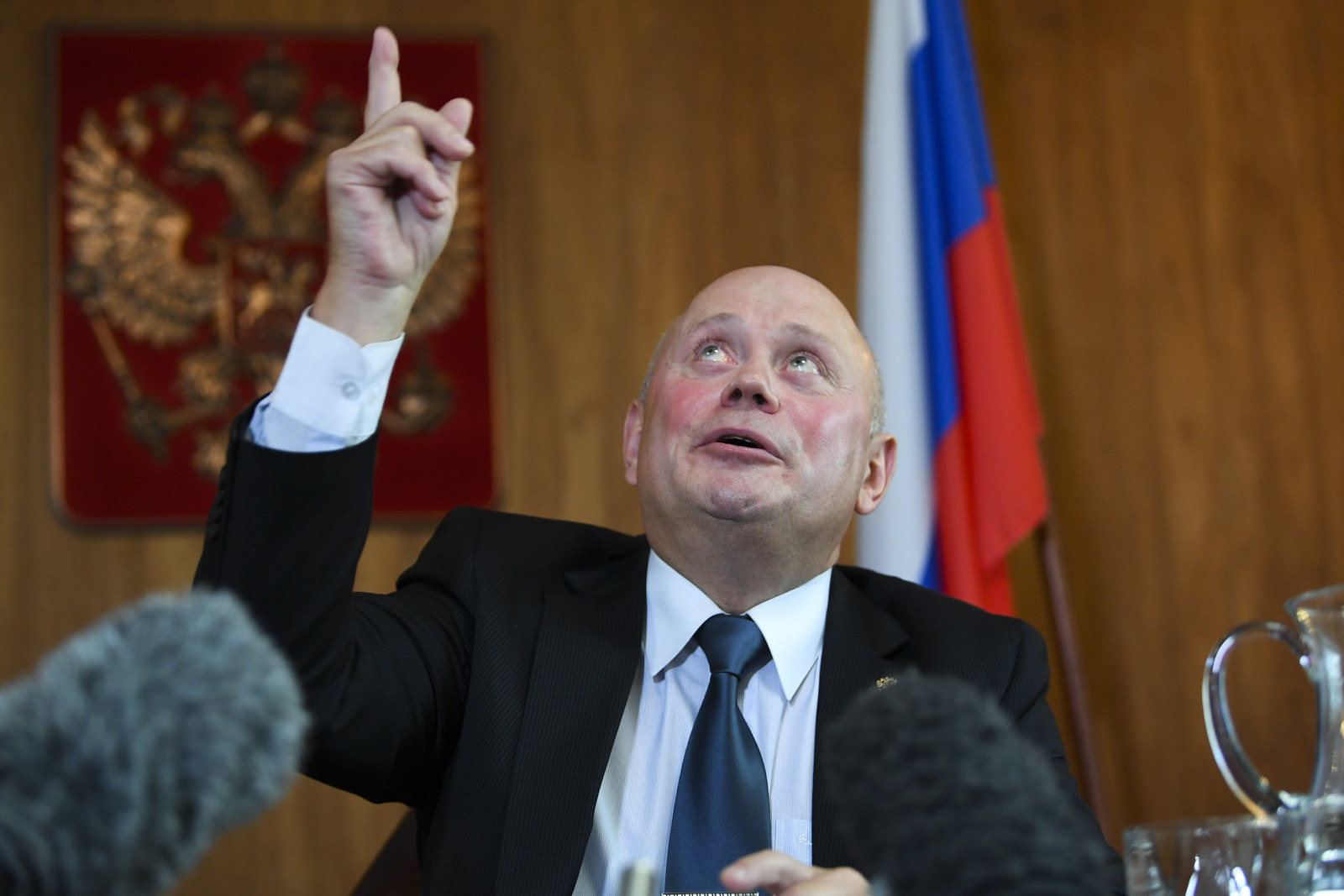 Q: Do you think we are in a new Cold War?
A: It is not our choice. Actually, Cold War was invented by, you know, Winston Churchill.
Q: Are we now in a new Cold War?
A: If the West wants it.
Q: Is this heading towards conflict?
A: Ask Trump, ask Washington, ask London, what they want.
Logvinov said Americans aren't used to not getting their own way, a move they learned from Stalin.

"All this anti-Russian campaign started and gained momentum as Russia became more and more independent," he said. "That is the problem."
"First of all, Americans, colleagues, they are not used to having equal partnership or relations with anyone. You see, they are following the old principle formulated actually by Stalin – if not, they would be against us. They cannot imagine, they cannot actually accept, any other state which can carry out independent foreign policy, but not be hostile to the US. That is the situation, regrettably. But it has only just begun."
He said Russians never surrendered.
"Russia in the First World War lost more than the whole population of Australia [at] that time," he said. "In the Second World War, Russia has lost more than today's population of the whole of Australia, and we have never surrendered.
"It sounds like a bad joke to expect Russia to give up and repent."
Despite Australia booting two Russian diplomats, the ambassador hopes there won't be serious damage to the their relationship.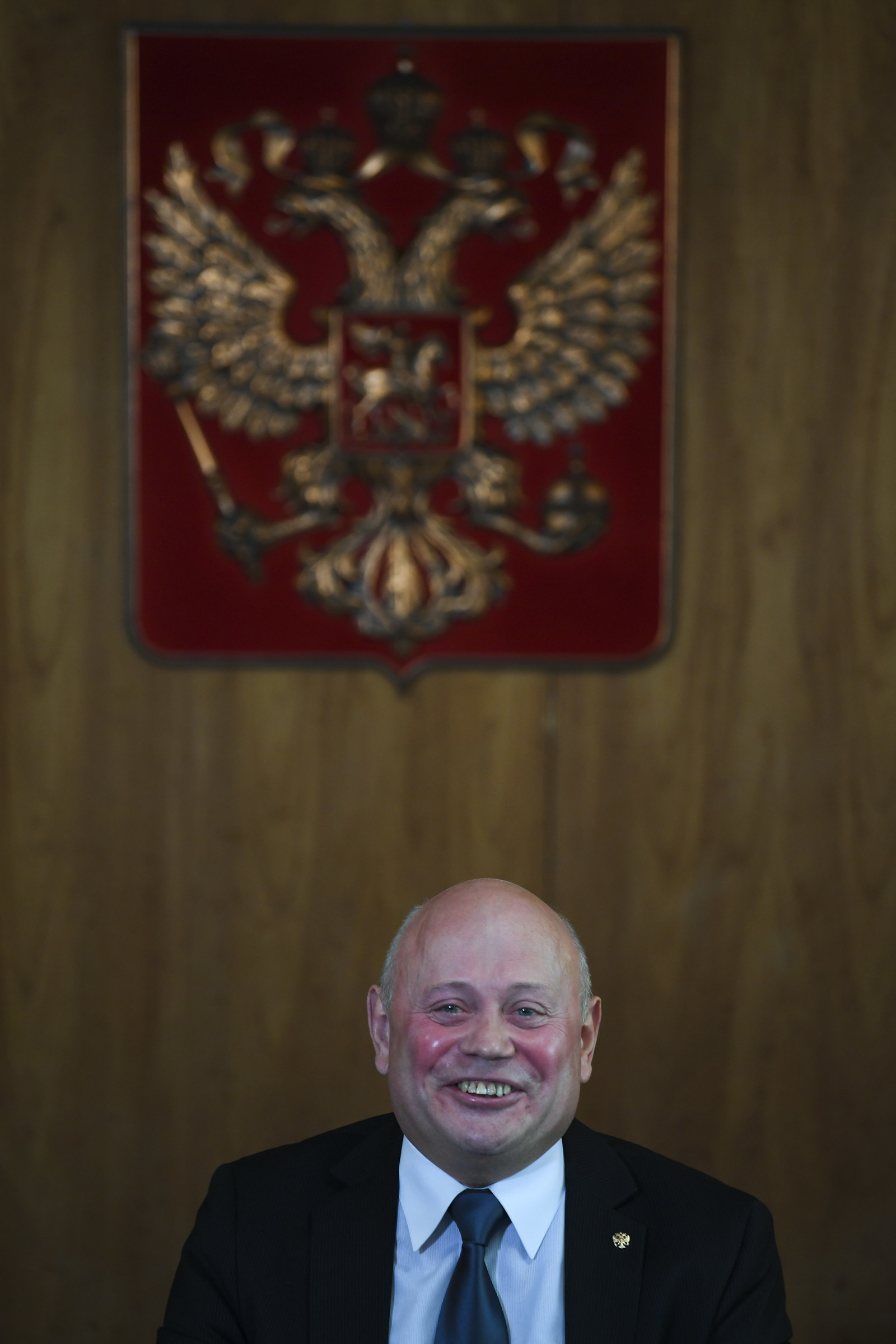 A: My best wish is that what is happening won't cause serious damage to our relations, because we have spent quite serious efforts together with Australian colleagues within the last two years to gain some positive momentum. This positive development is very limited but still ... substantial. I don't wish [to] lose it."
Despite all that tea being spilt, the press conference ended with the ambassador exclaiming "let's do this again!"