Turnbull Should Give Everyone A "Christmas Gift" And Resign, NSW Deputy Premier Says
One of the most senior politicians in Malcolm Turnbull's home state has called on him to quit.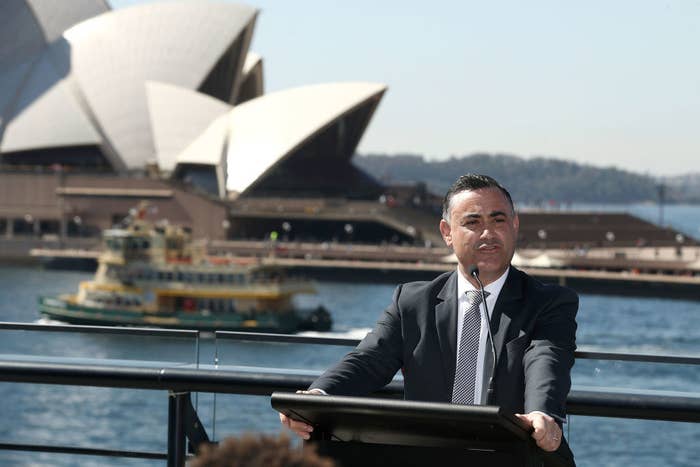 The deputy premier of the NSW government, John Barilaro, has said prime minister Malcolm Turnbull should resign before the end of the year and give the Coalition government a "reset".
Barilaro, a National, told 2GB Radio that in travelling around Turnbull's home state of New South Wales, people in regional towns from all sides of politics were complaining about a lack of leadership from Turnbull.
"I've lost all hope in the prime minister," he said.

"We don't want to see the stabbing in the back, but that is what we are going to see in the months ahead, if something doesn't happen."
The prime minister this week was forced into an embarrassing backdown on his opposition to a royal commission into the banks, and announced a year-long commission into the financial services sector to pre-empt the Nationals teaming up with the Greens, Labor and the cross bench to pass legislation for a banking inquiry.
Turnbull is also facing pressure from conservatives within his own party to ensure so-called religious protections will be added to the Dean Smith same-sex marriage bill when it is debated in the House of Representatives next week.
The National Party has also been left reeling after the Liberal-National Party in Queensland had a poor result at the state election last week, with many voters in regional areas turning to One Nation.
Barilaro says that Turnbull is to blame.
"The prime minister is the problem. He should step down, allow for a clean-out of what the leadership looks like in the country, and whoever takes the reins going forward needs to make sure they put the country and its people first," he said.
But this wasn't an endorsement of Labor leader Bill Shorten, Barilaro said. The "fear that drives" him, he said, was that "good Liberal and National governance will be lost".
"What we want to see federally is a reset," he said.
"My view is Turnbull should give Australians a Christmas gift and go before Christmas."
The premier of NSW, Gladys Berejiklian was quick to say that Barilaro was speaking for himself.
"Prime minister Malcolm Turnbull has my full and absolute support," she said in a statement.
When asked about the comments on 3AW, Turnbull said Barilaro should call him.
"He's got my number. He can call me any time. I'd be delighted to have a chat to him. But I think it is, somebody has a view like that, if I had a view about a state leader of that kind, I would express it, if I expressed it at all, privately and face-to-face. I wouldn't be doing, I wouldn't be bagging them in the media like that," he said.