Prime Minister Malcolm Turnbull has confirmed that three Australians were injured overnight in the terror attack in Las Ramblas, Barcelona, with one of those three injured seriously.
The injured Australians are two men from Victoria and one woman from New South Wales.
Spanish authorities said 13 people were killed in the terrorist attack, with more than 100 people injured after a van struck the crowd in the popular tourist spot.
"We stand in absolute resolute solidarity with the people of Spain in the fight against Islamist terrorism," Turnbull said in a press conference with ASIO chief Duncan Lewis and Commonwealth counter-terrorism coordinator Tony Sheehan on Friday.
"Spain is a partner in the anti-Daesh coalition, in the Middle East, and of course, our intelligence agencies work closely with Spanish authorities as we do with many, many other nations.
"This is a global battle against terrorism."
Lewis said that in the wake of the Barcelona attack, ASIO re-examined Australia's terror alert level, and said the alert level would remain at "probable".
Turnbull said Sheehan had reviewed measures relating to how to best protect people in crowded places such as shopping centres and sporting arenas, and that the government would have more to announce soon. He indicated more bollards to prevent vehicles from entering pedestrian areas were likely.
"If you have in public places, say a mall, if you have bollards which would prevent a vehicle from entering, but not prevent pedestrians, that doesn't impose any real restriction on the public, particularly if it is an area that's meant to be for pedestrians.
"There are measures that you can undertake that will provide no impediment to the public doing what they're seeking to do in a pedestrian area, but obviously prevent somebody driving a vehicle into it."
Opposition leader Bill Shorten was also quick to condemn the attack.
"The use, once more, of a vehicle, to mow down innocent pedestrians in a popular tourist area is a horrific act of terror designed to inflict carnage and create fear and division," Shorten and Labor's shadow foreign affairs minister Penny Wong said in a statement.
"Our deepest sympathy goes out to the families and friends of the victims and to those injured, including those Australians affected. We stand in solidarity with the Spanish people in their defence of freedom and democracy, and their determination to reject those who would seek to divide us."
Australian Greens leader Richard Di Natale said it was a senseless attack.
It comes less than 24 hours after the leader of Australian far right political party One Nation, Pauline Hanson, wore a burqa into the Senate to make a point about her opposition to the religious garb.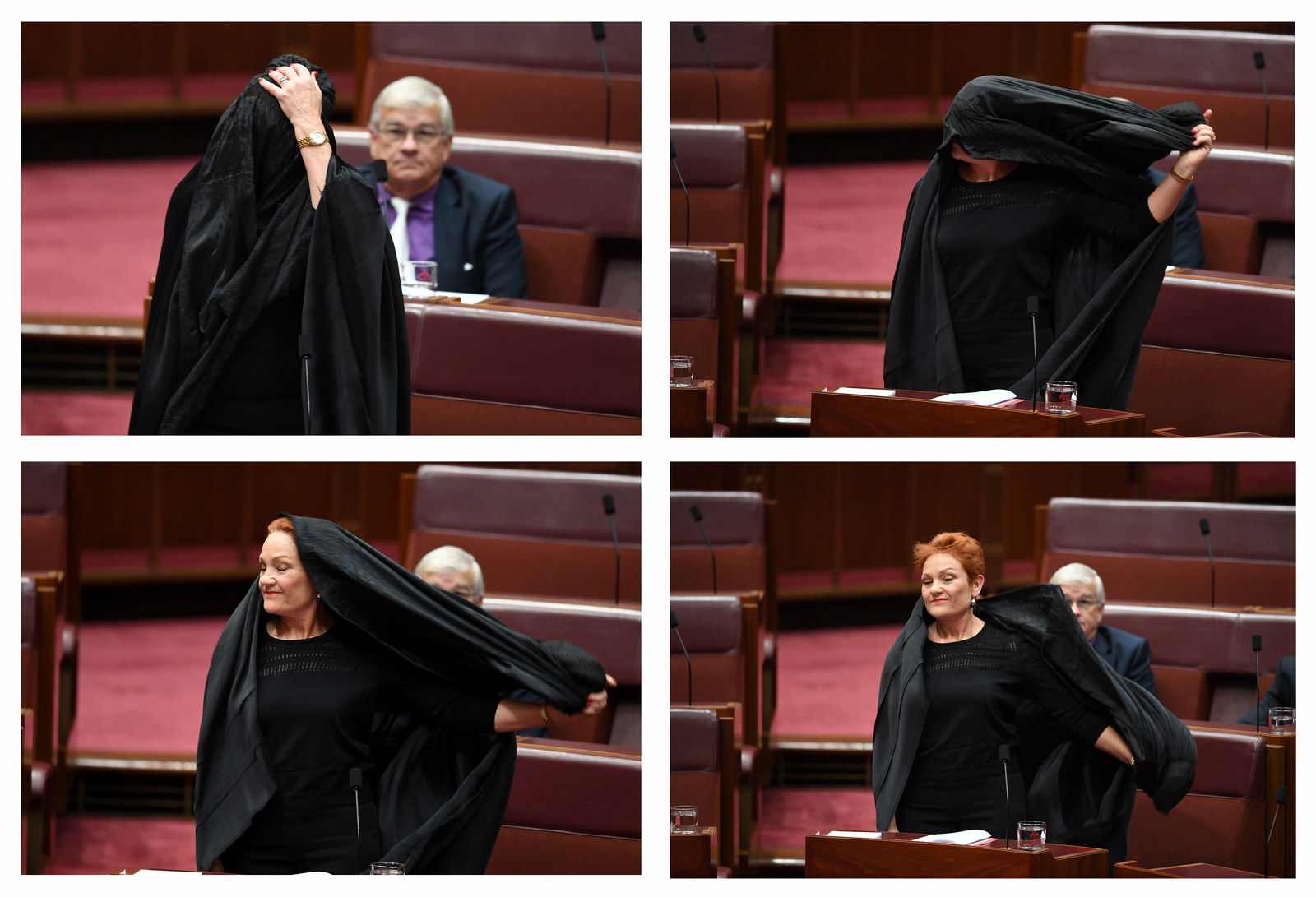 Turnbull faced questions over whether Hanson's actions harmed the ability for the government to work with the Islamic community in Australia in the fight against terrorism.
The prime minister said Hanson's act was a stunt, and praised attorney-general George Brandis for his "eloquence and wisdom" in immediately rebuking Hanson. Turnbull said that working with the Islamic community in gathering information was key in the battle against Islamic terrorism.
"Our best allies, our indispensable allies in the battle against Islamist extremism, against Islamist terrorism, is the Muslim community. Most of the victims of these terrorists are Muslims.
"So let's be quite clear about that. They are our best allies in every respect. And that is why the foundation of the success of ours, the greatest, most successful multicultural society in the world, is mutual respect. Mutual respect is critical."