This Canadian Health Organisation Has Been Abused And Threatened After Being Dragged Into Australia's Marriage Equality Debate
Respectful debate goes global.
During Pride Month, the Gay Men's Sexual Health Alliance (GMSH) — a sexual health organisation in Ontario, Canada — placed posters in a subway station in Church and Wellesley, a prominent LGBT area with one of the highest HIV transmission rates in Canada.
The ads featured cartoons of gay men in different embraces, but were not explicit.
GMSH says that when the ads ran during Pride Month in June it received no complaints about them.
Yet somehow posters from Canada have been dragged into Australia's postal survey on marriage equality.
Three weeks ago, photos of the posters were published online, and last week, they were posted by the Coalition For Marriage on its Facebook page, as well as by leading "no" campaigner Lyle Shelton on his Twitter account.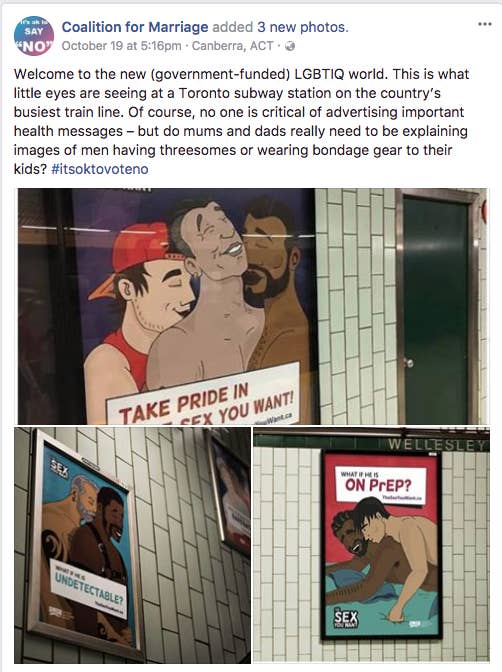 The Coalition For Marriage and other "no" campaigners have repeatedly claimed that if same-sex marriage is legalised, then "radical gay sex education" in schools will become mandatory.

"It's how the law works," Coalition For Marriage advertisements in newspapers last weekend claimed, however they did not cite any evidence.
Dane Griffiths, the acting director of the GMSH Alliance told BuzzFeed News that the organisation has been receiving hate mail, angry phone calls and threats on social media since the Coalition For Marriage republished the posters online.
"The threats have largely been online," he said. "We have definitely seen an increase in hate mail since the C4M published on their Facebook page. We have also received angry phone calls. Campaign website traffic increased significantly in Australia during this time."
In a post on the GSMH website last week, the organisation said it was "troubled" to see its resources being used to "fuel homophobic discrimination and hate".
"We have received countless messages of hate including threats of violence. These are the same messages children and youth hear in the schoolyard and too often in their homes. Messages that extinguish hope, dreams, self-worth and rob us of our humanity. It is indicative of the work needed to advance equality and the rights of all marginalised people.

"We proudly stand in solidarity with the advocates, activists and allies in Australia who are supporting marriage equality."
A spokesperson for the Coalition For Marriage told BuzzFeed News that the organisation "denounces any and all abusive and threatening behaviour from anyone involved in this debate."