A Senate committee examining the postal survey process has delivered a scathing report into how Australia dealt with the issue of same-sex marriage last year.

Legislation to allow same-sex marriage in Australia was entered into parliament in November after close to 62% of those who took part in the survey, undertaken by the Australian Bureau of Statistics (ABS), voted in favour of the change.
It was officially passed into law early in December.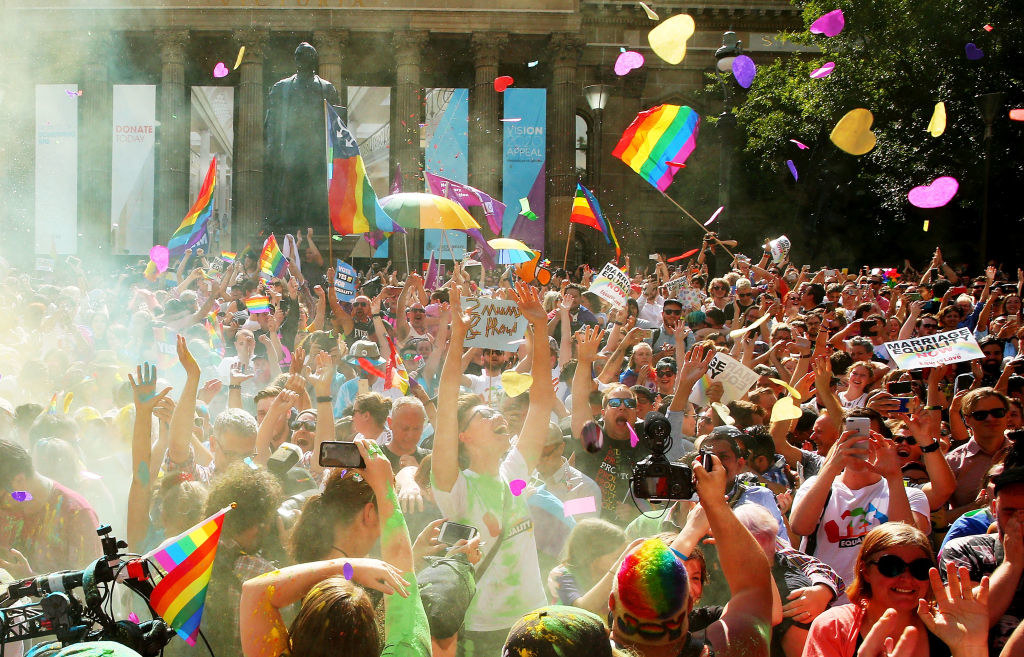 While involvement of the ABS in the process was largely given a tick of approval, the biggest concern raised by the committee was the public debate that ensued in the three-month period over the rights of LGBTI Australians.

Committee chair Labor senator Jenny McAllister said that while the committee was happy with marriage equality becoming law in Australia, there was deep disappointment at how it was achieved.
"The government's approach suggested that it was more concerned in resolving
its own internal political problems than it was in delivering a good policy result for
any of the affected groups, or indeed for the Australian community as a whole," McAllister said, recommending that Australia should never do this again.
"A non-compulsory, non-binding postal survey has never been used previously to inform parliamentary processes on a matter of human rights for a minority group. It is the committee's view that it should not be used in this way in the future"
As BuzzFeed News has previously reported, the debate was not so respectful, with anti-LGBTI flyers, letters in the mail, skywriting, graffiti, violence and abuse on the streets, vandalism and family disputes.
And, even now, the damage caused by the public debate on same-sex marriage is still being felt.

"Divisions exposed during the postal survey process have left some in the LGBTIQ community mistrustful and isolated within their own neighbourhoods and communities," the committee report stated.
Rainbow Families NSW, for example, provided the story of a woman, Kate, and her family receiving two personalised letters from her neighbours during the campaign expressing opposition to same-sex marriage.
Kate said in the submission that the letters made her scared to leave her home.

"The letters spoke about 'militant lesbians storming our churches and mosques demanding to get married', that we have equal rights as evidenced by 'being able to adopt and raise a child' (our son is not adopted)," she said. "That the local community 'tolerates you' and that 'the silent majority will succeed'.
"We became hermits and didn't want to be seen in the local community. My heart rate went up every time I opened the front door and went out the front for fear of seeing the neighbours.
"We tried to shield our 2-year-old son from our pain — but he could see it. One night he said 'I'm scared of the neighbours'. This was so upsetting to hear."
The result of the survey broke down how each electorate and state voted, and Kate reported that while she was happy with the national result, her relief became "anger, fear, and pain" when she found out she lives in one of the highest 'no' voting electorates.
"We went through all of the emotions again – making plans to move – as how can we bring up our son in this area?"
The Victorian and NSW Gay and Lesbian Rights Lobbies said that mental health services reported a 40% increase in people seeking support during and after the postal survey.
Perhaps unsurprisingly, two government senators, David Fawcett and James Paterson, disagreed that the postal survey process was bad, and said in their own dissenting report that it was fine to do this sort of thing.

"While government senators acknowledge that there were instances of people disseminating offensive material, it is our view that in overwhelming numbers, Australians who participated in the debate did so in a courteous and respectful
manner," they said.
"Public debate can be healthy, constructive and help the community come to terms with changes in social mores."