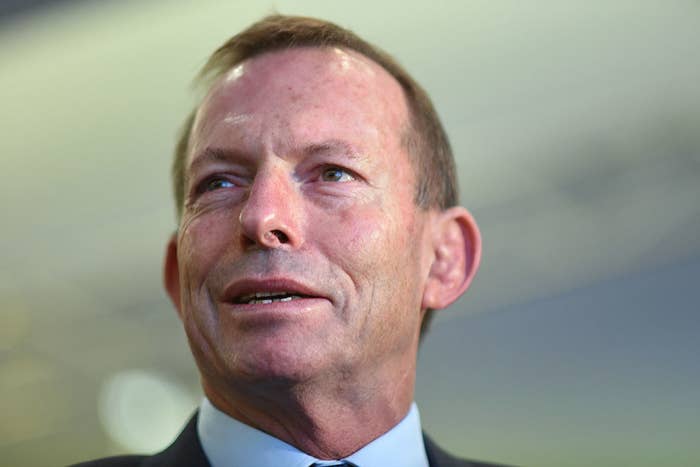 As part of his campaign to convince Australians to vote "no" in the postal survey on whether same-sex couples should be allowed to marry, former prime minister Tony Abbott has left the country.

A fortnight before the results of the survey are released, and less than a week before surveys have to be returned to the Australian Bureau of Statistics, Abbott is in New York.
The former prime minister delivered a speech overnight to the Alliance Defending Freedom, an anti-marriage equality organisation that mounts legal cases across the United States aimed at opposing abortion and protecting religious freedom.
In his speech, Abbott boasted to the audience of the success the "no" side had been having during the postal survey, including raising $6 million in funding.
"So far, the campaign to defend marriage in Australia has raised over $6 million from more than 20,000 separate donors, and fielded more than 5,000 volunteers to doorknock and phone canvas," Abbott said.
"This is no mean feat: the equivalent here in America would be raising about $100 million from 300,000 donors with 75,000 active volunteers."
Both sides in the same-sex marriage campaign have been reluctant to disclose their finances, with both claiming underdog status. The only publicly declared donations were a $1 million gift from Qantas CEO Alan Joyce to the "yes" side, and a $1 million donation from the Sydney Anglican Diocese to the "no" side.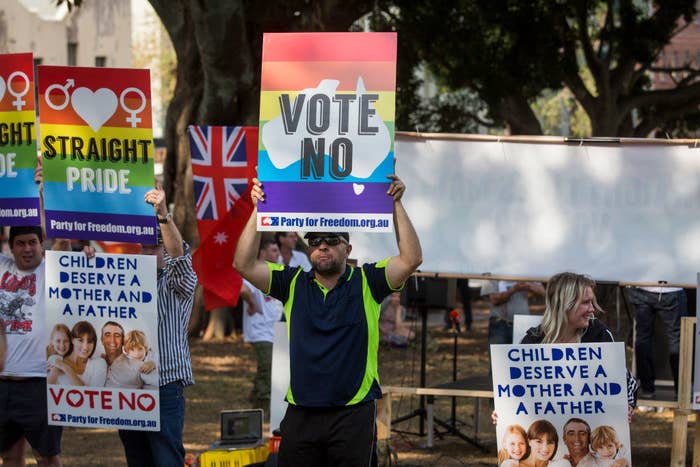 Abbott — the original architect of a plebiscite on the issue — said that through the survey, a new generation of activists from the conservative side of politics had been energised.

"Despite the vindictiveness of the same-sex marriage campaign against anyone who breaks cover, several thousand people, mostly young, have been prepared to do just that; to do what I know from experience is hard to get anyone to do voluntarily on behalf of an established political party," he said.

"Such robust characters, once activated, are unlikely to fade away; and could continue to make their presence felt — even after marriage is no longer an issue — because they've had the guts to campaign for a cause they believe in."

He said the new movement would rival progressive activist group GetUp, but admitted the most immediate beneficiary of the new movement would be Cory Bernardi's Australian Conservatives party, because Bernardi backs "marriage as it's always been".
In recent weeks, the "no" campaign has spoken glowingly of Bernardi's party, indicating that the organisation may be pushing its base to the new party. Leading "no" campaigner Lyle Shelton recently posted on the Australian Christian Lobby's website that supporters will want to vote out politicians who support same-sex marriage, and that "Cory Bernardi's Australian Conservatives will be an attractive option for many people who wish to preserve marriage".
Abbott said if the "yes" side wins, then marriage commitment would be "watered down", leading to fewer couples marrying, and less relationships lasting.
The former prime minister also joined his former minister Kevin Andrews in comparing the love of a same-sex couple to that of a friendship.
"Love might be love, as the same sex marriage campaign asserts; but marriage isn't the only kind of love, as everyone who's ever had a true friend or a real life should know," he said.
Abbott said that unless same-sex marriage legislation is accompanied by a "wider charter of freedoms" then "people will take offence at the traditional teaching and the anti-discrimination laws can be relied upon to do the rest."

"No" campaigners have sought extensive exemptions from anti-discrimination law if same-sex marriage is passed, including a "no detriment" clause for people who disagree with same-sex marriage.
"Yes" campaigners suggest this would simply lead Australia down a path of undoing all anti-discrimination law.
A Galaxy poll released yesterday revealed that 78% of voters polled don't want same-sex couples treated differently to opposite-sex couples if marriage equality becomes law.
Abbott has confirmed the trip to the United States was privately funded and would be declared in his interests register.