David Walliams Has Been Dragged Into Australia's Same-Sex Marriage Debate Because Of His Kids Book
"It is hard to believe this is 2017."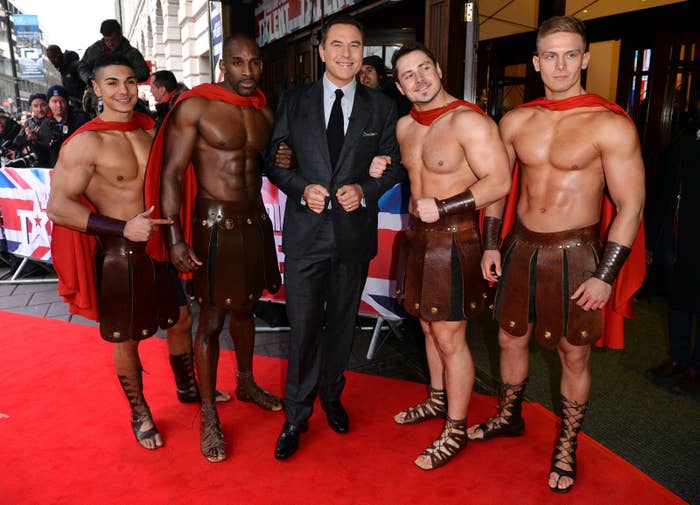 Supermarket chain Aldi and Little Britain star David Walliams have been dragged into Australia's same-sex marriage debate because of Walliams' kids book The Boy in the Dress.

Yes, really.
In the midst of the Australian government's plan to hold a postal survey of Australians on the electoral roll on the issue of whether two people of the same sex should be allowed to marry, Aldi's Australian specials catalogue on Wednesday included a special deal on Walliams' children's books Awful Auntie and The Boy in the Dress.

This earned the ire of some people who complained on the supermarket chain's Facebook page.
"It is disgusting that you are selling kids books that encourage boys to cross-dress," one commenter said.
"May I suggest it may be a wise business decision to remove this publication from sale in your stores immediately, namely: The Boy in the Dress from your stores. It could be seen as Aldi taking the same stance as Woolworths in taking sides re the SSM debate, alienating a huge percentage of your customer base," another wrote.
But many more were supporting Aldi for stocking the book.
"Go Aldi!!! If you don't like it, don't buy it," one Facebook user wrote.
"The Boy In The Dress is a big hit in our home and school!! Lots of the boys dressed up in dresses for book week," another said.
Walliams even weighed in, expressing his concern that his book was controversial and part of Australia's marriage equality debate.
Why is this related to the same-sex marriage debate and the postal survey?

Because the Coalition for Marriage's first TV ad making the case for people to vote "no" in the postal survey, should it go ahead, has attempted to link the Safe Schools program to the marriage equality debate.
Safe Schools is a controversial anti-bullying program aimed at educating students about LGBTI issues.
The Coalition for Marriage's ad claims that parents will lose control over what their kids are taught in school, and one of the women featured in the ad claims her son's school "told my son he can wear a dress."
There has since been some contention over whether the incident even took place. The school principal has denied the incident ever took place, while conservatives have pointed to posters produced by Minus 18.
Minus 18 is a support group for LGBTI youth that has links to Safe Schools, and distributes posters saying people should be able to wear the uniform they feel comfortable in.
The controversy over Aldi selling Walliams' book is part of a weird trend of Australians opposed to marriage equality expressing their disdain through supermarkets. Earlier in the week people were worked up over a single cake at a Woolworths that said "Special Person's Day", in addition to the regular Father's Day cakes.
Many commenting against the cake attempted to tie in the controversy to same-sex marriage. It came as the Senate also passed a motion this week expressing concern that a Father's Day ad by a group that compares homosexuality to paedophilia and claims gay people can be "cured" might be considered "political" by Free TV Australia.
The group declined to add a political authorisation to the ad when requested by Free TV Australia.