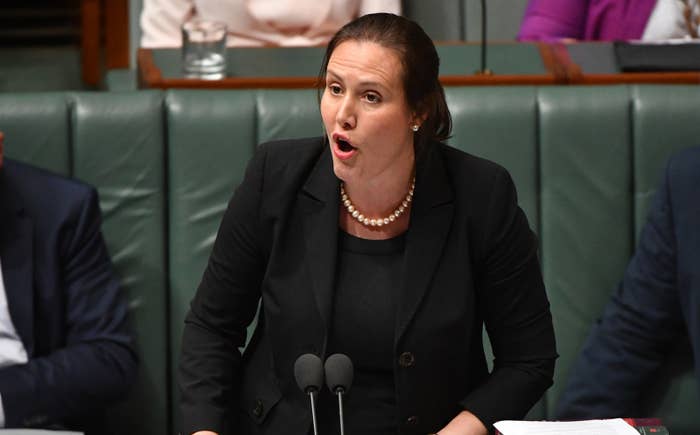 Minister for women Kelly O'Dwyer says she will meet with Twitter, Facebook, Instagram and other social networking companies every three months to ensure they're doing what they can to crack down on online trolls.

O'Dwyer told the National Press Club on Tuesday that she, sex discrimination commissioner Kate Jenkins, and e-Safety commissioner Julie Inman Grant, will hold regular meetings with Twitter, Facebook, Google, Microsoft and Instagram.
"We know perpetrators of violence against women are using technology to control, coerce, stalk and harass their victims," O'Dwyer said. "In today's digital environment, instances of image-based abuse are all too common, with one-in-five women aged 18 to 45, and one-in-four Indigenous women, experiencing abuse.
"Eighty percent of the image-based abuse reports coming into the e-Safety office now are from young women. Forty percent of whom are under the age of 18."

The meetings would keep the social media giants accountable, she said.
"I certainly think those regular meetings will mean that we hold their feet to the fire, we make sure that where they have policies, that those policies don't sit on a shelf, that they are properly instituted and they're properly enforced.
"I think that that will then give people in Australia confidence that where their children are online, they're in as safe a space as they can be, recognising, you know, that no one space is 100% safe."

The government already has in place an image abuse reporting page, and introduced legislation to fine people up to $105,000, and corporations up to $525,000, for sharing revenge porn.
In Senate Estimates last week, Inman Grant revealed that her office has an 80% success rate in having images removed from websites when people complained about them, but O'Dwyer indicated she may go further with more legislation if required.
Inman Grant said the biggest stumbling block in getting images removed was rogue porn sites that were built specifically for revenge porn.

"We've had a lot of luck getting some of these images down from the social media sites — from the more well-known tube or commercial porn sites. There are some lesser-known porn sites and chan boards we have had success with. But there's a category of rogue porn sites that are largely set up for the purpose of exploiting and humiliating people, where the 20 per cent fail rate is," she said.
"We're working more closely and are trying to build our relationships. We have relationships with the other hotlines, through the INHOPE network, and we're working with the AFP [Australian Federal Police] and local law enforcement, who of course work with other law enforcement across the globe."
"Regrettable" comments from Cash
Last week, when she was representing the minister for women in Senate Estimates, employment minister Michaelia Cash alluded to rumours about young women working in opposition leader Bill Shorten's office, during a fiery exchange with Labor senator Doug Cameron. This prompted a swift backlash from Labor, and eventually led to Cash unreservedly withdrawing the comments (on the second go after first withdrawing if anyone was offended).
In her first comments about the incident, O'Dwyer said Cash's remarks were "regrettable", but that people needed to move on.
"I don't think she will be the last person to have made a comment that they regret. I think when people make those remarks, you know, we need to accept when it's been withdrawn and we need to be able to focus on the really important things that matter."
When it was pointed out that Cash had never apologised for the comments, O'Dwyer said that people often don't apologise for things they say in parliament.
"Now, that's not to excuse it, but it's simply to say that when you withdraw the remarks, and she did do that unreservedly, I think — that is ultimately the standard that's been set here at Parliament House. You might say there should be a higher standard and maybe there should, but I think that we need to be able to move on from this."