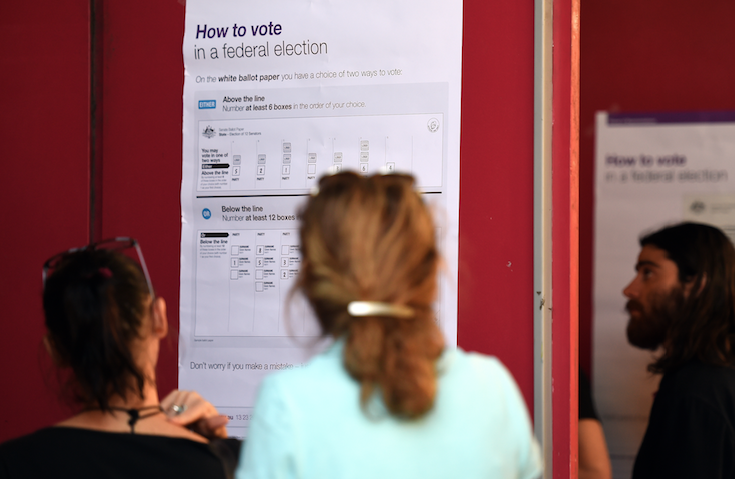 Teens have told Australia's federal politicians that they're being deprived of a say because they can't vote until they're 18.

The parliamentary joint committee on electoral matters is currently investigating a Greens bill that would lower the voting age from 18 to 16, but make voting optional for 16- and 17-year-olds.
At a hearing held in Brisbane on Tuesday, students from Glenala State High School, Runcorn State High School, and St Thomas More College argued why they should be allowed to vote in Australian elections.
"Citizens who are practically fully functioning members of society are being deprived of a say," Charlie Dawson, a Glenala State High School student said.

He said teens were often underestimated, and in many cases paid taxes and participated in society in other ways. He said the current political system wasn't working for his generation because his current plan after high school was to "go to uni, get into debt for several decades, and never own a house".
The students said they often felt they could express their opinion to those in power, but because they couldn't vote, those in power weren't listening, and one of their biggest concerns was around climate change.
But there were dissenting views. A couple of students argued that if teens were given the right to vote, it would be viewed as a chore rather than an opportunity, and lack of decent civics education would mean that those voting would be making an uneducated decision.

"Students have a lot going on in their study life and personal life," Runcorn State High student Sara-Jo Scott said. "I don't think they should be worried about who the prime minister is until the working age."

Another student told the committee: "I think voting at the age of 18 is a big responsibility, enough for being 18 and we don't want to add any more to our hard working students."

Others said it shouldn't be compulsory because a lot of young people aren't engaged or interested in politics.
"I'm okay with it, but I don't want [teenagers] to be forced onto it," Runcorn State High School student Jameson McQuaid said. "Some people our age don't care and don't worry about it. They don't see the importance in it."
The students overwhelmingly said they needed to be taught more about politics, and civics lessons needed an overhaul.
"I feel that this should only be under consideration if we are given the proper education for it," St Thomas More College student Darcy Weaver said.
"Youth don't have the proper education or proper knowledge of the political system [but] I know youth today they want a say in their future."
The teenagers admitted that some of their friends don't even know who the prime minister is.
"We aren't too sure either, it changes quite often," Labor MP Milton Dick replied.
The majority of students said they got their news from social media. A couple named TV news as their primary news source, while one said he reads the newspapers at his nanna's house.
The committee is holding hearings on the legislation on Tuesday and Wednesday. Tomorrow the committee will hear from the Australian Christian Lobby and the Young Liberals, the only two groups that made a submission to the inquiry arguing against lowering the voting age.
Looks like there are no comments yet.
Be the first to comment!