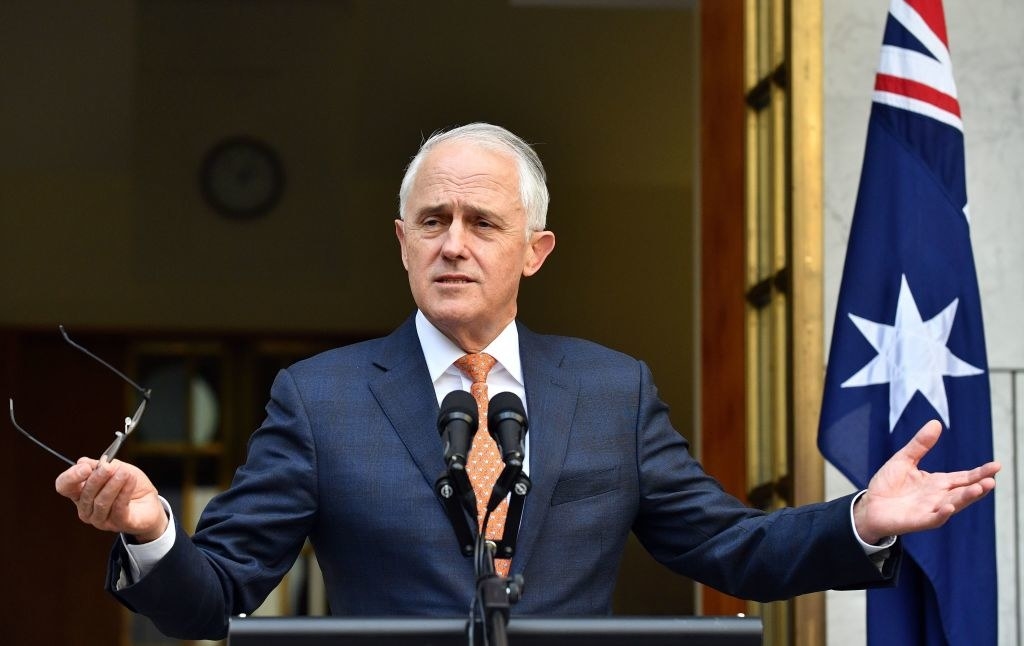 Former prime minister Malcolm Turnbull cannot claim credit for marriage equality in Australia, marriage equality advocates say, because the hard work to achieve the reform was done well before the legislation hit parliament.

On ABC's Q&A program on Thursday Turnbull, who was ousted from office in August, claimed that Labor had suggested he had turned his back on marriage equality as an issue and he would have never achieved it in office.
"I legislated it, so I delivered it. It's legal," he said. "Five-thousand same-sex couples have married in Australia since it was legalised just about a year ago."
BuzzFeed News revealed on Thursday that close to 5,000 same-sex couples have married in Australia. While the legislation to allow same-sex marriage was passed through parliament when Turnbull was prime minister, it was thanks to a private members' bill initiated by Liberal senator Dean Smith. And the legalising of same-sex marriage followed the three-month postal survey on the issue which many LGBTI people viewed as a painful and divisive experience.
At the time of the postal survey, a national survey of thousands of LGBTI Australians found widespread reports of anguish, worry and discrimination experienced during the survey.
BuzzFeed News asked people involved in the same-sex marriage campaign over the past decade and a half whether Turnbull could claim he achieved marriage equality in Australia.
"He didn't," Australian Marriage Equality co-founder and just.equal spokesperson Rodney Croome told BuzzFeed News. "There were so many other people who built the stage on which he strutted and said, you know, 'thank me for what has been achieved'.
"No. We can thank him if we want, but the people who really need to be thanked are those who built the stage. And those who laid the foundations for reform, who got us to the stage where a majority of Australians and the majority of politicians were already saying yes."
Felicity Marlowe from Rainbow Families Victoria told BuzzFeed News that Turnbull put a lot of things in the path of the debate on marriage equality before it was legislated, which made it much more difficult than it needed to be.
"No, he doesn't deserve to have that as part of his legacy," she said. "I still feel angry and upset that it happened, and incredulous that it was seen as such a victory by the Turnbull government, as though they'd managed to do this incredible thing, but all they'd really done is left all of these people feeling hurt."
She said some politicians didn't really understand the day-to-day toll the postal survey had on LGBTI people.
"Feeling like wherever you walked for those three months, every grownup you saw had either voted for or against your right to be with the person you love, or equality for some group of people."
Australian Marriage Equality co-convenor Alex Greenwich told BuzzFeed News that there's no doubt about who is responsible for marriage equality.
"That is ordinary Australians providing extraordinary leadership," he said. "This was not the victory of Malcolm Turnbull, it was Australia's victory."
"If Turnbull had stared his partyroom down, and said we are going to have a parliamentary vote, everyone gets a free vote, then he could claim credit, but not through the prolonged process we went through."
When the plebiscite was first proposed by then prime minister Tony Abbott, it was opposed by Malcolm Turnbull. Greenwich reveals in his book on the "yes" campaign with fellow campaigner Shirleene Robinson that Turnbull had lobbied 2GB radio host Alan Jones to get Abbott to dump the policy. Jones reportedly told Turnbull to take the matter to the Liberal partyroom.
Turnbull eventually embraced the plebiscite when he became prime minister in 2015, and ultimately settled on a postal survey in 2017 (which he also once opposed) when he couldn't get the plebiscite legislation through parliament.
Looks like there are no comments yet.
Be the first to comment!