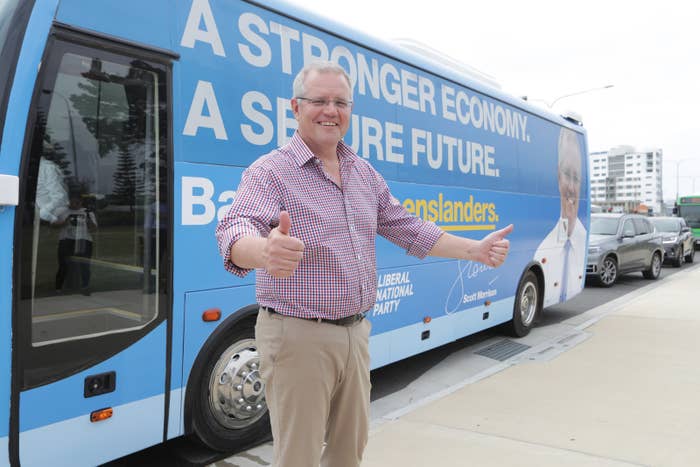 Prime minister Scott Morrison has tried to explain why he's using a taxpayer-funded jet to get around Queensland instead travelling on his self-named ScoMo Express bus.

On Monday, Morrison wanted to make it clear he was spending this week "backing Queensland" with a big tour of the state in the ScoMo Express.
But on Tuesday it was revealed Morrison and his staff were flying between the bus stops on a taxpayer-funded Royal Australian Air Force VIP jet. Morrison's justification was was that it would take too long between stops, and the PM wouldn't have as much time to meet Queenslanders, eat strawberries and dig into meat pies.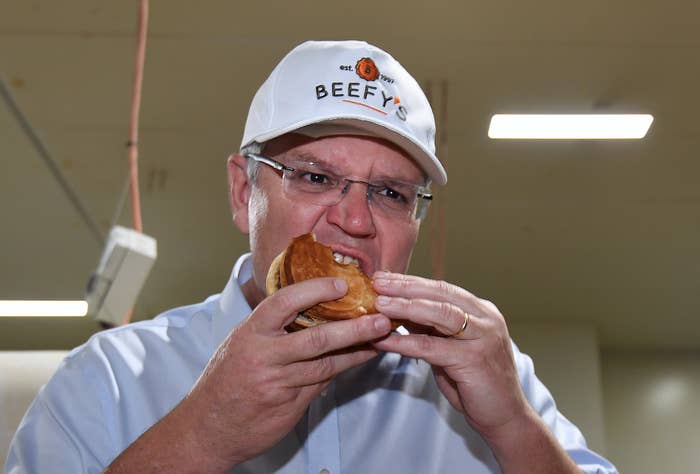 Which led to this exchange between Morrison and ABC reporter Owen Jacques at a door stop press conference on Tuesday about whether or not Morrison was actually on the bus or not. Enjoy:

JOURNALIST: Prime minister, you're on the bus tour. Why are you flying?

PRIME MINISTER: Well the bus is going all the way up to Rockie and that's where it was always planning to go. I mean, it's a big state and I need to cover as much of it in four days as I can. So we were never planning to take the bus to Townsville, we'd always planned to take that last leg up to Townsville by plane because that was the most effective way to get there and to spend the most time there with people on the ground. I mean, these visits aren't about sitting on a bus. They're about actually engaging with small businesses and our supporters and the people of Queensland and listening to them.

JOURNALIST: Then why have the bus?

PRIME MINISTER: Because it gets me from A to B.

JOURNALIST: Will you be taking the bus to Rockhampton from here?

PRIME MINISTER: Yes. The bus will be going to Rockhampton from here. That's right.

JOURNALIST: With you on it?

PRIME MINISTER: I've got to get there earlier than the bus tonight.

JOURNALIST: So you will be flying to Rockhampton?

PRIME MINISTER: I'll get into Rockhampton tonight and I've got a programme tonight in Rockhampton and the bus can't get me there quick enough so I've got to fly.

JOURNALIST: So you'll be flying to Rockhampton and the bus will catch up with you and then you'll fly onto Townsville?

PRIME MINISTER: I'll be flying onto Townsville. And your point is what?

JOURNALIST: I'm just interested in the point of the bus if you're not on it.

PRIME MINISTER: I am on it, I just got off it.

JOURNALIST: But not onto Rockhampton or Townsville?

PRIME MINISTER: Yeah well it's a practical thing. I want to spend as much time on the ground with Queenslanders, and when I can be on the bus and go from place to place on the bus, that's great. But I'm not going to sacrifice time with Queenslanders, listening to them and hearing them and talking to them about what's important to them, just to satisfy the media's interest in the timetable for the bus.
"I am on it, I just got off it."
Morrison is in Rockhampton on Wednesday, and has blamed all focus on whether or not he is actually on the bus on the "Canberra bubble".