If Other Countries Knew How Australia Stops The Boats It Could Damage Foreign Relations, Peter Dutton Told
The minister's 245-page incoming brief has been obtained by BuzzFeed News.
Revealing Australia's role in turning back boats and other border enforcement operations could affect Australia's relationship with other countries, home affairs minister Peter Dutton was told by his department.

Operation Sovereign Borders (OSB) is a military operation initiated under the Abbott government in 2013 to stop the flow of boats bringing asylum seekers to Australia.
The operation works in secrecy and very little information about what is being done is ever released to the public. When he was immigration minister Scott Morrison repeatedly refused to answer journalists' questions about boats, saying he would not comment on "on-water matters".
The briefings have long since stopped, but OSB still provides monthly updates.

So far the government has confirmed 33 boats have been turned back since the end of 2013. But aside from that, what is there to know about how this mysterious military operation is going? That's not for us to know.
In November last year, according to Dutton's incoming ministerial briefing document, the department told him that revealing information about the operations "may affect Australia's relations with foreign governments" and put at risk international agreements.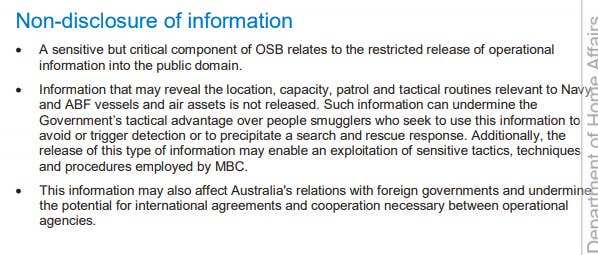 BuzzFeed News obtained Dutton's incoming ministerial briefing document – prepared for him by the department when he assumed responsibility for the mega agency of Home Affairs late last year – using Freedom of Information law.
Home Affairs has oversight of immigration, customs and border protection, and Australia's federal law enforcement agencies, including the Australian Federal Police.
The heavily redacted document outlines not only Dutton's key responsibilities in the new portfolio, but also the issues and concerns the department has flagged.
Of the then 31 boat turnbacks discussed in the document (there have been a further two since November last year), 13 turnbacks were enforced by OSB, while seven were "assisted turnbacks" where there was life at risk. Eight boats were returned to Sri Lanka with the assistance of the Sri Lankan government, and three boats were taken back to Vietnam with the assistance of the Vietnamese government, according to the document.
The government has been working to get the remaining asylum seekers off Manus and Nauru by entering into so-called third-party resettlement negotiations with other countries. Australia signed one with the United States in 2016, however progress in relocating refugees to the US has been slow.
In the document, the department admitted there would still be "a residual number of refugees" who are not resettled in the US and do not take up any of the current options, and said that although the Australian government's efforts to find a permanent resettlement option in other countries had so far "yielded little success ... we are currently pursuing a number of possible options."
"Resettlement negotiations are complex, require strict confidentiality ... as well as meaningful incentives to secure cooperation," the department said. "Domestic priorities and sensitivities have influenced interest levels."
New Zealand has said it will resettle the refugees, but Dutton continues to refuse the offer, stating that it would then be possible for those refugees to travel to Australia. The document notes that resettlement agreements could have "implications on the Operation Sovereign Borders deterrence effect".
Meanwhile, the document also highlights the sheer volume of visas Dutton has cancelled under the character test in recent years. The number of cancellations increased from 76 in 2013-2014 to 1,284 in 2016-2017. The New Zealand government has raised concerns about how this has led to a number of New Zealand citizens being deported, many of them having lived most of their lives in Australia.

Now in charge of Australia's intelligence agencies, Dutton was also briefed on the priorities for the Five Eyes partnership between Australia, the UK, the US, Canada and New Zealand.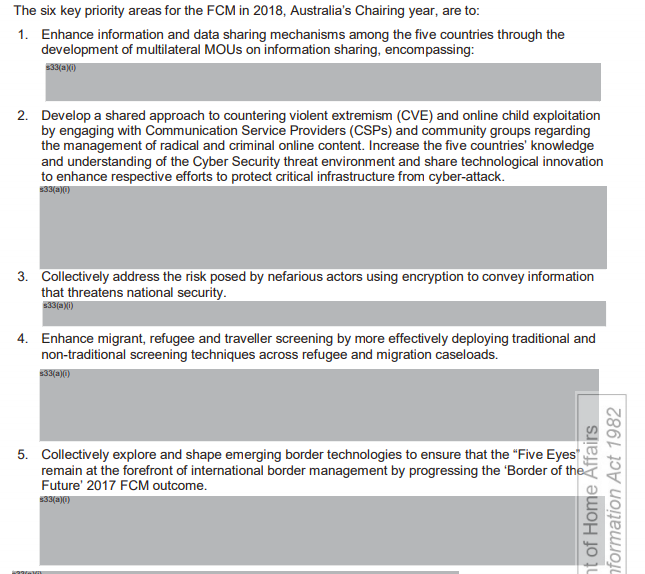 The department stated that the five countries are seeking to "collectively address the risk posed by nefarious actors using encryption to convey information that threatens national security".
Despite flagging a crackdown on encryption a year ago, Dutton has yet to put forward any legislation.
You can read the full (redacted) incoming ministerial briefing document here.