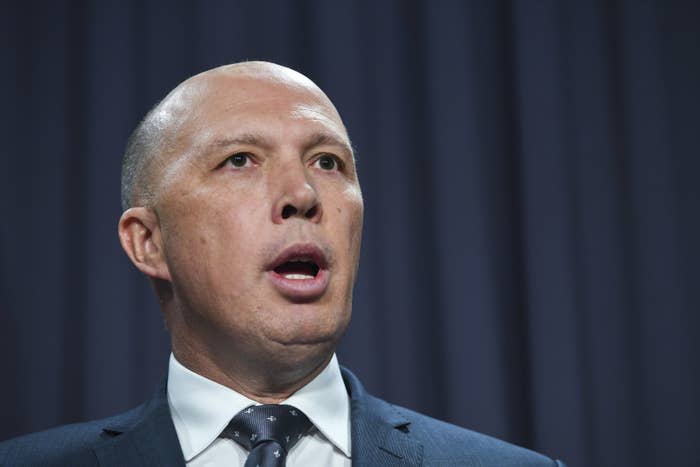 Civil liberties groups and human rights organisations are worried that new legislation to allow home affairs minister Peter Dutton to call in the army for vaguely worded "domestic violence" incidents will give the already-powerful minister even more influence.

The legislation was introduced in response to the inquiry into the police and government reaction to the 17-hour Lindt Cafe siege by gunman Man Haron Monis in the Sydney CBD in 2014, that led to the deaths of Tori Johnson and Katrina Dawson, as well as Monis.
The legislation enables states and territories to request the assistance of the Australian Defence Force in relation to terrorist incidents, sieges and other acts of "domestic violence" as defined in section 119 of the Australian Constitution, but also allows the federal government to use the army to protect Commonwealth interests.
Under the legislation, in cases where a quick response is needed, the prime minister, or jointly the attorney-general and defence minister, can call in the army.
It also establishes the minister for home affairs as an "alternative minister" who can authorise an expedited call-out with one of the other ministers.
When attorney-general Christian Porter announced the legislation in June, he stressed that it was aimed purely at terrorist incidents. But when asked why it was termed as "domestic violence" that included not just terrorist acts but also riots, and potentially anything that could impact on "Commonwealth interests", Porter said that it can often be hard to distinguish between some acts of violence and terrorism.

"Well, I think the difficulty when you try and move between the evolution of terrorist events is that distinguishing between one type of violence and another is something that terrorists could very easily use as a cover for events," he said. "That language has some breadth at law."
But Porter said the ministerial authorisation means that it would be a heavily scrutinised process.
"You will not get called out unless it is utterly appropriate and unless there are specific assets or skills or personnel who can be brought to bear to save and protect Australian lives," he said.

Australian Lawyers for Human Rights (ALHR) said in a submission to the parliamentary committee reviewing the legislation that it was just another example of concentration of power to the home affairs minister.
"ALHR is concerned that the proposed amendments constitute yet further 'power creep' and demonstrate another example of the lack of internal restraints and balances resulting from inception of the 'mega ministry' headed by Peter Dutton," the organisation said.
"The effect of the ministry taking charge of so many different departments is – in the absence of a Federal Human Rights Act – to diminish the balances necessary for maintaining the rule of law and the civil and human rights of all Australians."
"This is another instance of discretional power being shifted toward the minister for home affairs"

Civil Liberties Australia said the legislation was like using a sledge hammer to crack a nut.

"A federal minister can call out the troops anywhere in Australia without consulting a state or territory," the group said. "Troops can barge in everywhere, including into anyone's house. They can demand ID, quiz you, detain you, arrest you and seize anything they like.
"They can go anywhere, storm any building, including private houses. If troops stuff up, they can say 'I was just following orders' and be absolved of responsibility for actions, including crimes, that might send them to jail in other circumstances."
ALHR also said it was concerned that the "specified circumstances" where the Australian Defence Force could be called out weren't actually defined in the legislation.
The legislation was flagged as being introduced this year in Dutton's incoming ministerial brief when he became the home affairs minister late last year. BuzzFeed News this week published the redacted document obtained under Freedom of Information law.
The committee is due to report back to parliament about the legislation on September 3.