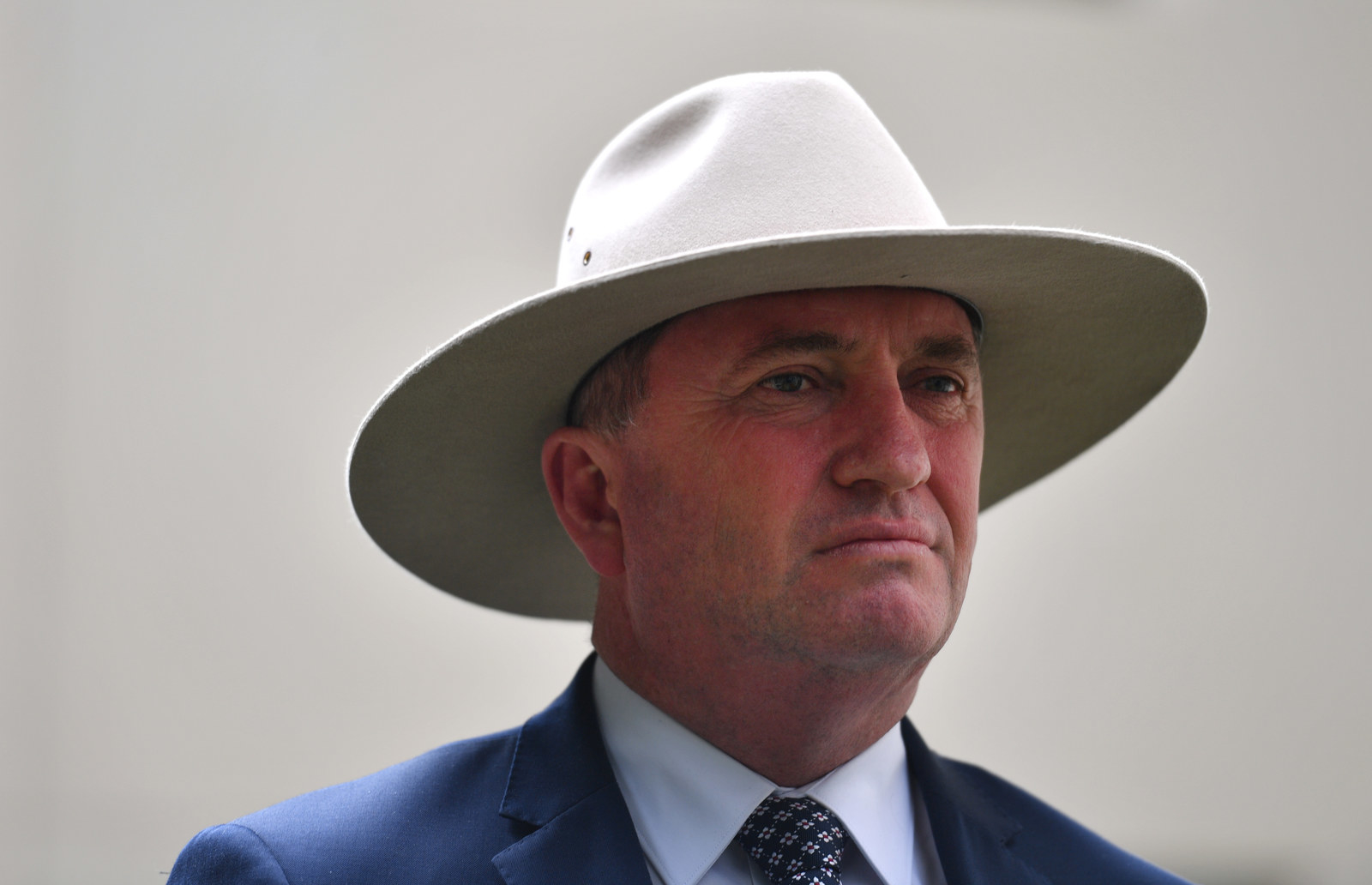 Tabloid newspaper The Daily Telegraph reported on Wednesday that deputy prime minister Barnaby Joyce has been having an affair with his former staffer, 33-year-old Vikki Campion, and that she is now pregnant with their child.

Rumours of the affair and the pregnancy had been widely known in Canberra for months, and had been alluded to in the lead up to the New England by-election last year.
Joyce, 50, has four children with his estranged wife, Natalie. In a statement released to media on Wednesday, Natalie Joyce said the news was "devastating", and she felt "deceived and hurt" by the actions of her husband and Campion.
"This situation is devastating on many fronts," Natalie Joyce said.
"For my girls, who are affected by the family breakdown, and for me as a wife of 24 years, who placed my own career on hold to support Barnaby through his political life."
The deputy prime minister has so far refused to comment on the alleged affair, and Sky News host Samantha Maiden said on Wednesday that Champion – a former News Corp journalist – had repeatedly denied the affair when asked by her former colleagues.
Campion left Joyce's office in April last year and went to work for resources minister Matt Canavan. She is now no longer employed by the Turnbull government, according to The Daily Telegraph, after her contract ended in December.
The Guardian, Fairfax Media and other news outlets have said the reason the story was not reported on until today was due to the inability to stand up the rumours.
The Department of Finance's disclosure log reveals journalists last year were trying to glean information out of Barnaby Joyce's comcar records.
The photos of a heavily-pregnant Campion have resulted in a flood of news reports on the affair.
Politicians are so far refusing to comment on the affair. Labor frontbenchers Anthony Albanese and Chris Bowen both declined to delve into the deputy prime minister's private life.
"The Labor Party has made no public statement about Barnaby Joyce's personal situation for the last six months, despite the fact it's been well-known in this building, and we're not about to start today," Bowen told journalists.
"I have plenty of criticisms of Barnaby Joyce. I think he's a very poor deputy prime minister. But my criticisms of him are of his job. And frankly, his personal situation is none of my business and with respect, it's none of anybody else's business."
Albanese told radio 5AA he only wanted to talk about policy differences, not people's personal lives.
Defence industry minister Christopher Pyne told 5AA it was Australia was engaging in "Fleet Street" journalism.
"I think it's a great pity that this has happened to Barnaby Joyce and his family and it must be very traumatising for everyone, made much worse by being publicised on the front page of the newspapers," he said.
Greens MP Adam Bandt said that unless it impacts on the job the politician is doing, he doesn't care who they sleep with, and expressed concern about the Telegraph publishing the photo of Campion on the front page.
But others are questioning whether Joyce, a devoted Catholic, has been hypocritical in his opposition to allowing same-sex couples to marry while also carrying on an affair.
Before the same-sex marriage postal survey last year, Joyce had been a staunch opponent of a change in the law. In 2011 he told a conference organised by the Australian Christian Lobby that same-sex marriage threatened his daughters getting into a "secure" marriage.

"We know that the best protection for those girls is that they get themselves into a secure relationship with a loving husband, and I want that to happen for them," he said. "I don't want any legislator to take that right away from me."
Joyce was not prominent in the "no" campaign against same-sex marriage during the postal survey, however, and ultimately abstained from voting when the legislation passed in December last year.
He did, however, briefly acknowledge during the debate on the legislation that he had separated from his wife, the first public utterance of his marital issues.
The reporter who broke the story, Sharri Markson, told Sky News that the only reason that politicians were criticising the publication of the story was out of concern about other stories that might surface.
UPDATE: Joyce was asked about the allegations on 7.30 but refused to comment.
In an interview with ABC's 7.30 program on Wednesday night, Joyce refused to address the report, or his wife's statement, saying that he didn't understand why private matters need to be dragged into the public arena.
"I can't quite fathom why basically a pregnant lady walking across the road deserves a front page," he said. "I don't know what the political purpose is to that. So it's a private matter and I don't think it helps me, I don't think it helps my family, I don't think it helps anybody in the future, to start making this a public discussion.
"As much as I can I will keep private matters private."
Joyce refused to even say whether Campion was a paid staffer when the affair began, but said that there was no issue with misuse of public expenses.
"This issue has been FOIed [Freedom of Information] from just about every media outlet for a very long period of time," he said. "So up hill down dale, they have enquired into this and nothing has been found because there's nothing there."
He did say, however, that the end of his marriage was one of the greatest failures of his life.