One Nation Appears To Be A Hot Mess That Loves Drama...Again
A tearful Pauline Hanson spoke of betrayal at the hands of one of her party colleagues on Thursday.
One Nation has become a drama-loving hot mess. Again.
Party leader Pauline Hanson broke down in tears on Sky News' Bolt Report last night after alleging that her colleague Brian Burston was looking to leave One Nation.

Hanson tearfully said she'd been "stabbed in the back" by Burston: "It's hard, but I'm going to keep going, and I'm going to get good people in parliament beside me because it means so much to me to help the people that need help, that feel like no one is listening to them.

"They're sick of politicians because they don't do anything," she said.
Now Hanson faces the prospect of losing a third senator in two years.
This was One Nation in 2016.
This could be One Nation very soon.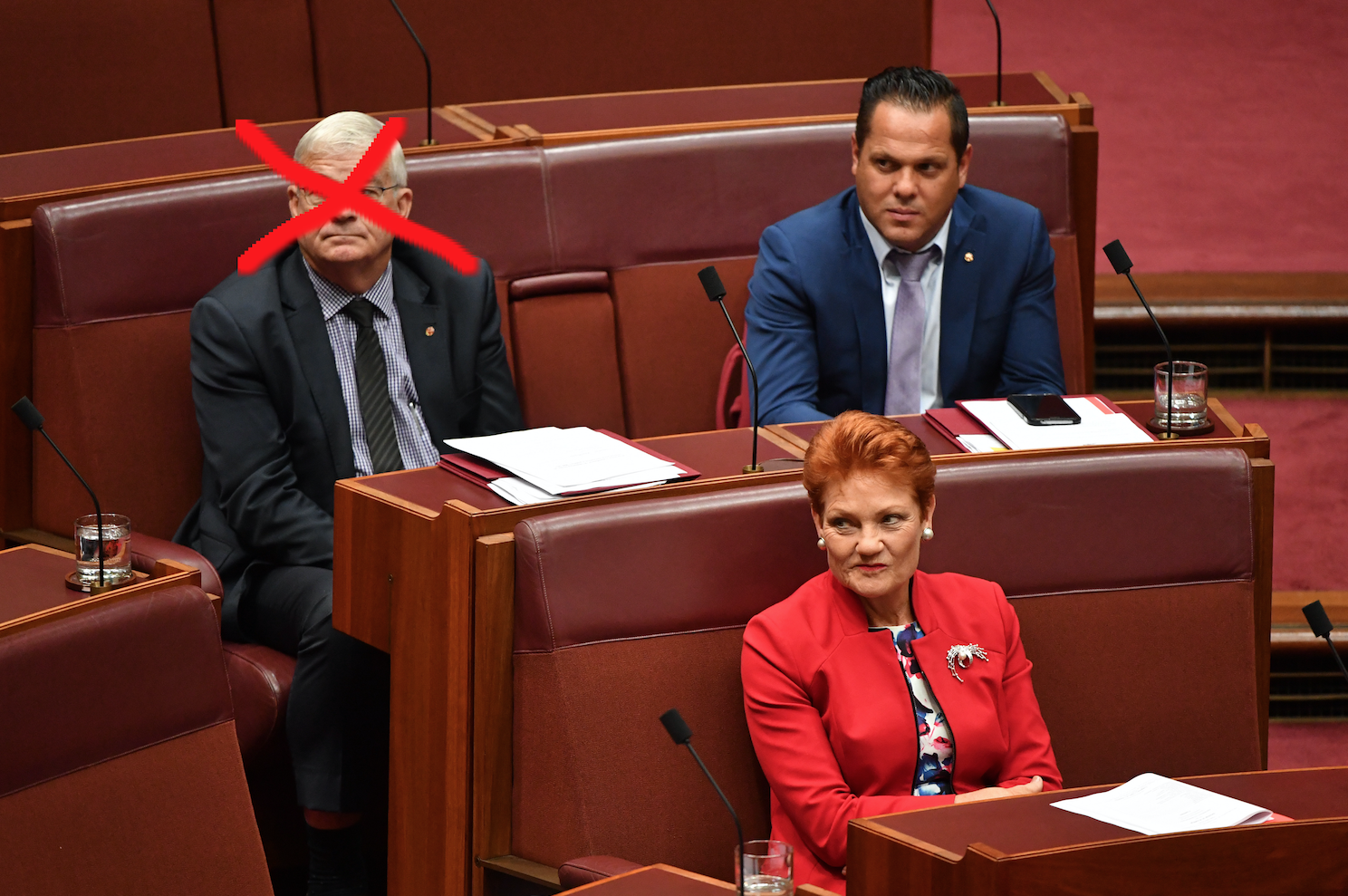 So how did it all get to this?
When Hanson was elected to the Senate in the 2016 election, she brought along a second senator from Queensland (Malcolm Roberts), a senator from NSW (Brian Burston), and a senator from Western Australia (Rod Culleton).
Culleton quit the party before he was ultimately found ineligible to be elected, due to a conviction for stealing a key that was subsequently quashed. Culleton maintains that he is a "senator in exile", though not a member of One Nation.
His replacement, brother-in-law Peter Georgiou, remains with One Nation.
Roberts was kicked out of parliament by the High Court after BuzzFeed News revealed he was a dual national with the United Kingdom, though he chose to believe he was only an Australian citizen.
His replacement, Fraser Anning, was elected to the Senate as a One Nation senator, but then quit One Nation the same day.
And then there were three.
But trouble seemed to be brewing with Burston, the Ringo Starr of One Nation, after he was sacked as the party whip.
At the same time, the government was wanting to pass corporate tax cuts, and up until a few weeks ago was just about over the line in the Senate after One Nation agreed to pass the legislation.

But then Hanson announced (from Tasmania during a sitting week, for some reason) that the deal was off. Many suggested this was because the party couldn't be seen doing a deal with the government on tax cuts ahead of the upcoming Longman by-election in Queensland.
Burston, however, wasn't satisfied with this outcome, and announced yesterday he intended to honour the deal struck with finance minister and leader of the government in the Senate Mathias Cormann.
THEN, Hanson and Georgiou held a press conference where Hanson said Burston had agreed to withdraw support for the tax cuts, only to apparently change his mind. Hanson then threatened that Burston would not be top of the One Nation ticket at the next election.
She said One Nation will vote as a bloc on this.
"We are not a loose party ... We are united in our vote with this."
She then walked away from the press conference, leaving Georgiou behind.
"I didn't realise she walked away," Georgiou said. "I will walk away, too, now."
Then Hanson ended the day with the Sky News interview, and alleged that Burston had been speaking to the Shooters, Fishers, and Farmers Party and looking to defect.
Burston told the ABC that was incorrect, but NSW MLC for the Shooters' party Robert Borsak confirmed to the ABC that Burston had approached the state director, but that the party refused to meet with him.
The Nine Network has also reported that Hanson approached Australian Conservatives leader Cory Bernardi, and former Labor leader, and now cookbook author and Facebook video host, Mark Latham, to join the party.
But in an interview on Sky News on Friday, Culleton said simply that Hanson was not a good leader.
UPDATE: On Friday afternoon 2GB host Ben Fordham revealed Hanson had sent a letter to Burston asking him to resign from the Senate (thus allowing Hanson to replace him).
Fordham read the letter to Burston on-air, as he hadn't received it. In response, Burston said: "Well, that is disappointing."
Burston went on to say he had no intention of resigning to be replaced by a "crony", but said he would sit as an independent if Hanson kicked him out of the party.

Burston said it would make him the 24th out of 30 elected One Nation members to leave the party before the end of their term. The party was founded in 1997.
In short: this is One Nation right now.
But it is not the first time One Nation has imploded. When Hanson first rose to prominence in the 1990s she expelled party co-founder David Oldfield, then a state politician, from the party. Oldfield went on to set up One Nation New South Wales, but it faded into obscurity.