The Government Is Happy About Nine Taking Over Fairfax. Journalists Aren't So Sure.
Prime minister Malcolm Turnbull said both Nine and Fairfax were supportive of the government winding back media ownership restrictions.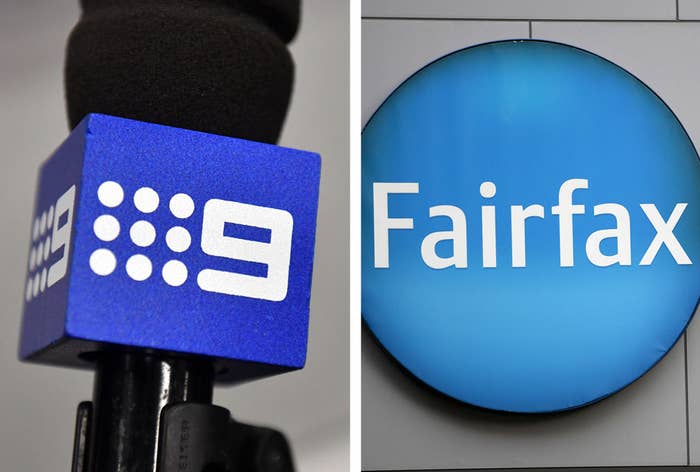 Nine and Fairfax Media will merge to form a giant media company known as Nine, encompassing newspapers, TV channels, real estate advertising, online news, radio and streaming video services.
Current Nine shareholders will take a 51.1% controlling interest in the new company, with Fairfax Media shareholders owning the other 48.9%, under a deal announced to the Australian Stock Exchange on Thursday morning.
The combined properties will include Nine's free-to-air TV network, Stan, Domain, The Sydney Morning Herald, The Age, a stake in Macquarie Media, as well as the two companies' online news sites.
Nine's CEO Hugh Marks will remain the CEO of the new company, and Nine's current chairman and former Liberal treasurer Peter Costello will head up the new company. Two other Nine directors will be on the board, but Fairfax CEO Greg Hywood told staff on Thursday morning that there would be "plenty of Fairfax Media DNA" in the merged company and on the board.
BuzzFeed News understands Fairfax staff were only informed about the merger when news broke on TV breakfast shows this morning.
Nine said that the merger "is expected to deliver" annual cost savings of $50 million that will be implemented over two years.
In two conference calls with media and investors, Fairfax CEO Greg Hywood said that most of the savings would come from cutting back on duplicated back office functions, and not "core content creation", talking down the prospect that Fairfax or Nine journalists might face losing their jobs in the new merged entity.
Nine would not commit to signing up to Fairfax's charter of editorial independence, but Marks said that the company was committed to the "principles" of the charter.
Hywood indicated that in the new entity, online and print journalists would be working with the broadcast division on stories.
"I just think it's a real opportunity across the mastheads and TV to be able to put together some quite interesting material over time," he said.
"We believe from the Fairfax perspective this is great for journalism … this gives our people more opportunities to expand their skills, broaden their platforms ...and develop their careers."
Fairfax would not stop printing newspapers, either, he said.
"We think seven-day-a-week printing is healthy and it will continue for some time," he said.
Fairfax journalists have expressed dismay at the announcement, in particular the loss of the brand of Fairfax.
The announcement comes as Fairfax is in the middle of negotiating enterprise bargaining agreements with Fairfax staff.
The Nine-Fairfax deal has only come about because the federal parliament passed laws to relax media ownership restrictions to allow companies to own media in a variety of different mediums. Communications minister Mitch Fifield defended the law change, saying it allowed Nine and Fairfax to compete with global giants.
"The whole reason, the whole purpose behind our changes to media law, is because we want to see Australian news organisations be strong," he said in a press conference. "We want to see Australian media still tell Australian stories in Australian voices, so today we have this important announcement."
Fifield said that while the name "Fairfax" might disappear, the mastheads will remain.
"This is about securing the future of great Australian mastheads – The Sydney Morning Herald, The Age, The Australian Financial Review – it's about ensuring that we have a media environment where we still have Australian journalists reporting our news and we still have Australian voices telling our stories across all platforms," he said.
Prime minister Malcolm Turnbull said at a press conference in Tasmania that the merger "will make for a stronger business overall".
Shadow communications minister Michelle Rowland said Labor was concerned about media concentration.
"Democracy suffers if you have too few media voices; workers suffer when mergers inevitably lead to job losses; and citizens, consumers and communities get less diversity, less coverage and less choice," she said in a statement.
The Australian Competition and Consumer Commission has said it will review the merger over the next 12 weeks.
Nine has said the merger would be expected to be completed by the end of 2018.