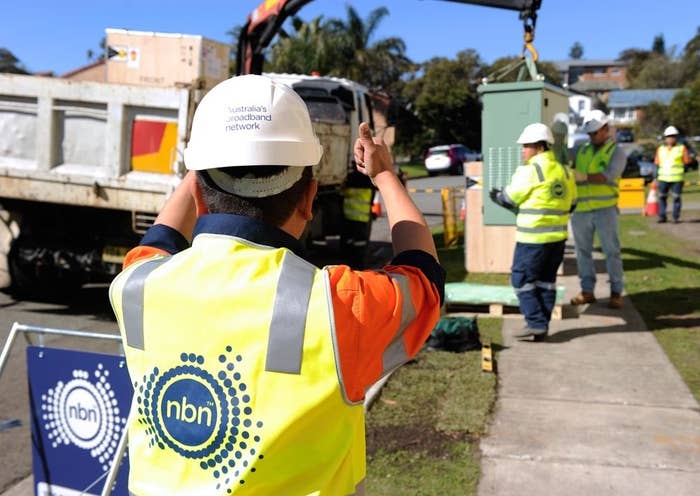 Hundreds of thousands of homes across Australia face a delay in being connected to the NBN after the company announced a "halt" to connecting hybrid fibre-coaxial (HFC) users.

But NBN Co buried the detail of this announcement in a press release that said it was "taking customer experience improvement program to new levels".
It took until the fifth paragraph of the release before the company said that NBN Co was pausing all new orders for connections on its HFC network.
As part of the multi-technology mix model mandated by the Turnbull government, NBN is using the existing Telstra and Optus pay TV cable networks in Sydney, Brisbane, and Melbourne to connect approximately 3.1 million homes.
Currently around 1.2 million can order a service on this network, and about 370,000 are already using the service. But the company has said it will now put a pause on anyone wanting to order a service between a reported six and nine months.
This means anyone who previously saw on the NBN website that they were in an HFC area and could connect to the NBN, must now wait up to nine months before they can put in an order to be connected.
NBN said on Monday currently it was connecting about 80,000 new homes each month, but field work needs to be undertaken to raise the quality of service.

There would need to be more remediation made to the legacy networks to ensure they are up to scratch before more users are connected, NBN Co said, but the company said that overall the delay wouldn't push out the completion of the network in 2020.
Shadow communications minister Michelle Rowland said that the announced delay just raised more questions, and accused NBN of spin.
"The latest spin we have from the NBN could be matched by Shane Warne. This spin today is supposedly about the NBN improving the customer experience and taking it to new levels. Translate that to what it really is, and the reality is this: Malcolm Turnbull's multi-technology mix has well and truly failed."
Awkwardly for prime minister Malcolm Turnbull, when he was shadow communications minister in 2013, he argued that by utilising the HFC network rather than rolling out the full fibre-to-the-premises model as was Labor policy, the network could be completed much sooner.
NBN Co also referred leaks of documents about potential issues facing the HFC rollout to the Australian Federal Police for investigation in 2015, spectacularly resulting in the AFP raiding Parliament House, Labor's Melbourne headquarters and the home of a staffer during the 2016 election campaign.