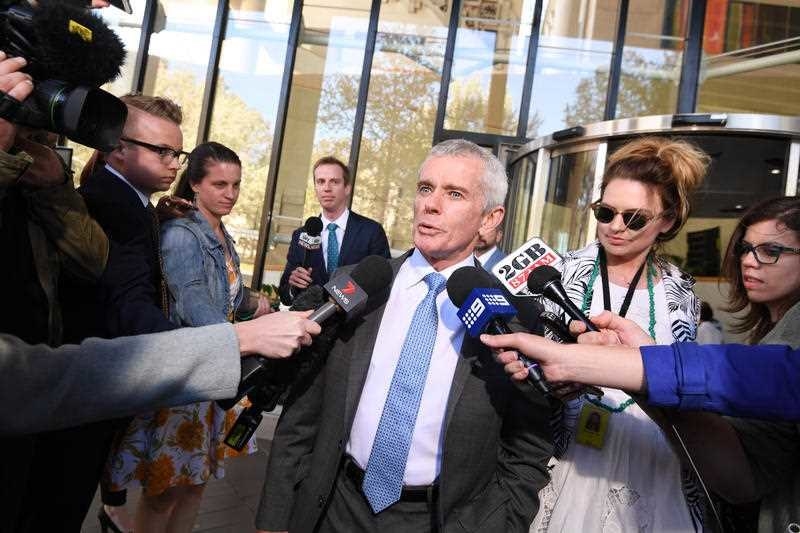 Robert Newlinds, the barrister representing One Nation senator Malcolm Roberts, claimed it would be un-Australian to declare the conservative politician ineligible to sit in parliament.

Newlinds spoke on the last of three days of High Court hearings for the seven current and former Australian politicians under a cloud over their eligibility to sit in parliament due to their entitlement to foreign citizenship.
The barrister gave a detailed history of how people became "naturalised" Australian citizens.
Roberts was born in India to a Welsh father and Australian mother, and didn't apply for Australian citizenship until 1974. Roberts' lawyers argued that he should be considered a British subject that naturalised as Australian, as Australians were still considered British subjects at the time.
This meant that Roberts would have had no reason to believe he was still a dual citizen of Britain at the time of the 2016 election, and therefore ineligible to sit in parliament under Section 44 of the Australian Constitution.
This argument is being advocated despite Roberts sending emails in May and June last year to defunct addresses first asking if he was "still British", and then attempting to rescind his British citizenship last year.
To make the case for Roberts, Newlinds cited a pre-Federation New South Wales Supreme Court case in 1888. The case was about a naturalised Victorian citizen originally from China, Lau You Fat, who was not recognised as being a British subject when he tried to enter New South Wales, and was asked to pay a tax for being Chinese, as was required under NSW law at the time.
The court found that although Lau You Fat had been naturalised by Victoria, that natrualisation was not recognised by NSW and Lau You Fat was not considered to be a British subject under the law.
Newlinds said that this drew a distinction in Australian constitutional law between natural born and non-natural born British subjects.
He argued that Roberts was more Australian than the Chinese immigrant because Roberts was born to an Australian mother in a country where he could be considered a British subject.
"Without mincing words, it is obviously racially-based and this is the precursor to the White Australia-type policies, and we have come a long way, but that is where this concept of natural born and non-natural born emerges from," Newlinds told the High Court on Thursday.
"Mr Newlinds, we are at 1888," justice Stephen Gageler said at one point. "We have got a long way to go to get to 1974."

Newlinds also said it would be "un-Australian" for Roberts to be treated differently than people born in Australia just because he was not born here:
"There should be no place in Australian law, let alone Australian constitutional law, in 2016 for some dichotomy to be drawn between so-called natural born Australians and I suppose, what would we call them — immigrant Australians? If such a concept ever had a part to play in Australian law, it should be put to bed unless the court is commanded by the clearest words in the constitution to draw such a distinction. It is, if I may say so, a fundamentally un-Australian notion."
Roberts' barrister was the last to make the case as to why his client should be found eligible to remain in parliament.
Over the previous two days barristers representing the attorney-general, the Greens, independent senator Nick Xenophon, Nationals senator Matt Canavan, deputy prime minister Barnaby Joyce and his former rival Tony Windsor all appeared before the court.
The political fates of the seven politicians — Roberts, Joyce, Xenophon, Canavan, Nationals deputy leader Fiona Nash, and former Greens senators Scott Ludlam and Larissa Waters — were not revealed by the High Court on Thursday.
The government has argued that all but Roberts and former Greens senator Scott Ludlam should be found eligible, as Nash, Waters, Joyce, Xenophon, and Canavan were unaware at the time of the election that they were entitled to citizenship of a foreign country.
Ludlam, who was born in New Zealand and moved to Australia as a child, and Roberts should have had some idea that they might have held citizenship with a foreign country, and should have taken reasonable steps to renounce that citizenship prior to standing for election, the government argued.

When the final hearing was over, High Court chief justice Susan Kiefel indicated that the court was aware a judgment would be required sooner rather than later.

"It is hardly necessary to say that the court is aware of the need to give its answers to these references with or without reasons as soon as possible. As counsel and instructing solicitors would appreciate, it is not always possible for the court to do so immediately. No doubt, they will explain this to their clients."
In the meantime, parliament resumes next week.