When Australian treasurer Scott Morrison picked up The Daily Telegraph on Tuesday, he would have been greeted with this photo of himself.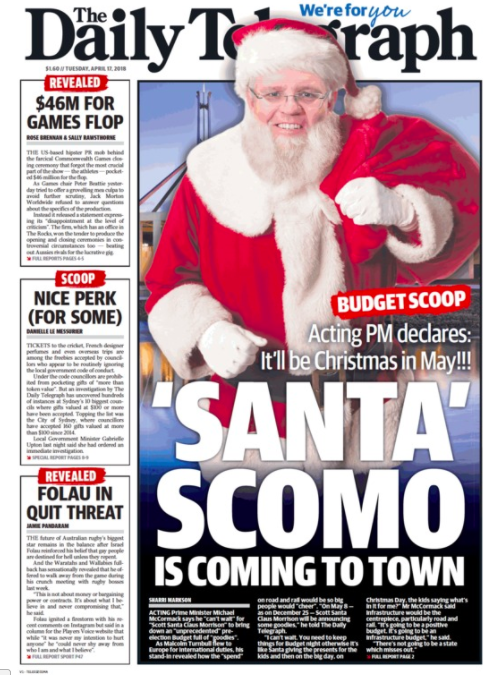 In an interview with the newspaper, acting prime minister Michael McCormack – who is filling in for Malcolm Turnbull while he's in Europe – compared the Budget to be delivered by Morrison on May 8 to Santa arriving on Christmas Day.
"On May 8, as on December 25, Scott 'Santa Claus' Morrison will be announcing some goodies," McCormack said.
"I can't wait until Scott Morrison hands it down. You need to keep things for Budget night otherwise it's like Santa giving the presents for the kids and then on the big day, on Christmas Day, the kids saying, 'What's in it for me?'"
But Morrison apparently missed the Santa memo, and was quick to hose down any suggestions from the acting PM that it would be a big spending Budget. He is not the Santa you are looking for.
"I'm not Santa Claus," he told ABC's AM program. "It won't be Christmas in May, but I don't intend to be the Grinch, either, when it comes to these things."
The pre-Budget rumour mill has people guessing that there will be a lot of spending on infrastructure and a focus on baby boomers.
This is likely the last federal Budget before the next election, and often those Budgets tend to be more about spending than cuts, in order to keep the electorate happy with the government and thus less likely to turf it out at the ballot box.
McCormack replaced Barnaby Joyce as leader of the Nationals earlier this year after Joyce stepped down amid a scandal over an affair he had with a former staffer, who is now his partner.
A newspaper vox pop this week asked people who Michael McCormack was. Four had no idea and one thought he was a race car driver.