Fair Work Ombudsman (FWO) official Mark Lee and Michaelia Cash's then senior adviser David De Garis exchanged text messages on the day of the Australian Federal Police (AFP) raids on Australian Workers Union (AWU) offices and spoke shortly after De Garis resigned, after BuzzFeed News revealed that the media had been tipped off about the raids by the employment minister's office.
The detail is contained in heavily redacted text messages, phone screenshots, and emails released under freedom of information law to news site the New Daily, which first reported the revelation.
The raids on the AWU offices in Sydney and Melbourne in October were part of an investigation by the Turnbull government–established watchdog the Registered Organisations Commission (ROC) into donations made by the union over a decade ago when it was led by current Labor leader Bill Shorten.

Media were present when the raids were conducted, and Cash repeatedly denied in Senate Estimates that her office had tipped off the media about the raids. After BuzzFeed News published its first story, De Garis resigned from Cash's office.
Cash is using the current AFP investigation into the leak about the raids to block freedom of information requests to release communication that would provide more information as to what she and her staff may have known about the raids, when they knew it, and who they told.
The union requested any correspondence between Cash, her office, and the ROC, in addition to any correspondence between the minister and relevant staff members. This could include any text messages, emails, phone lists, and other correspondence.
A similar request made by BuzzFeed News was also denied.
But an FOI request from the New Daily to the FWO was more successful, with the agency releasing text messages, emails, and call records from Mark Lee, who was acting as a media adviser for the ROC at the time of the raids.
The documents reveal that on the evening of the raids (after they took place), De Garis messaged Lee saying "Hey mate please call".
The call log between De Garis and Lee on the night of the Senate Estimates hearing also shows the pair calling each other as the news broke.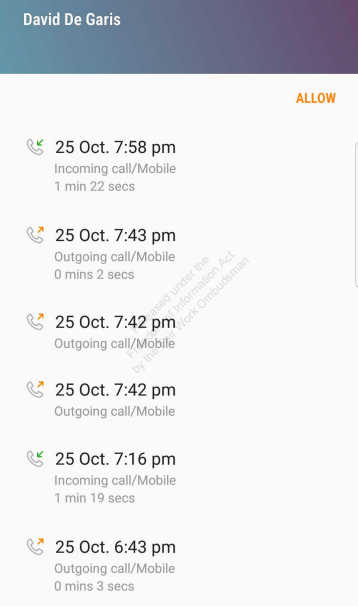 Lee asked De Garis to call him on the day Cash fronted Senate Estimates and denied five times that her office had tipped off media about the raids.
BuzzFeed News' story was published at approximately 6pm that evening, and Cash returned at 7:30 that evening to announce that De Garis had resigned.
The call log from Lee's phone reveals that Lee and De Garis attempted to call each other, and that the call did connect twice for approximately two minutes after Cash had announced to Senate Estimates that he had resigned from her office.
At the time, Cash claimed her chief of staff had collected all of De Garis' electronic equipment to ensure it would be retained, but the calls reveal De Garis' phone was still switched on and active after he had resigned.
"I basically said to him that he was to secure the electronic material and any documents in relation to this particular staff member," Cash said in an estimates hearing on October 26. "He advised me that he had done that. I understand that arrangements are obviously now in place to hand over the IT to the employment department, who own the IT."
When pressed, Cash indicated De Garis may have had more than one phone:
Labor senator Murray Watt: The staff member who has resigned — do they have a government-provided mobile phone?

Cash: Yes.

Watt: Do they still have that phone?

Cash: No.

Watt: How was it, then, that last night a journalist was able to make a telephone call to that staff member?

Cash: Well, he may have more than one telephone. Many people in this place have more than one telephone.

Watt: You're assuring us that this staff member who resigned has left behind any electronic equipment issued by the government?

Cash: That is my understanding, yes.
Other messages are redacted, with the New Daily saying the FWO also cited the AFP investigation as the reason for redacting the documents released.
Cash was promoted by prime minister Malcolm Turnbull, adding jobs and innovation to her list of portfolio responsibilities, and removing the industrial relations portfolio from her brief.
De Garis has taken a job with the Australian Hotels Association, which made a $10 million deal with Cash in August to take 10,000 interns under the government's PaTH program.
Lee was due to take up a job in Cash's office but that has not yet happened.
The Federal Court earlier this month ordered Cash's office, De Garis, and Lee to turn over any documents to the AWU about her office's involvement in tipping off media about a police raid on the union.