George Christensen Charged Taxpayers To Print Ads For The Coalition For Marriage
The Liberal National Party MP spent thousands of dollars on ads printed in newspapers in Queensland during the postal survey.
Liberal National MP and opponent of same-sex marriage George Christensen used taxpayer funding to print ads on behalf of the Coalition For Marriage, the group leading the "no" campaign during last year's postal survey on same-sex marriage.
There was no official funding allocated to the "yes" and "no" campaigns by the government for the postal survey on whether same-sex couples should be allowed to marry, but politicians said last year they intended to bill taxpayers for printing and other costs associated with promoting their point of view.
Under parliamentary entitlements, Australia's elected representatives are allowed to spend up to $160,000 per year on printing and communications.
BuzzFeed News can reveal that this Coalition For Marriage ad was charged to taxpayers by Christensen and was placed in three newspapers in Queensland in October last year: the Burdekin Advocate, the Townsville Bulletin, and the Bowen Independent.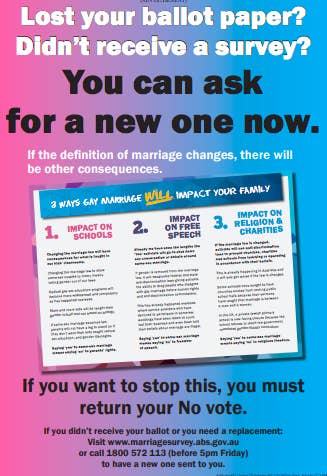 BuzzFeed News obtained the claims Christensen made with the Department of Finance under Freedom of Information law.
Using his parliamentary printing entitlements to pay for the ads was not against the rules. Before the ad was placed, Christensen's office sent a copy to the department to see if it was within the guidelines.
"As currently drafted, the above item may be claimed as a printing and communications work expense under the PE [parliamentary entitlements] regulation," the department told Christensen.

In the printing claim, Christensen also claimed for two other ads taken out in the three newspapers: one an attack on the impartiality of the national broadcaster, the ABC; and one promoting a petition website where Christensen is calling for a coal-fired power station to be built in North Queensland.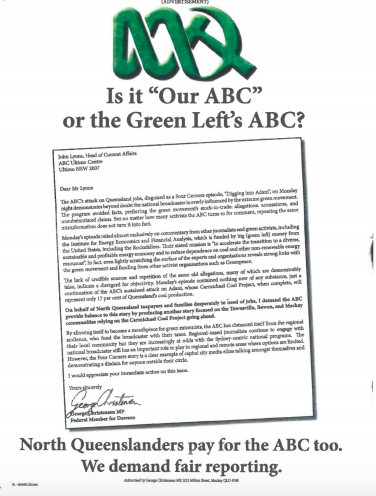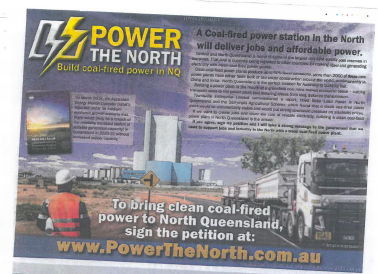 The ads were authorised by Christensen.

BuzzFeed News filed FOI requests for the two largest expense claims made by Christensen for the three-month period from October to December, so it is unclear if these are the only ads taken out during the postal survey.
The backbench MP claimed more for office administrative costs in the quarter than any other MP ($111,436.25), even higher than the prime minister ($108,773.79).
Although his claim has so far been the only one revealed to have the Coalition For Marriage branding, Christensen is not the only MP to charge ads during the same-sex marriage postal survey.
Last week BuzzFeed News revealed Liberal senator Eric Abetz and Greens MP Adam Bandt also charged taxpayers for their ads, but in both of those instances the ads contained photos of the MPs.