Comedian Eurydice Dixon Has Been Identified As The Woman Murdered In Melbourne
The 22-year-old was reportedly on her way home after a comedy gig at the Highlander Bar.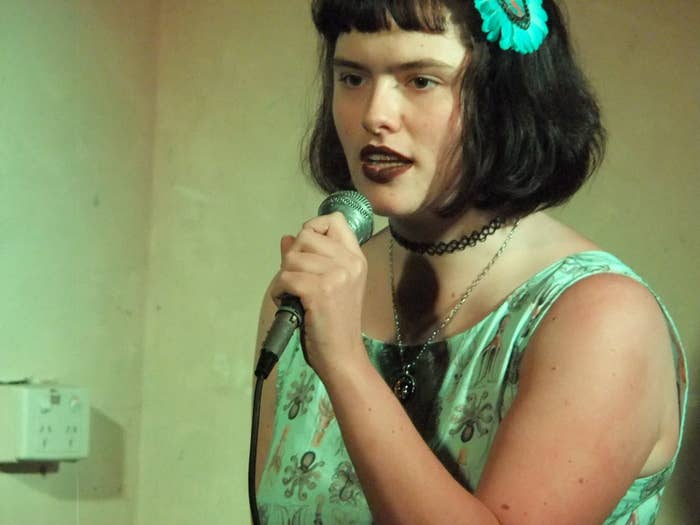 Comedian Eurydice Dixon has been identified as the victim in the Carlton North park murder case.

The body of the 22-year-old was found on a soccer pitch by a passer-by in Carlton North shortly before 3am on Wednesday.
Victoria Police have not formally, publicly confirmed Dixon as the victim, but indicated that the age and suburb of the victim would be released once she is formally identified.

Dixon had performed stand-up comedy at the Highlander Bar in the Melbourne CBD on Tuesday night. The event finished at 10:30pm, and police allege that Dixon was attacked on her way home.
The bar where Dixon had performed said in a Facebook post that staff were deeply shocked and shattered by the news.
"She was a remarkable, talented, kind, unique and universally loved person," the post read.
A 19-year-old man turned himself into police overnight after media coverage of the murder on Wednesday, and after police released photos of the suspect and made a public plea for assistance. He has been charged with one count of rape and one count of murder.
In a press conference on Thursday detective inspector Andrew Stamper said that the victim had no relation to the accused. He also said that police were confident that the murder wasn't linked to a rape that happened less than 1km away in Parkville at the end of March, but said the investigation into the murder was still at an early stage.
"It's the start for us," he said. "Charging someone is the start and there's a lot of work that has to be done now. We are satisfied at the moment that the two aren't connected."
Stamper said people concerned about walking alone in Melbourne should be aware of their surroundings, and call emergency services if there is any concern.
"My message is that people need to be aware of their own personal security, and be mindful of their surroundings," he said. "We would rather have too many calls than too few."