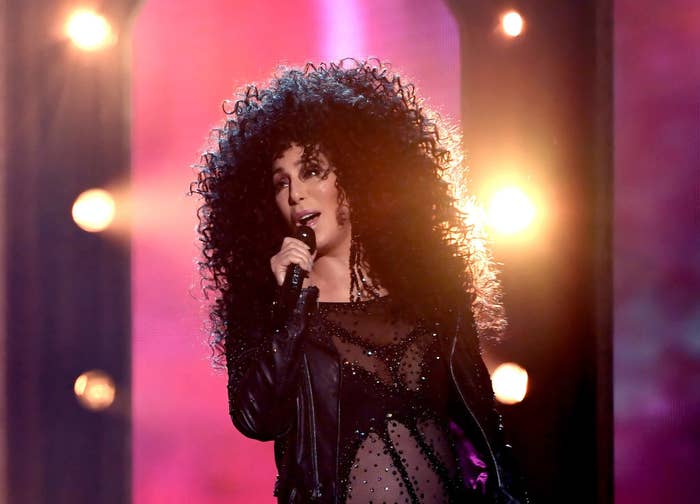 The worst-kept secret in Sydney for this year's Gay and Lesbian Mardi Gras can now be believed: Cher is coming.

Mardi Gras confirmed on Friday that Cher will be performing at the afterparty following the 40th anniversary parade down Oxford St in Sydney on Saturday, March 3.
"Cher has established herself as an influential, hard-hitting voice in global politics, and throughout her career has been at the forefront of LGBTQI campaigns and numerous charities," Mardi Gras CEO Terese Casu said in a statement. "Cher represents the same unapologetic and fearless freedom that makes the LGBTQI community so enduring and strong — positioning herself as a true gay icon."
The 71-year-old music superstar had all but revealed the news herself last month on Twitter.
Previous headline acts at Mardi Gras have included Kylie Minogue, RuPaul, George Michael and Olivia Newton-John.
Anticipation for the announcement that Cher would be headlining resulted in the event selling out a few weeks ago, and Mardi Gras said that it had negotiated extra space at the venue to sell more tickets from next week.
The parade will mark the 40th anniversary of the 1978 protests down Oxford St that saw 53 of the participants arrested, some of whom were brutally bashed by police.
The Sydney Morning Herald at the time published the full list of the names, addresses, and occupations of those arrested. It resulted in some of those who protested being outed and losing their jobs.
The NSW Police, the state parliament, and the Herald have since issued public apologies for their actions at the time.
The 78ers, as they are dubbed, are attempting to get to the parade this year, and Mardi Gras has faced a backlash from 78ers for not offering free tickets to the afterparty to all estimated 160 surviving 78ers.
In a statement earlier this week, Mardi Gras said it offered 20 free tickets to 78ers every year, but many were not used. The organisation said that it has also offered financial support to get 78ers to the parade, and has offered an additional 80 discounted party tickets at $45 each (the price for the tickets on sale next week will be over $200).
This year's Mardi Gras parade will also be the first since marriage equality passed into law in Australia. Last year there was a push to uninvite prime minister Malcolm Turnbull from the parade (he became the first sitting PM to attend the parade in 2016 and it is held in his electorate) over the government's inaction at the time on passing marriage equality, but he decided not to attend.