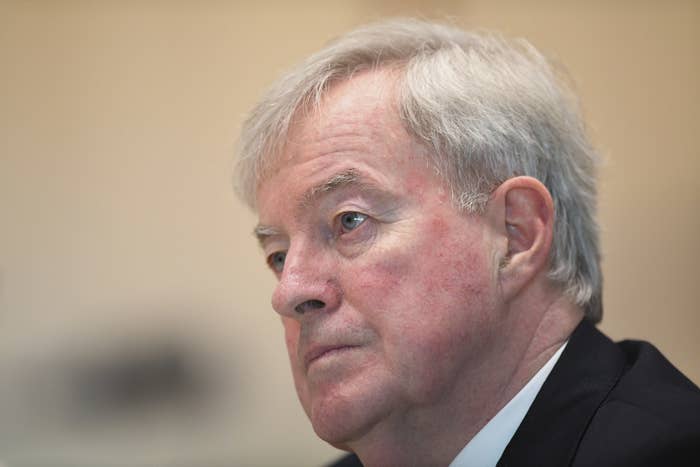 Public service commissioner John Lloyd resigned on Monday, after questions were raised about his communications with the Institute of Public Affairs (IPA).

BuzzFeed News was tipped off that Lloyd informed staff in the Australian Public Service Commission on Monday that he would be resigning, following on from political turmoil over his ties to the right wing think tank the IPA.
A spokesperson for the commission confirmed Lloyd had resigned but declined to comment further.
"Today, the Hon. John Lloyd PSM advised the governor-general, His Excellency General the Honourable Sir Peter Cosgrove AK MC (Retd) that he would resign from his position as APS Commissioner on 8 August, 2018," the spokesperson said in a statement.
The Department of Prime Minister and Cabinet refused to release documents under freedom of information laws related to Lloyd and the IPA last month citing a possible investigation.
In Senate Estimates two weeks ago, Lloyd was repeatedly asked by Labor senators whether he was under investigation, and Lloyd initially refused to answer.
Two days later, a letter was tabled in the Senate from the acting merit protection commissioner, Mark Davidson, confirming that there was an allegation of a breach of the Australian Public Service code of conduct by Lloyd in January this year, but because no merit protection commissioner had been appointed, it had not begun being assessed until late March. The assessment is still ongoing.
Lloyd was appointed to the role in 2014, and worked at the IPA before that. Questions have been raised about whether Lloyd gave the right wing think tank special access or access to research about the public service.
In an email tabled to the Senate during estimates, Lloyd had emailed the IPA about Labor grilling him in Senate Estimate about his IPA links.