Australia Is Removing Kids Off Nauru While Fighting Court Cases To Keep Them On Nauru
The government says it has been bringing kids from Nauru to Australia for a while, yet it is still fighting court cases to stop this happening.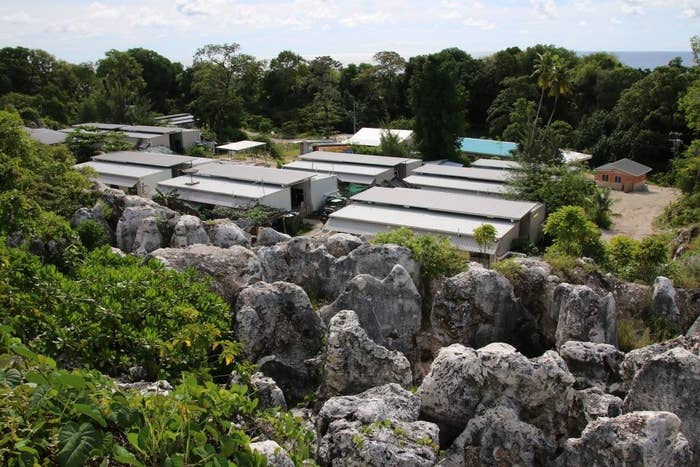 The Australian government plans to fight a court case on Friday that seeks to bring a refugee child from Nauru to Australia for medical treatment, despite reports that there is a plan to transfer all remaining children by the end of 2018.

Momentum is building on a campaign to get children out of immigration detention on Nauru, where Australia has sent thousands of people who attempted to arrive in the country by boat.

Senate Estimates heard last week that there are still 107 families on Nauru (including couples without children), and 52 children, but in the past few weeks the government has quietly transferred a number of children and their families to Australia for medical treatment.
Lawyers acting for the children on Nauru say 38 children remain on the island, and asylum seeker advocates say that since October 15, 41 families have been transferred off Nauru, with 135 people leaving the island in total.
Former attorney-general and current High Commissioner in London, George Brandis, told London radio station LBC on Wednesday that the government planned to get all children off Nauru by the end of the year.
"This is largely a problem that has gone away," Brandis said. "There are hardly any children on Nauru and in New Guinea and we expect that by the end of this year there will be none."
On 2GB radio on Thursday, prime minister Scott Morrison said the government was making the transfers quietly without "showboating".
"Now, children have been transferred off Nauru, that's been happening for some time," he said. "I haven't been showboating about it, I haven't been drawing attention to it. It's been done in accordance with our policies."

The government has been fighting court cases that seek to transfer children to Australia, and one such case is due in Federal Court in Melbourne tomorrow.
Human Rights Law Centre confirmed to BuzzFeed News that at the time of publishing the hearing is slated to go ahead.
Daniel Webb, the director of legal advocacy at the Human Rights Law Centre – which has brought the case – said all the legal cases need to be dropped by the government.
"In public the government is saying they will quietly evacuate all children and their families, but behind the scenes they have been fighting tooth and nail in the courts to block these transfers," he said in a statement.
He said that the children should be evacuated now, not by the end of the year.
Most of the children have been there for five years of indefinite detention, and doctors and medical experts have reported to BuzzFeed News that several children are suffering from resignation syndrome, where the children are so distressed they deteriorate into a catatonic state.

"Over the last five years we have seen children on Nauru go from being playful and curious little kids to hopeless, listless little bodies on a mattress, unable to eat or speak," Webb said.
"We've seen their spirits slowly dissolve and the brightness slowly fade from their eyes."
BuzzFeed News sought comment from home affairs minister Peter Dutton's office. Dutton told 2GB radio that anyone brought to Australia would not be settled in Australia permanently.
"We've been very clear about people not settling permanently here," he said. "Once people have received their medical assistance the expectation is they will return to their country of origin."