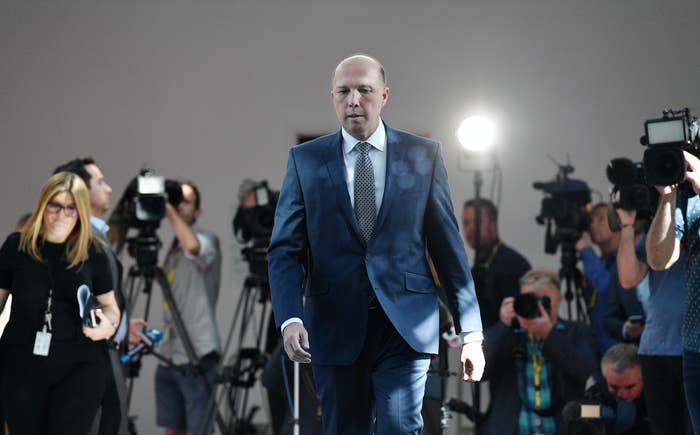 Australia's Department of Home Affairs is looking to give priority to white farmers from South Africa in its humanitarian immigration intake, in response to reports of the farmers facing violence and being killed as a result of land seizures in the nation.
In news reports and opinion pieces in recent days Australia's conservative media has drawn attention to reports out of South Africa of white farmers being murdered and tortured.
The reports quote white South African group Afriforum, which claims that white farmers were being murdered at a rate of more than one per week, four times the rate of other citizens. This figure has not been verified by BuzzFeed News.

A BBC fact check in November last year found the claim that white farmers were more likely to be murdered was not supported by reliable data.
When home affairs minister Peter Dutton went on conservative columnist Miranda Devine's internet radio show on Wednesday, he said based on news reports and footage, he believed it was "an horrific circumstance" they face.
Dutton has ordered his department to look at how to provide assistance to those farmers, in particular, in Australia's humanitarian intake.

"I've asked the department to look at ways we can provide some assistance, so we can provide visas to some people in the humanitarian program, because people are being persecuted, whether it be for religion, or the colour of their skin or whatever, we need to provide assistance where we can and we have been generous," Dutton told 2GB on Thursday.
According to 2016 census data, there are 162,448 people in Australia who were born in South Africa, with 73% of those now Australian citizens. Dutton pointed to the number of expats in Australia and said that it showed that they fit in well in Australia.
"They work hard, they integrate well into Australian society, they contribute and make us a better country, and they're the sorts of migrants that we want to bring into our country," he said.
"I hope we can settle some of these people. I think they will work hard. I think they desire to work hard, they want to educate their kids, and they want to provide for a safe and certain future, and we can provide for that in a country like ours."
In response to Dutton's comments, the South African foreign ministry said there was no such threat against white farmers, and expressed regret that the Australian government spoke out in the media rather than using the regular diplomatic channels.

Afriforum responded by thanking Dutton for taking the issue seriously, but said that a solution must be found in South Africa.

Others back in Australia, however, have pointed out that Dutton is not as generous with his move to assist persecuted minorities in other countries. Last year, Australia was reportedly offering Rohingya refugees $25,000 to return to Myanmar from the Manus immigration detention centre. Myanmar has been accused of ethnic cleansing against Rohingyas.
Dutton refused to confirm or deny the report.
Last week, Australian Border Force officials also turned up to Biloela in Queensland in the middle of the night and removed a family of Tamils from their home and moved them to a Melbourne detention centre, after their bridging visa expired. This week the government attempted to fly them back to Sri Lanka, where the family fears it would be persecuted.
A last minute phone call saved them, with a hearing on the case scheduled to be heard in court in May. The Australian government has argued that the family does not meet Australia's protection obligations.