The opening speech by leader Bill Shorten at Labor's 48th national conference in Adelaide was disrupted by a group of protesters opposing the Adani coal mine and calling for a close to offshore immigration detention centres.

Hundreds of Labor delegates, union officials, business people and media have descended on Adelaide until Tuesday for Labor's national conference, where the party's policy platform is debated and voted on.
The start of Shorten's speech was interrupted by protesters campaigning against the Adani Carmichael coal mine, and later Australia's offshore detention centres on Manus Island and Nauru.
Shorten was undeterred by the protesters, some who sat cross-legged on the stage with their hands raised in the air, while one held up an anti-Adani sign next to the opposition leader.
"Mr Shorten, will you stop the Adani mine? There are bushfires across Queensland. Heat records are tumbling. Great Barrier Reef is heading for a third event," a protester said.

"Thank you for making that statement. Can I keep the flag?" Shorten replied.
While security slowly removed the protesters, Shorten said he didn't mind waiting.
"I would say to everyone gathered here that I have waited as opposition leader for the next election for five years and two months and if I have got to wait a couple more minutes, well I just will!"
The conference itself had been delayed from July after the super Saturday by-elections were held when Labor had originally scheduled its conference, but the mood among delegates was cheerful.

Shorten was greeted with cheers and standing ovations at several points during the speech, including when he announced Labor would overhaul the environment act and create an environmental protection agency.
The protesters returned later in the day, with hundreds calling for Labor to "leave it in the ground" when it comes to mining. The protest happened just before Labor debated environment policy, which included a new environment act and a new independent environmental protection agency.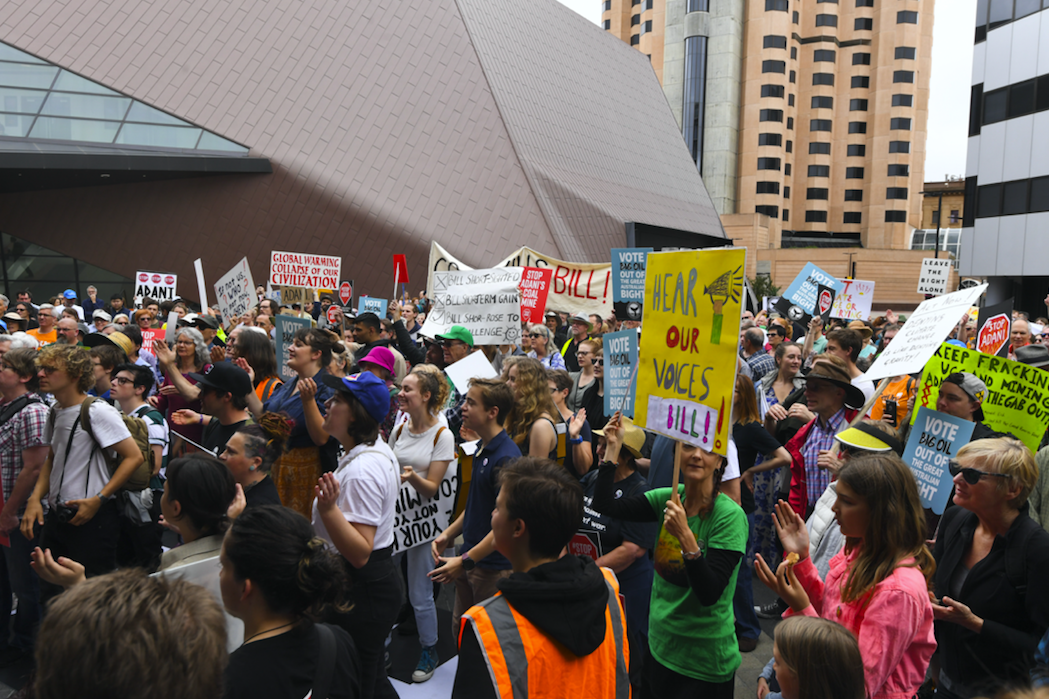 There was no dispute on the floor of the convention to the policies announced.
On education, Shorten said a Labor government would eliminate the up-front fees for 10,000 places in high-priority TAFE courses. In employment, he said Labor would ensure superannuation was included in the national employment standards, so employers could be punished for failing to pay super for staff.

Labor is not yet backing a call for an increase Newstart payments for unemployed, which hasn't been lifted since 1994.
The current Newstart rate for an individual with no children is $272.90 a week, compared to the national minimum wage of $694.90 a week for 38 hours work.

Shorten said Labor would "review and reform" Newstart in government.
The biggest new announcement in his speech was a $6.6 billion plan to build 250,000 new affordable houses, with the first 20,000 to be completed in the first term of government.
Labor would also offer subsidies to housing investors of $8,500 per year if they rent out their houses below market rate.
Shorten's speech was delivered just after prime minister Scott Morrison announced that retired general David Hurley, currently the governor of New South Wales, will be Australia's next governor-general.
Labor had requested the government delay the appointment of the new governor-general until after the election, but Morrison refused.
Labor announced on Sunday that the party supported Hurley's appointment, but was not consulted about it, and was only informed of the decision just hours before the announcement.
Morrison defended the decision, stating it was the job of the government to recommend the appointment to the Queen.
"I mean the Labor Party may think they are the government at the moment - and they be carrying like they think they have already won an election - but that has not occurred and I am assure them, they have got a fight on their hands," he said.
Labor's immigration policy will be debated at the conference on Monday.