A Gay Q&A Audience Member Challenged The Claim That A "No" Vote Isn't Judging His Relationship
"You voting 'no' is really a reflection of my relationship."
Government assistant minister Michael Sukkar was taken to task for his intention to vote "no" in the same-sex marriage postal survey by a Q&A audience member, who suggested that a "no" vote is a judgement that the audience member's relationship is worth less than a heterosexual one.
Assistant treasurer Michael Sukkar, a right wing conservative in the Turnbull government, responded to a question from Australian-born Chinese gay audience member Alexander Lau about how to challenge homophobia in Australia's ethnic communities by suggesting that a "no" vote wasn't a judgement on LGBTI relationships.

"Don't believe that somebody like me who does support traditional marriage in any way is looking down on you, or doesn't think you have a legitimate relationship," he told Lau during the show on Monday night. "This is one of the problems we have suffered in this debate so far. A lot of people who are going to vote 'no' are very afraid to say so.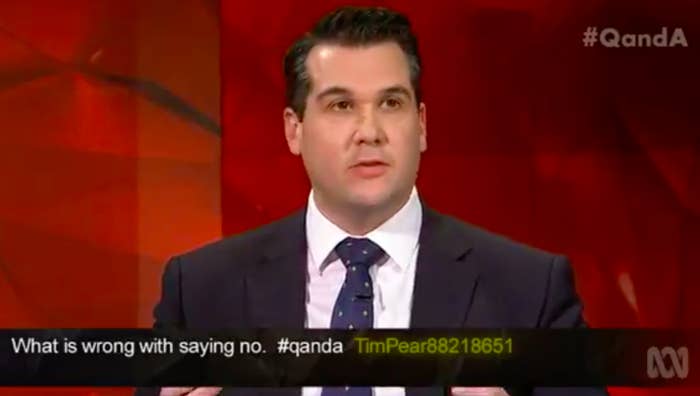 "They get harangued, they get called a homophobe, a bigot....those of us who believe very strongly in traditional marriage shouldn't be lumped into the basket that we are somehow hateful, or somehow don't view, Alexander, your relationship as being legitimate"

But Lau shot back, saying that voting "no" was in fact a comment on his relationship.
"You voting 'no' is really a reflection of my relationship because what you're saying is that I'm not allowed to have a relationship that is worthy of marriage because that is something only you can have, as a person in a relationship of opposite sex," he said.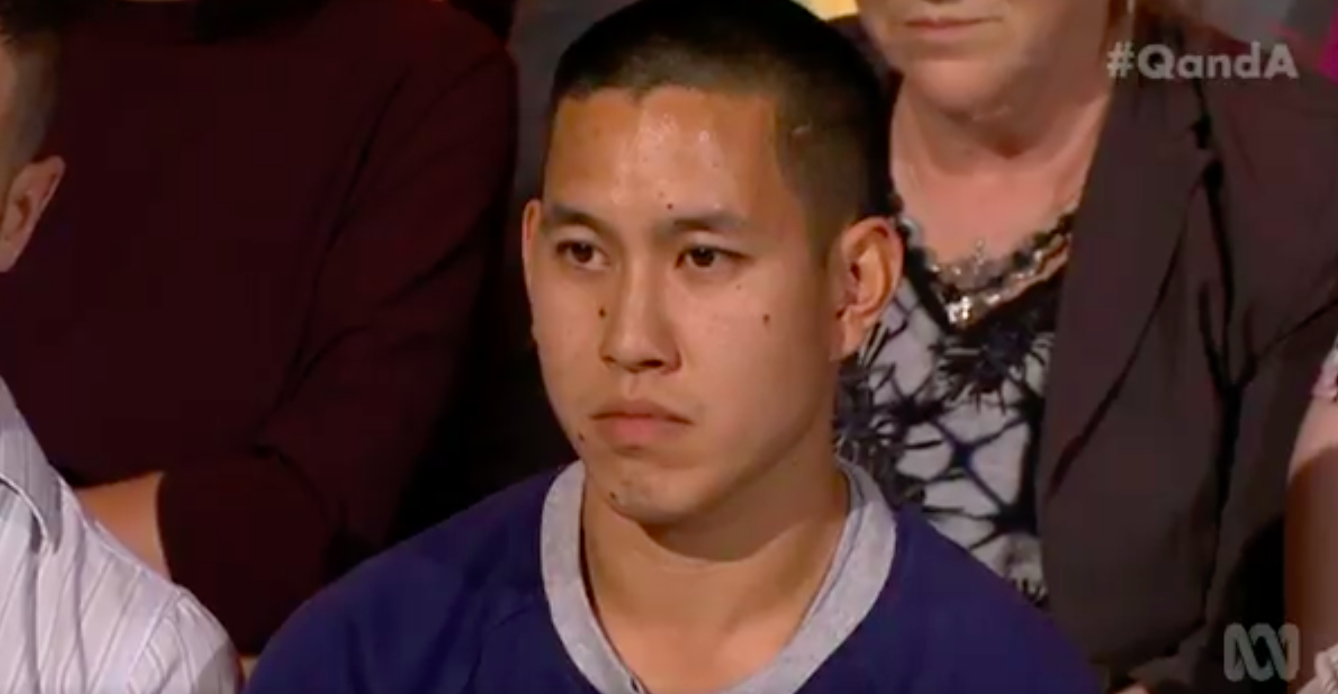 "So when you do go to cast your ballot of 'no', you are saying that your relationship is worthy of marriage and mine is not."

Sukkar then pivoted to suggest that the "legitimate concerns" about the consequences of same-sex marriage include debate being "shut down" and the implementation of "sex ed" through the Safe Schools program (Safe Schools is an anti-bullying program not a sex education program).
"It's shameful for you to use that argument," Labor's shadow foreign affairs minister Penny Wong said in response.

Sukkar then claimed that the "yes" campaign not buying into these arguments put forward by the "no" side was tantamount to silencing the "no" side.
"So people like me get even more nervous because [the 'yes' side is] not even willing to accept that they are legitimate concerns," he said.
Wong said marriage equality should just "get done" and said she was tired of coming on Q&A to discuss same-sex marriage.

"I really like coming on Q&A....but I don't actually want to have to come on this program and consistently talk about it," she said.
"It would be good if we could just get it done, so if everyone could vote 'yes', that would be great."