P-Valley may have made us wait long for this current season's return, but they have been knee-deep in their duffle bag since Episode 1 dropped. So far, some exciting developments in the storyline have me glued to the TV.
One thing that has remained constant is Uncle Clifford's rules. I still have no idea how the number system on these works, but that doesn't discount their value. Let's take a deep dive into the homegrown way The Pynk operates.
Rule #.0025 (Twanky-Five) — "Wear Yall Mu'Fuckin Mask"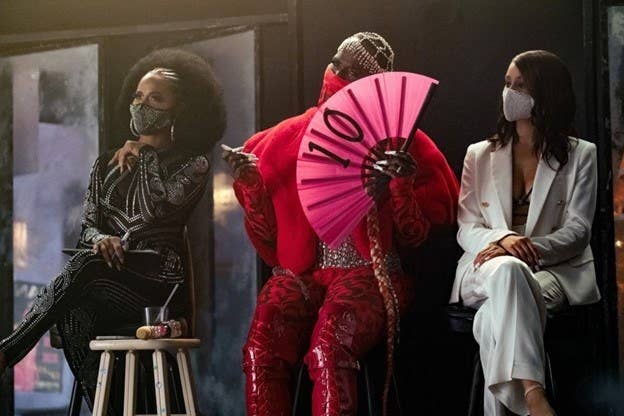 Rule #1 — "Let That Stage Be a Stepping Stone, Not Yo Tombstone"
Rule #2 — "Always Know Where The Exit in This Bitch is, Cause You Never Know When You Gotsta Turn a Window Into a Door"
Rule #4 (Fo) — "You a Hoe, You Out The Do"
Rule #7.5 — "No Witnesses"
Rule #24.5 — "No Crying at The Pynk"
Rule #45.22 — "Leave Your Baby Daddy Drama at Home, Especially if His Ass is White"
Rule #54 — "We Don't Do Tax Evasion"
Rule #55.99 — Even When There Ain't No Money Raining, Dance Like Tonight's Your Last Night"
Rule #57 — "No Coins In the G-String. Only Dollars"
Rule #67 — "Contrary to Chucalissa Belief, Ain't No Hoes In This House"
Rule #92 — "Life is Like Cocaine, It Can Be Blowed At Any Time"
Rule #100.75 — "A Pot of Hog Maws Gotta Simmer in That Pot All Day In Order To Be Any Damn Good"
Rule #934 — "Sometimes You Gotta Rock That Half-Human, Half-Synthetic Lace Front"
Rule #1,729 — "Closed Legs Still Get Fed"
Rule #29,763 — "You Better Be Careful Who You Let Through the Door, Cuz You Can't Save Every Single Hoe"
Rule #1M — "Ain't No Titties on the Main Stage"
Uncle Clifford's rules can be universal and real interpretation is left to the user. Are there any rules you would suggest for The Pynk or real life?