BuzzFeed / Adult Swim

Via Adult Swim

Via Adult Swim

Via Adult Swim

Via Adult Swim

Via Adult Swim

Weekend at Dead Cat Lady's House

Via Adult Swim

Via Adult Swim

Via Adult Swim

Via Adult Swim

Via Adult Swim

Via Adult Swim

Via Adult Swim

BuzzFeed / Adult Swim

Via Adult Swim

Via Adult Swim

Via Adult Swim

Via Adult Swim

Via Adult Swim

Via Adult Swim

Via Adult Swim

Via Adult Swim

Via Adult Swim

Via Adult Swim

Via Adult Swim

Via Adult Swim

BuzzFeed / Adult Swim

Via Adult Swim

Via Adult Swim

Via Adult Swim

Via Adult Swim

Via Adult Swim

Via Adult Swim

Via Adult Swim

Via Adult Swim

Via Adult Swim

Via Adult Swim

Via Adult Swim

Via Adult Swim

BuzzFeed / Adult Swim

Via Adult Swim

Via Adult Swim

Via Adult Swim

Via Adult Swim

Via Adult Swim

Via Adult Swim

Via Adult Swim

Via Adult Swim

Via Adult Swim

Via Adult Swim

Via Adult Swim

Via Adult Swim

BuzzFeed / Adult Swim

Via Adult Swim

Via Adult Swim

Via Adult Swim

Via Adult Swim

Via Adult Swim

Via Adult Swim

Via Adult Swim

Via Adult Swim

Via Adult Swim

Via Adult Swim

Via Adult Swim

Via Adult Swim

BuzzFeed / Adult Swim

Via Adult Swim

Via Adult Swim

Via Adult Swim

Via Adult Swim

Via Adult Swim

Via Adult Swim

Via Adult Swim

Via Adult Swim

Via Adult Swim

Via Adult Swim

Via Adult Swim

Via Adult Swim

BuzzFeed / Adult Swim

Sometimes science is a lot more art, than science.

I throw balls far; you want good words, date a languager.

They're bureaucrats, Morty. I don't respect them.

Where are my testicles, Summer?

BuzzFeed / Adult Swim

BuzzFeed / Adult Swim

Obviously! *pulls down pants*
Answer These Questions And We'll Tell You If You're More Rick Or Morty
You're eccentric, and you're pretty ready to have something good for yourself. At first glance, it seems like your soul is as black as your humor, but those who know you know that you're just deathly bored. When something catches your interest, you can leave everything else behind in order to pursue the thing you're obsessed with.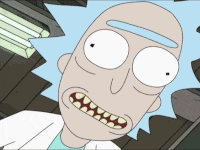 You have a heart of gold and a curiosity that's out of this world. You never seem as brave as you really are because you save all your heroism for important situations. Your modesty causes people to ignore your most impressive talents, but in an emergency you have everything you need to save the day.

This post was translated from Spanish.