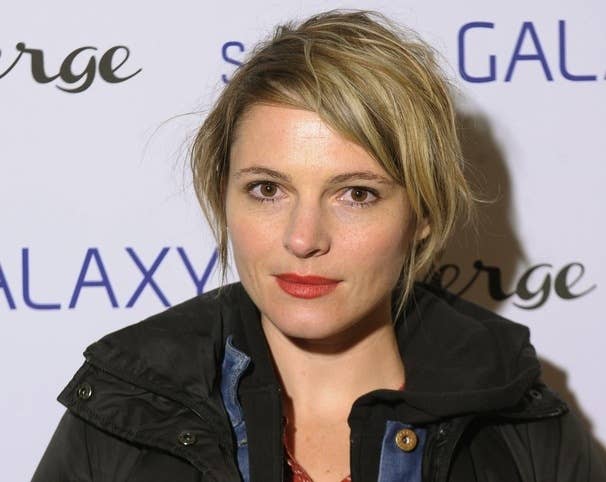 Every year, there are several faces that seem to suddenly appear everywhere, emerging from anonymity to ubiquity, in virtually every new movie and TV show. For those that have hung around the indie film festival scene over the last half decade, Amy Seimetz is a familiar presence, but now she's going to be a national, omnipresent figure on screens of all kinds in 2013.
At 31, the Tampa, Florida native represents a new breed of filmmaker: The actor-writer-director-producer-crew member who works on her own terms, fulfilling her vision from start to finish while also dipping into more commercial fare. Like her friend and collaborator Lena Dunham, Seimetz has built her own destiny, starting with mumblecore features in the middle of last decade to parts in Tiny Furniture and a first breakout at Sundance in 2011 for her lead role in The Off Hours. Now, her jam-packed schedule is busier than ever, and still filled projects made outside the major studio system.
Seimetz's aesthetic and storytelling choices are significant and worth celebrating on their own, but given the state of the film industry, her presence is extra notable given her gender. In 2012, only nine percent of the top 250-grossing films were directed by women, and Seimetz describes the unseen obstacles that help entrench such a disparity — though it takes some prodding, as she'd much rather talk about filmmaking.
"I think a lot of times it's very subtle things, a lot of very subtle sort of treatment of woman that is different than men, but it's not blatant, so it's hard to make giant issues about it, because you move away from the ideas that you really want to tell, ideas that I want to explore in my films, I'd rather get them out there," she told BuzzFeed, stopping and starting and qualifying so as to not sound angry (God forbid such a thing).
"But yeah, I do feel that it can be a little bit patronizing. There's a lot of articles that will bring up, 'I wonder what she's learned from all these men?'" Seimetz continued, finally cutting loose. "They never say, 'I wonder what she's learned from Lena Dunham, I wonder what she's learned from Megan Griffiths.' If they did that, I would say 'great.' But it's always like male directors. It's a really subtle thing, and I really feel ashamed bringing it up, but it's just become more and more apparent to me."
Ever careful and gracious, she's quick to note that the male directors she's worked with and counts as close friends – naming Carruth, Joe Swanberg and Adam Wingard in particular – have indeed had a big impact on and inspired her. It's a tricky line to toe: Is it better to speak uncomfortable truths in a male-dominated industry, or simply plug along, pushing up against the glass ceiling, cracking it slowly as you go?
In January, Seimetz starred in Shane Carruth's long-anticipated Sundance darling Upstream Color, playing opposite the director as a woman who has had her self-determination and memories zapped by a mysterious parasite. That complicated, oblique meditation on free will and relationships dovetailed nicely with her own directorial feature debut, the road-noir drama Sun Don't Shine, which debuted to raves (and a Special Jury Award) at last year's SXSW and is finally in theaters.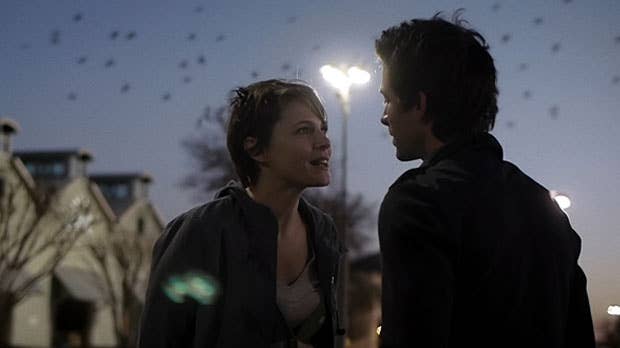 Seimetz's directorial debut, Sun Don't Shine, was made for about $70,000 and starred frequent collaborators Kate Lyn Sheil and Kentucker Audley as a doomed couple trying to outrun a murder in the sweltering Florida summer — the body's in the trunk of their car, following them to the ends of the earth. The movie is a sort of declaration of aesthetic and financial independence as much as it is fine cinematic accomplishment. Shot on 16 millimeter film (which made up half the movie's budget) for its ability to capture brilliant and vast grades of light, the movie is her first non-experimental directorial effort, coming years after first moving to Los Angeles and first dabbling with non-linear shorts. Yet Sun Don't Shine is still short on backstory or explanation, instead diving right into the action of quarrelling lovers trying to outrun a tragic destiny, sweating bullets of guilt and turmoil.
"I liken exposition to, I've had a lot of crappy jobs where my bosses really demeaned me and talked to me like I was a second grader, and I could only really perform at a second grade level because what they trusted me [to do] was at a second grade level," she explains. "And exposition feels the same way, where if you give your audience all this information, they're going to become dependent on the information in order to tell the story, as opposed to observing it and being thrown into it."
In the same way, Seimetz wanted the stark and intense quality that is largely impossible to capture on digital at the moment, one of the few downsides to the more affordable option.
"I wanted to shoot at high noon in the middle of the summer," she says, "and so usually on digital, it's like in order to get it to look a little softer, to get it to look completely right, you have to do that using bounce cards, you have to have all these extra hands and all these extra lights to balance the lights to get that grade that you want, and with film you just turn on the camera and it shows everything. We were shocked, in some of the shots, we were looking at a blue sky. We had been shooting on digital for so long."
Seimetz's movie was put out by Factory 25, a boutique label based in New York catering to independent artists. Many of her friends in New York have put out films on Factory 25, including several others that have featured Sheil and Audler.
"There's so many frustrations involved in when you have so much control in the beginning of the filmmaking process, and then suddenly you relinquish that control to somebody that doesn't really care about the intricacies of what the film is," she says, describing the traditional line of production in Hollywood. "And it's also, at this point, totally unnecessary."
Looking back on the last decade, when major studios — and, for the most part, ultimately folded — prestige labels meant to specialize in non-franchise pictures, Seimetz believes a second coming of that approach is in the offing.
"I have a feeling that they're going to start breaking off, that's my opinion, they'll start breaking off into these smaller boutique but still under the umbrella of Warner Bros.," she predicts, "with people that can focus on it and sort of understand the marketing of it."
Seimetz does have one foot in the larger Hollywood ecosystem, with roles in both the newly-revived AMC drama The Killing and Christopher Guest's upcoming HBO comedy Family Tree, which is led by Chris O'Dowd. She plays a potential love interest for the Irish star, who travels to America in the series to search out his genealogical history.
The HBO connection is one of many she shares with Dunham, who she first met back in 2009.
"She came to help me on a short with Mary Bronstein [Round Town Girls] and she boom-opped for it, this was right out of college when I first met her, and she was so funny, she was such a bad boom op," Seimetz remembers, laughing about Dunham's inability to hold the large microphone pole for an extended period of time. "And to pay her back, I boom-opped on Delusional Downtown Divas. And then I did Tiny Furniture, and it was sort of a natural living in New York, paying filmmakers back. So it's that kind of thing where you just kind of grow up together. I would still boom-op her for her. Not that she needs it."
Seimetz herself probably won't be doing much crew work going forward, either. Along with her directorial efforts and cable roles, she will star in several more indie films this year, including one with her Sun Don't Shine partner Sheil, and a pair with fellow actor/director Joe Swanberg. They all belong to a burgeoning film community that functions as a semi-collective, acting in each others' projects and doing the odd job otherwise.
"I think it's a general sort of approach to filmmaking is that when you hire like-minded people and are in it to tell a good story and are in it to build good characters, as opposed to it being the next career step," she explains. "It's actually pretty hard to find people that are just able to hone in on project to project, as opposed to what this project is going to lead them to... It's a lot harder to find those people than you would think it would be. There's a difference between eagerness – you have to be eager, I guess – but then also understanding what it takes to get what you're there for."