Southwestern-Style Turkey Burgers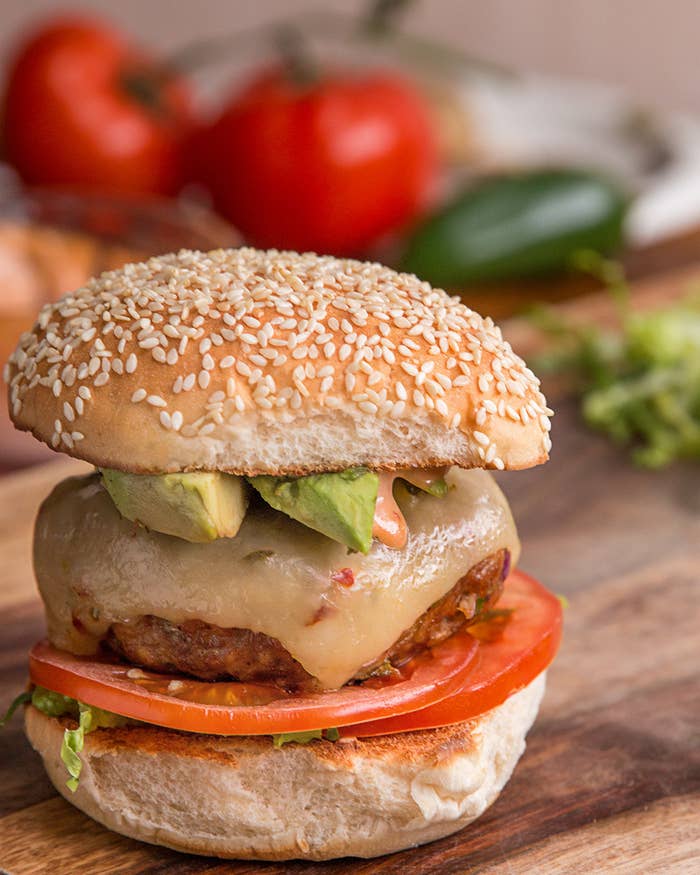 INGREDIENTS
Servings: 4
Patties
1 pound ground turkey
⅓ cup red onion, minced
1 jalapeño pepper, minced
1 teaspoon salt
½ teaspoon black pepper
1 teaspoon cayenne pepper
1½ teaspoons cumin
1 teaspoon smoked paprika
2 tablespoons vegetable oil (for cooking)
Toppings
Sesame seed bun
Shredded lettuce
Sliced tomato
Pepper Jack cheese
Avocado
Chipotle Mayo
½ cup mayonnaise
2 tablespoons canned chilies in adobo
½ lime, juiced
PREPARATION
Place turkey, onion, jalapeño, and spices together in a large bowl and mix together until all the ingredients are incorporated.
Lightly wet your hands and use them to shape 4 circular patties about 4 inches in diameter.
Heat up about 2 tablespoons of vegetable oil in a pan over medium heat.
Cook burgers for 2 minutes on the first side, then flip, lower heat to low, and cook them for an additional 5-6 minutes.
NOTE: the turkey burgers must be cooked through. Use a meat thermometer to check each patty for an internal temperature of at least 165˚F before removing from pan.
Assemble the burgers as desired with bun, lettuce, tomato, cheese, and preferred condiments.
Enjoy!
Want BuzzFeed Tasty right in your inbox? Sign up for our newsletter!
If you can't see the signup box above, just go here to sign up for the BuzzFeed Tasty newsletter!