Southwestern-Style Turkey Burgers
Spice it up!
by
,
Southwestern-Style Turkey Burgers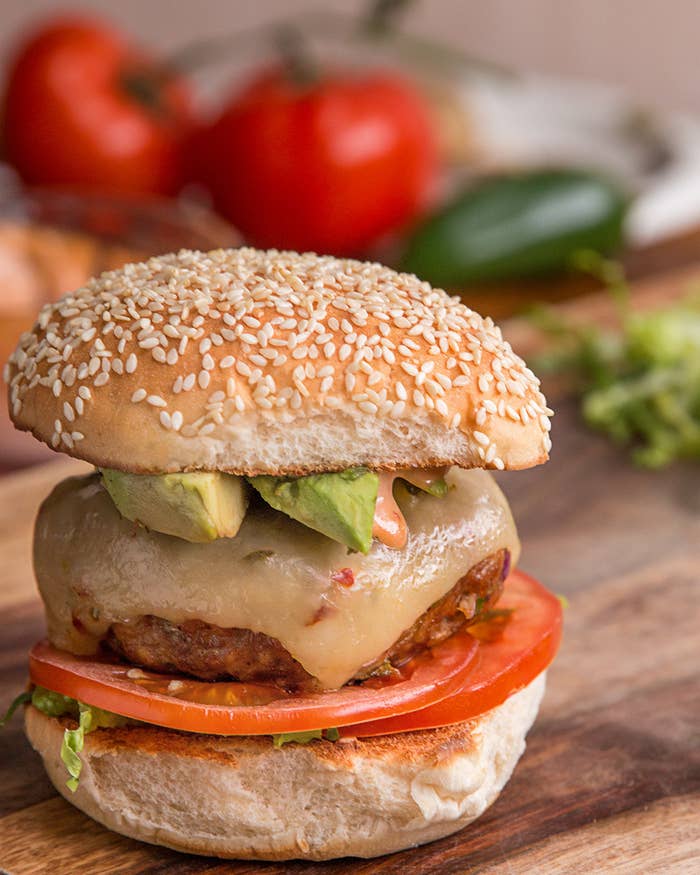 INGREDIENTS
Servings: 4
Patties
1 pound ground turkey
⅓ cup red onion, minced
1 jalapeño pepper, minced
1 teaspoon salt
½ teaspoon black pepper
1 teaspoon cayenne pepper
1½ teaspoons cumin
1 teaspoon smoked paprika
2 tablespoons vegetable oil (for cooking)
Toppings
Sesame seed bun
Shredded lettuce
Sliced tomato
Pepper Jack cheese
Avocado
Chipotle Mayo
½ cup mayonnaise
2 tablespoons canned chilies in adobo
½ lime, juiced
PREPARATION
Place turkey, onion, jalapeño, and spices together in a large bowl and mix together until all the ingredients are incorporated.
Lightly wet your hands and use them to shape 4 circular patties about 4 inches in diameter.
Heat up about 2 tablespoons of vegetable oil in a pan over medium heat.
Cook burgers for 2 minutes on the first side, then flip, lower heat to low, and cook them for an additional 5-6 minutes.
NOTE: the turkey burgers must be cooked through. Use a meat thermometer to check each patty for an internal temperature of at least 165˚F before removing from pan.
Assemble the burgers as desired with bun, lettuce, tomato, cheese, and preferred condiments.
Enjoy!
Want BuzzFeed Tasty right in your inbox? Sign up for our newsletter!