New England Clam Chowder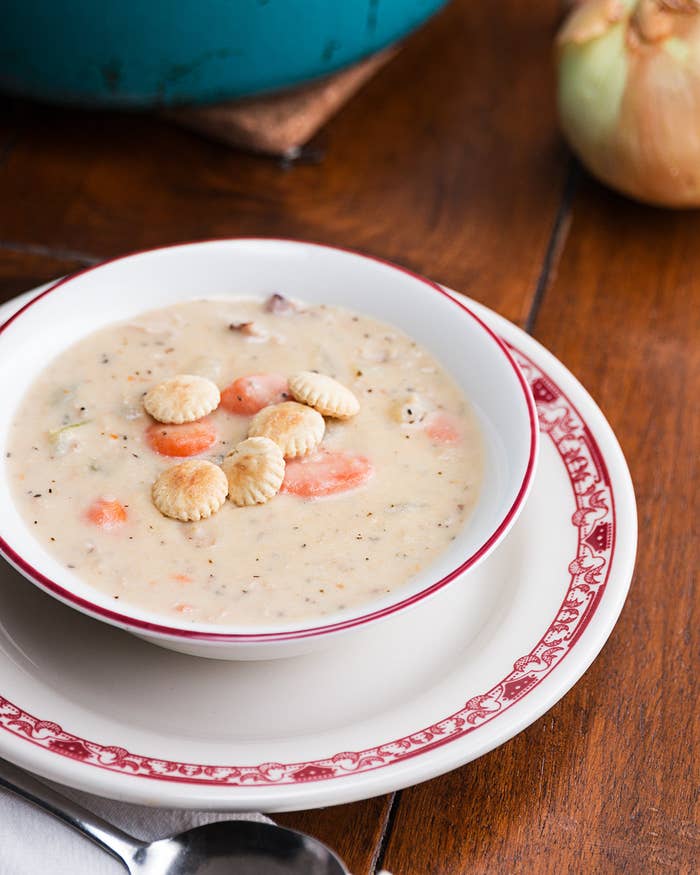 INGREDIENTS
Servings: 6-8
4 slices bacon, about 4 ounces, chopped
2 cups onion, diced
1 cup celery, diced
1 cup carrots, diced
⅓ cup all purpose flour
1 teaspoon black pepper
1 teaspoon thyme
4 cans minced clams with juice
1½ cups chicken stock
2 potatoes, peeled and cubed
2 cups heavy cream
1 bay leaf
Oyster crackers for garnish
PREPARATION
1. Place a fine mesh strainer over a medium bowl and stain the 4 cans of minced clams, separating the meat from the juices.
2. Using a 6-quart dutch oven or pot of similar size, fry bacon over medium-high heat until fat renders and the edges begin to crip. Add onion and sauté until softened and translucent, about 3 to 5 minutes.
3. Reduce heat to low and add carrots, celery and flour, stirring constantly for 3-5 minutes as to avoid lumps.
4. Add black pepper, thyme, reserved clam juices, chicken stock, diced potatoes, and bay leaf. Stir to incorporate, then cover and bring to a boil. Reduce heat to a simmer and let cook until potatoes are tender, about 15 to 20 minutes.
5. Remove bay leaf and add cream. Allow chowder to simmer for an additional 10-20 minutes until soup has thickened to an appropriate consistency.
6. Add in reserved clam meat and cook for an additional 2-4 minutes.
7. Remove from heat and serve with oyster crackers
8. Enjoy!