Chipotle Popcorn Chicken
You'll be popping these tasty bites into your mouth like there's no tomorrow!
by
,
Chipotle Popcorn Chicken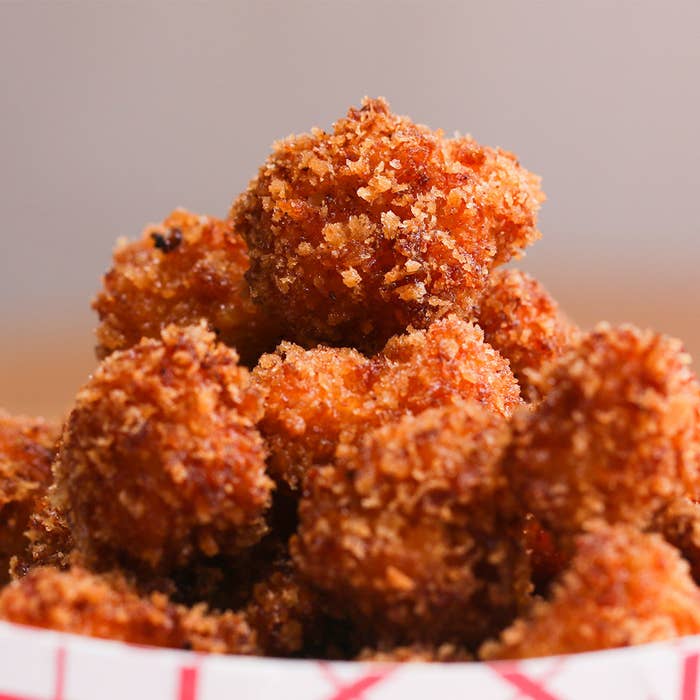 INGREDIENTS
2 pounds chicken breast, boneless and skinless
2 cups buttermilk
1 7-ounce can of chiles in adobo sauce
2 cups panko bread crumbs
1 teaspoon chili powder
½ teaspoon salt
½ teaspoon pepper
1 teaspoon smoked paprika
Oil for frying
Garnish
Additional smoked paprika
PREPARATION
1. Cut chicken breast into bite-sized pieces and place them in a medium-sized bowl.
2. Pour buttermilk and can of chiles over the chicken, making sure to get all of the adobo sauce out of the can. Mix well to incorporate. Cover and let marinate in the refrigerator for 2-4 hours.
3. In a separate bowl, mix together panko bread crumbs, chili powder, salt, pepper, and paprika.
4. Remove chicken from the refrigerator and dredge the pieces in the bread crumb mixture for an even coat. Fry them in 350˚F/180˚C oil until they are crispy and golden brown (about 2 minutes).
5. Drain on paper towels and garnish with an additional sprinkle of smoked paprika.
6. Enjoy!
Want BuzzFeed Tasty right in your inbox? Sign up for our newsletter!