Chicken With Tomato Wine Sauce (Chicken Cacciatore)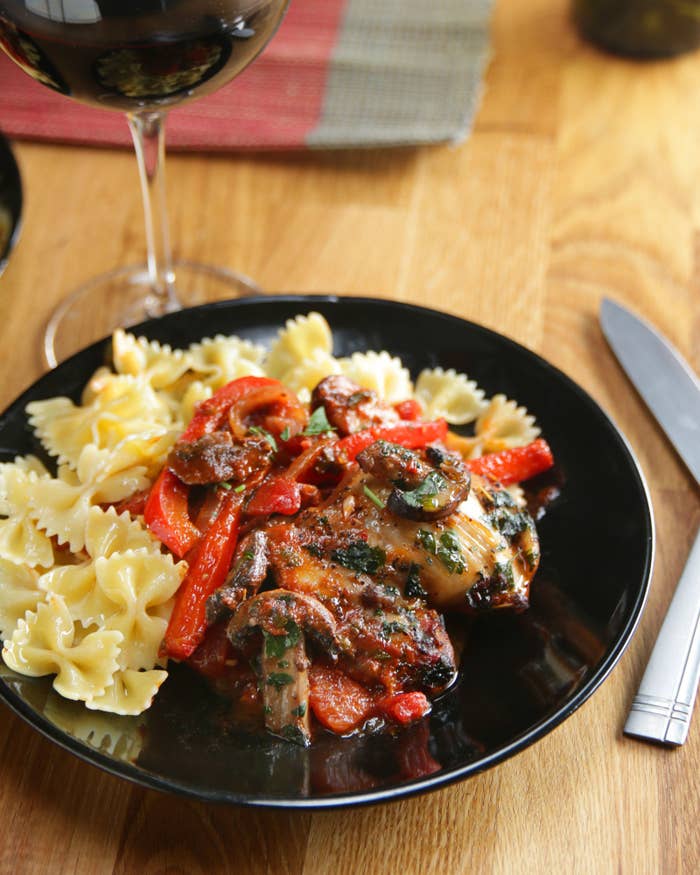 INGREDIENTS
Servings: 4
1½ pounds chicken thighs
3 tablespoons olive oil
8 ounces mushrooms, sliced
½ medium-sized onion, sliced
1 red bell pepper, sliced
2 tablespoons tomato paste
4 cloves garlic, minced
1 teaspoons dried oregano
½ teaspoon crushed red pepper flakes
½ teaspoon rosemary
½ cup red wine
1 14-ounce can diced tomatoes
1 cup chicken stock
¼ cup fresh parsley
Salt, to taste
Pepper to taste
PREPARATION
1. Liberally season chicken thighs with salt and pepper.
2. In a medium-sized skillet with high sides, heat 1 tablespoon of olive oil over medium-high heat. Add chicken and cook 3-4 minutes a side, until lightly browned. Transfer to a plate.
3. Add another tablespoon of olive oil to the skillet before adding the mushrooms. Lightly season with salt and pepper and cook until mushrooms begin to brown, about 5 minutes. Once browned, remove mushrooms to the same dish with the reserved chicken thighs.
4. Add the final tablespoon of olive oil, followed by the sliced onion and pepper. Season with salt and pepper and cook over medium heat until they begin to brown, about 5-7 minutes. Create a well in the middle of the onion/pepper mixture and add the tomato paste. Cook out the tomato paste for about 1 minute before mixing it together with the onions and peppers.
5. Add garlic, oregano, red pepper flakes, and rosemary. Mix them into the onion and peppers before adding the red wine. Use the moisture from the red wine to scrape off any stuck-on bits from the bottom of the pan. Let wine reduce by half before adding the diced tomatoes and chicken stock. Return to a simmer.
6. Place chicken and mushrooms on top of the simmering sauce, being sure to also add any juices that may have collected. Sprinkle with chopped parsley and cook while covered for 12 minutes or until chicken's internal temperature reaches 165˚F/75˚C.
7. Serve chicken and sauce with a side of pasta or bread.
8. Enjoy!