Chicken Parm Lasagne Roll-Ups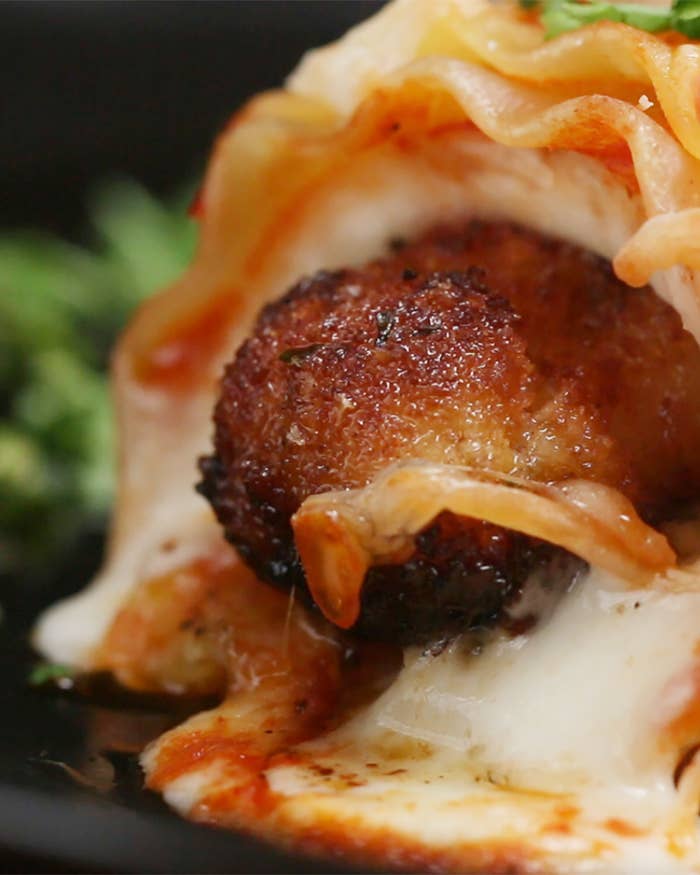 INGREDIENTS
Servings: 4-6
1-2 pounds chicken breast, boneless and skinless
½ teaspoon salt
½ teaspoon pepper
2 cups all-purpose flour
2 eggs
2 cups seasoned bread crumbs
1 box lasagna noodles, cooked
Mozzarella cheese
1 24-ounce jar of marinara sauce
Garnish
Parsley
PREPARATION
1. Lightly season the chicken breast with salt and pepper, then slice it into strips about ½ inch in thickness.
2. Dredge each piece of chicken in flour followed by egg and bread crumbs.
3. Quickly fry chicken strips in ½ inch of oil over medium heat, cooking for about 30 seconds each side to color the breading. Set cooked strips aside to drain on paper towels. (NOTE: The chicken will NOT be fully cooked after this stage.)
4. On a clean surface, assemble the roll-ups. Start by laying a cooked lasagna noodle flat. Using a spoon, spread marinara sauce on one end of the noodle. 6. Next, add a slice of mozzarella cheese on top of the sauce followed by a piece of chicken. Starting from the end with the sauce on it, roll up the noodle like a sleeping bag towards the un-sauced side.
7. Place each roll-up into a large casserole dish that has been lightly covered with nonstick cooking spray.
8. Pour remaining sauce over roll-ups, then generously cover with mozzarella cheese.
9. Bake at 350˚F/180˚C for 20 minutes until cheese is melted and edges of lasagna noodle are slightly crisped.
10. Enjoy!
Want BuzzFeed Tasty right in your inbox? Sign up for our newsletter!