1.
A pack of heel stoppers to avoid your heels sinking into the grass worse than the Titanic sunk. Think of how perfect these would be for outdoor summer weddings if you're gonna be a bridesmaid or even the bride! A total must-have.
Promising review: "I received this on the DAY of my wedding. Snapped these on my Jimmy Choo thin heels immediately and they SAVED my day! They stayed on my heels the entire four hours that I walked in them in an outdoor garden with grass and gravel ground. I was greeting guests and taking photos and these protected the heels and they still looked decent afterwards. No sinking into grass, dirt, or gravel, and no embarrassment. They made my heels more stable and comfortable to walk in as well. So glad I got these!" —Jenn H
Get them from Amazon for $11.99 (available in sizes XXS–M for different heel thicknesses).
2.
An Ezpz happy mat with three compartments and suction cups so your kid can't throw it onto the ground like they do with literally everything. You know that age where your kid thinks they're Thor and just need to throw anything they can get their hands on? Yeah, this mat is like mjölnir, and you are the only Thor in this house so only you have the power to pick this bad boy up. Uhhh, unless your kid is Captain America.
Ezpz is is a woman-owned small biz that creates developmentally focused, minimalist tableware for kiddos.
*Oh! BTW, this is dishwasher safe!
Promising reviews: "Can't live without our ezpzs! We use an ezpz for every mealtime and even stash one at all times in our diaper bag for on the go. It's my #1 recommended item for baby feeding!" —Brittany T.
"Mama loves that it secures to our table so my little one can't throw it on the ground like he does everything else. :) And the ability to throw it in the dishwasher is a major plus!!" —Melissa K.

Get it from Ezpz (available in seven colors) or Amazon for $25.99 (available in six colors).

3.
A "Bug Bite Thing" that suctions bug bites to help reduce swelling, itchiness, and redness. Summer means the mosquitos are comin' back, and those pesky bites are about to be sooo annoying. Make sure to have one of these bad boys handy all season. How could you not fall madly in love with this type of magic?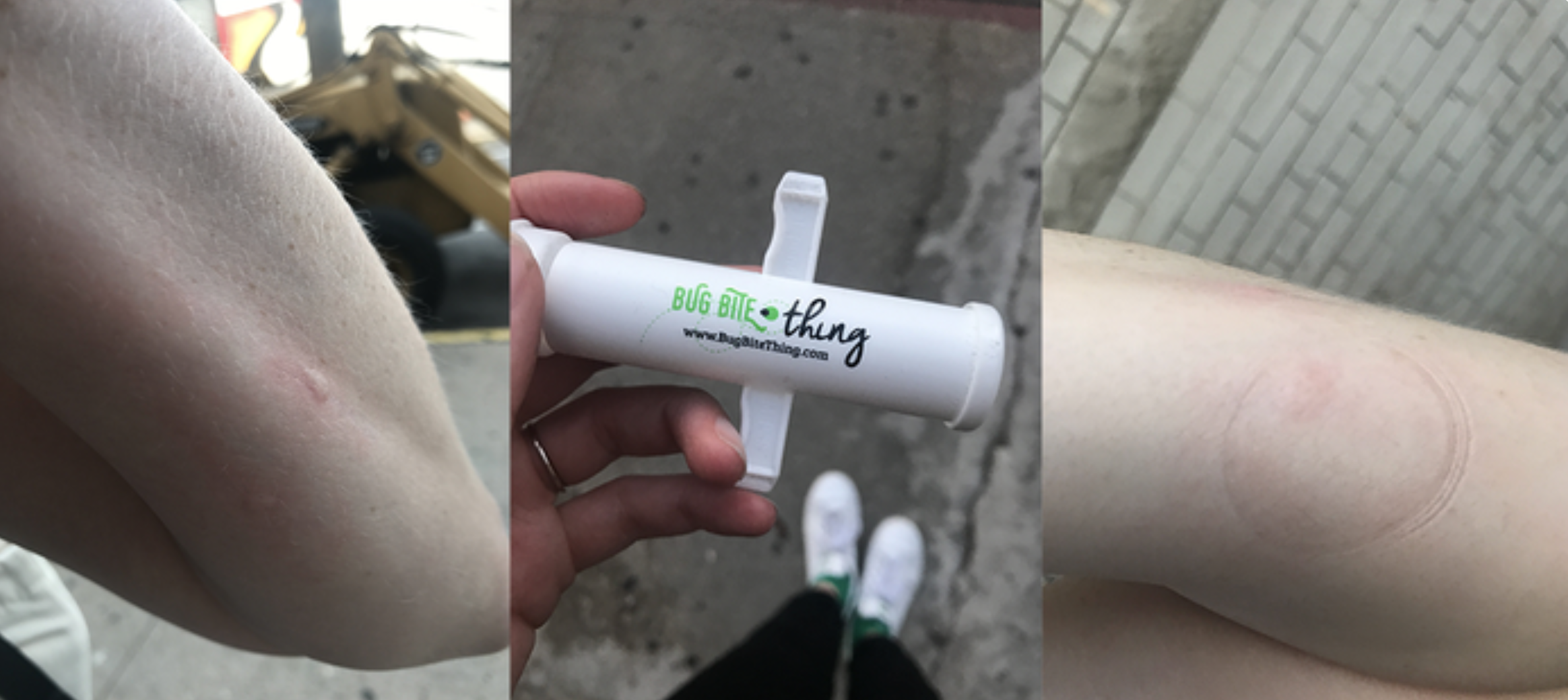 Rebecca O'Connell / BuzzFeed
This works on mosquitoes, bees, wasps, biting flies, sea lice, and more!
Promising review: "This thing is magic! I'm pretty sure my son is somewhat allergic to mosquito bites. His bites are always swollen triple the size of his sister's and take forever to heal, and mosquitoes think he's freaking DELICIOUS! Despite having my house sprayed frequently and putting in plants that are supposed to keep them away, my son still gets attacked by mosquitoes. I finally had enough — school's around the corner and I didn't want my son all swollen and maimed for his first day, he had two bites! I bought this after the fact, two days to be exact. Used it on my son's arm (I did have to scrape a mini scab off of one to get the venom out) but lo and behold it's no longer itchy and the swelling is GONE! Definitely recommend!" —Miranda Keck
Get it from Amazon for $9.90+ (available in four colors and multipacks).
4.
A container of Museum Gel, a clear, removable adhesive that'll help keep glass and crystal in place. So if you're worried about an earthquake rumbling the house and breaking Grandma's old china, this stuff will ensure that that neverrrrr happens.
Promising reviews: "Have a cat gremlin in your life? Tired of cleaning up broken glass? Finding decor knocked into your garbage disposal just a minute too late? Try this! I love my cat but God, he's a jerk. This has been a godsend for my sanity, especially while working from home. I've used it to adhere my pen cup to my desk, small planters to the counter, and, BONUS (and not cat related), my silverware divider in my drawer so it doesn't slide everywhere. This holds everything in place without the permanence of glue! I have only used this on my granite counters and a desk surface that I wasn't concerned about. I can't speak to using it on wood furniture, but so far I haven't seen any residue or oil spots." —Rynniex
"Used this to stop my silverware organizers and other drawer organizers from sliding all over the drawers. I don't understand how this stuff works but it's magic and you wont be disappointed!" —Stephanie S.
Get it from Amazon for $13.10. 
5.
A set of two reusable Wad-Free tools you might recognize from Shark Tank that'll make laundry day a bit easier on you. They reduce drying time and prevent clothes and sheets from getting all tangled up in each other. Being an adult is literally finding loopholes to making life easier, and these certainly do the job.
Wad-Free is a small business that was launched during the pandemic by Cyndi, who had a wadding problem and no available solutions so she created her own!
Promising review: "Wow!!! You wonder if things like this really work and, well, I can absolutely confirm it does! First, I was impressed that the package came with two of the devices because I was only expecting one, so there was one for the fitted sheet and the flat sheet. Finally, I tried it out and my sheets not only did NOT wad up, they came out of the dryer feeling fresher, feeling more dry, and unwrinkled! I will be buying a set of these for each of my immediate family members and close friends! What a great gift!!!" —katy
Get it from Amazon for $19.99+ (available in packs of two or four).
6.
A pack of two tongue scrapers so your breath can be extraaaaa fresh. They're rust-proof and made of stainless steel, so they're sturdy and durable. You won't believe how clean your tongue is and how much of a difference this baby can make in helping to keep your breath smelling great.

Promising review: "These tongue cleaners are definitely stainless steel! You can tell how great the quality is just by holding it in your hand. I use this on my tongue, and I've noticed an incredible difference. My tongue feels clean, and the gunk is gone. It sort of grips the tongue which helps grab any left over debris. Be sure to use it over the sink as the debris and saliva will definitely slide off your tongue. To clean, simply rinse with warm water and allow it to air dry! I deal with a lot of dry mouth, especially since I use a CPAP machine to sleep at night. This tool is incredible at getting that bad bacteria off the tongue that shows a white cast and also creates sulfur compounds which makes your breath stink!!" —GreyElt
Get a two-pack from Amazon for $8.97 (available in six designs).
7.
And a painless, mint-flavored teeth-whitening pen that'll give you results after the first use since this is obvi sorcery. You'll be able to blind people with your smile with the help of this little magic pen that'll help remove years worth of stains on your teeth. Someone cue Chip Skylark, cuz after seeing your smile you'll be singing 🎶 my shiny teeth and meeee 🎶.
Promising review: "Hardly ever do I review but this time, sheesh! This product blew me away after only three uses! First off, it's easy to use! I've tried a ton of products for teeth-whitening and all have been either inconvenient to use, or make you wear a mouthguard, etc. This is a PEN/brush! Hold it like a writing pen and twist up for the solution, the solution feeds through onto the brush (which is actually the size of a tooth) and you just brushstroke on dry teeth as you are smiling! It dries on and you rinse off. Magical! I've seen a noticeable difference after only using this for three days!! My husband even said 'WOW, your teeth look amazingly white.' I'm a smoker/tea drinker/coffee drinker too! I noticed the difference but never said a word to my husband about it, he's a firm believer that nothing like this ever works...LOL. Well, boy oh boy this product changed his mind instantly! He already swiped my other pen and has been using it too. We see the difference and are very satisfied. What's even more awesome is the price! Remarkable difference and it lasts! If I could give this 1,000 stars this would have earned 1,001, know what I mean?!" —Lisa Edwards
Get a two-pack from Amazon for $19.99 (available in three styles).
8.
A Grande Cosmetics brow enhancing serum for anyone who may have been a victim of early 2000s thin eyebrow trends. I was too young to participate in those, but still, I was not blessed with thick, perfect, Zendaya brows. This tube of bottled magic will help promote the appearance of fuller, bolder eyebrows so before you know it, you'll be giving Cara Delevingne looks. 

Promising reviews: "Like many people, I started with the Gwen Stefani 2000s trend of really thin eyebrows. Honestly, they hadn't grown back since, no matter what I used. Until I found this product. I'm on my second bottle. It's absolute sorcery, I don't understand how or why or what's in the formula but it does work." —Michelle
"Y'all. This stuff actually works. The first couple of months I felt like I was applying this clear magic liquid to my brows wondering if it's actually doing anything. Then one day, I got home and washed my face and for some reason, I couldn't get the rest of my eyebrow pencil off — IT WAS MY ACTUAL EYEBROW! I didn't realize how full they had gotten. I feel so much more confident without any makeup on and don't use nearly as much brow filler as I used to. I use it on my eyelashes too and they grew faster than the brows. Wish I would've taken before and after pictures. It's worth the money!" —Alyssa Glenville
Get it from Amazon for $38+ (available in six styles).
9.
An anti nail-biting pen so you don't have to cringe every time you look over and see your little one's hands in their mouths. It also has anti-inflammatory ingredients like organic aloe leaf juice and organic eucalyptus leaf to help soothe sore fingers. They'll hate the bitter taste, and you'll love that their little fingers aren't all chewed up and bleeding. 
Super simple to use, just brush it onto their nails, and it'll dry completely invisible with no smell or sheen. I work part time with children, and so many parents adore this stuff. From parents of kindergarteners to parents of fifth graders, this stuff really works wonders.

Promising review: "So glad I bought this. My poor 3-year-old kept biting her nails so much they would bleed. I applied this to her nails and she instantly stopped biting after constantly biting them day after day. I tried lemon juice, nail polish remover, Purell, bandaids. Nothing worked... then I got this in the mail. It only took one time for her to not even be tempted anymore. I highly recommend this!" —Aurora
Get it from Amazon for $16.95.
10.
A pack of four fast-acting fruit fly trappers because you're like, two seconds away from trying to find out if it's possible to fight a fruit fly. Put these babies where the little buggies like to hang (by your fruit bowl, trash, sink, etc.) and watch — through the little peek window — all those pesky little suckers get trapped in this little fake apple. Woohoo to a fly-free home.
Promising review: "Our home was infested with fruit flies. As a household of minimal fresh produce and a mostly nitrate-rich menu, we were confused and horrified when these tiny, evil bastards took over our house. These apple traps are LEGIT. Within an hour or less they had captured a good amount of flies. I just bought more." —MotherofChaos

Get four traps from Amazon for $14.63 (available in four pack options).
11.
And a window fly trap since the demon bugs are beginning to crawl out from hell for the summer. Ughhh, running around the house trying to get the pesky fly that snuck in is never fun, so let these little traps get rid of those buggies for ya.
Promising review: "Gross yet effective. We live in the country with animals so we have lots of flies. I did not want to hang a fly trap but caved when I saw this. I feel it's not as noticeable as others and is easy to hide and works very well. Easy to hang and does not leave a sticky residue when removed." —Tina
Get a pack of 12 pieces from Amazon for $6.99.
12.
A plant-based cooking oil solidifier because pouring oil down your drain is no bueno and could cause problems in the future. This is a quick, easy way to dispose of that oil you have no clue what to do with. Sprinkle the powder into the leftover oil while it's hot, let it cool, and then throw it out!
FryAway is a Latine woman-owned small biz founded by Laura Lady who specializes in planet-friendly ways to dispose of oil. They donate 1% of revenue to nonprofits focused on water conservation.
Promising review: "Honestly I didn't know if this would work, waiting for it to cool down made me nervous but once it was at room temperature, it was solid. It popped out of the fryer so nicely. Worth every penny." —Emma
Get it from Amazon for $12.99.
13.
A bottle of Rain-X Original Windshield Treatment to help improve driving visibility and wiper blade performance in wet weather so you don't have a freakout moment during the next big downpour since you can't. see. ANYTHING. Rain, snow, and sleet are no match for this magical repellant.
Readers also use this to keep their eyeglasses from fogging!
Promising review: "I had a cheap, untempered windshield that was awful in the rain. A friend of mine from college recommended Rain-X and I was shocked at the difference. I applied it with a soft rag and sat there wondering if it was even on properly. I trusted the system and then later that night took my car out for a drive; it rained while I was out and the difference was instantly noticeable. Before, when using my wipers, streaks would obscure my view so much that any lights would make driving in the rain hard. Now, the droplets don't smear and smaller ones sometimes just roll off. It's pretty great." —Alison J. Gong
Get two bottles from Amazon for $5.87.
14.
A garlic rocker that'll easily mince or crush up your garlic because your other one seems to make your hand cramp slightly more every year with age. It also comes with a silicone peeler and a scraper to help you quickly get the job done, andddd it's dishwasher safe!