1.
A water-based instant carpet spot remover that could clean up that chili Kevin spilled. No joke. I'm literally floored by these before and after pics.
Promising review: "There are products that you love and buy again. And then there are products that you loooooove and can't live without. And then above that, are a few select products that you revere and hold with the highest honor. Folex is that product. I have used Folex for years and it works wonders on everything from spilt coffee, wine, and dog messes, without any chemical smells or residue. But my love for Folex grew so much deeper when I dropped a 32-ounce jar of salsa down the stairs. My husband took one look and declared that the stairs were ruined and would need to be replaced. I took a look, grabbed the Folex and said, 'We've got this.' If you have children, pets or are very clumsy with your canned goods, you need this bulk-size jug in your arsenal of cleaning supplies." —Katie T.
Get it from Amazon for $6.65+ (available in two sizes and in multipacks).
2.
A jar of the TikTok famous Pink Stuff that's totally worth ALL the hype. My jaw is quite LITERALLY on the floor every time I scroll on TikTok and see this stuff in action. This paste plays no games when it's time to get tidy.

Tough on grease and stains on almost any surface, leaves no scratches, and it's vegan! Sounds like the bomb dot com to me. 
Promising review: "This is one of those 'changed my life' products that you come across every once in a while. I have tried so many different things to clean my clear glass shower door and just end up wasting time, money, and effort. The reviews and price of this product sold me on it. I love the smell (very subtle) and I used it with a basic sponge on my shower door. It did take a little effort but not bad and yielded amazing results. I then got excited about the other possibilities and have used it in the inside of my oven door with similar results. It's great. You won't be disappointed." —Amazon Customer

Get it from Amazon for $5.97.
3.
Or The Pink Stuff's Miracle Multipurpose Cleaner Spray, another Pink Stuff product that, of course, lives up to the hype — this version is really useful for large surface areas like counters, walls, bathtubs, and floors.
Promising review: "Glad I found this product on TikTok. Does 95%–100% of the job in seconds! Definitely worth the money." —Mother of 4
Get it from Amazon for $4.97+ (available in two sizes). 
4.
A totally cute, totally funny Golden Girls dishwasher magnet. You'll be thanking this magnet for being a friend and letting you and the fam know when dishes are clean or dirty. Andddd these ladies — the actresses and characters — are absolutely ICONIC.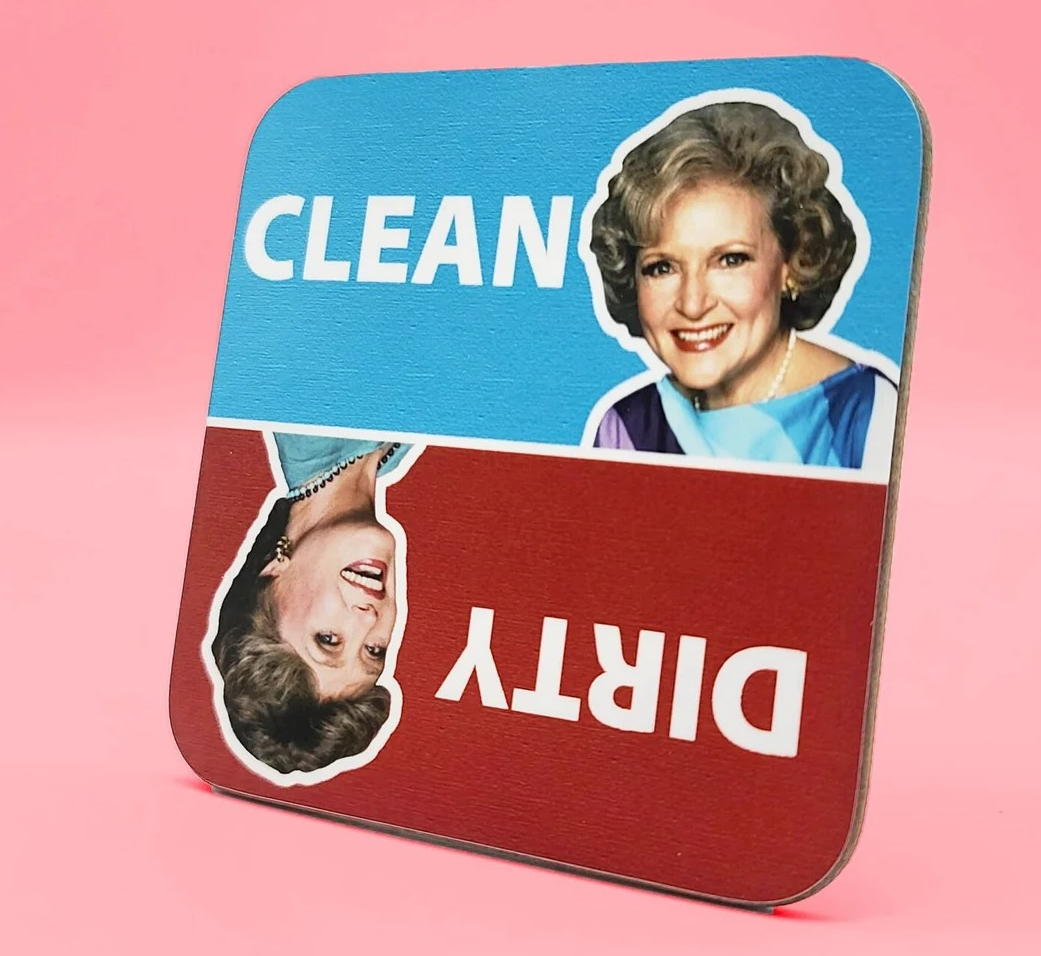 Jim and Pam's Gift Shop/Etsy
Jim and Pam's Gift Shop is a lovely little small business based in Missouri. They specialize in super cute gifts for any and everybody you'd need to buy a gift for.

Promising review; "I'm not exaggerating when I say this is the best thing I've purchased for my new apartment. Amazing quality, fast shipment, and it brings a smile to my face when I have to do dishes." —Amy M.
Get it from Jim and Pam's Gift Shop on Etsy for $11.99.
5.
A rechargeable spin scrubber so you can stop living with the back pain you get cleaning your bathtub. Save the elbow grease and your back and let this powerful, cordless cleaning tool do all the work. With four replaceable cleaning brush heads, this tough-on-dirt scrubber is sure to be one of your fave things to use on cleaning day!

Promising review: "I've been looking for something to help make tub cleaning easier and reviews on other products were bad. With this thing, once fully charged, you just put water and cleanser in the tub and it does all the work! No need for pressure and I love the different interchangeable attachments for getting at different surface. Seriously would dread cleaning the tub, bending over and scrubbing, now it's so much easier and quicker AND more clean." —Amazon customer

Get it from Amazon for $31.99 (available in three colors).
6.
A spray-on cleaning gel for the rust that's turning your tub and shower walls orange. No scrubbing, I repeat — NO scrubbing — is required.

Promising review: "Moved into our first home, which had some rough problems to tackle due to years and years of hard water and rust. One problem in particular was the forever stained shower. I tried several different products with no or very little success. In fact by the time I picked this stuff up, I was pretty skeptical that anything would help our situation. When I bought it (first time in spray form) I actually sprayed two passive streaks on the shower wall and immediately walked out. A few hours passed and I went to go to the bathroom and was absolutely floored to find, no kidding, two very white streaks where the spray had been. I've uploaded the before and after photos of the shower as proof (see them above!). Since, I've used both spray and powder forms for many cleaning tasks." —Sarah K. 

Get a two-pack from Amazon for $16.98.
7.
A dishwasher cleaner with results that are seriously *dazzling*. It'll clean things you can't even see and can help maximize machine performance. Plus it works on all makes and models! Toss one of these tablets into the detergent tray (two if it's got *extra* grease), run the dishwasher, and voila! Your dishwasher looks brand new!

BTW, six tablets come in a pack!
Promising review: "This stuff is the real deal. We have had multiple service calls to the house for this dishwasher— no help at all. Cleaned the filter, tried running the water to heat it first…nothing worked. Dishes were still coming out dirty and smelly. We were prepared to give up and replace our dishwasher. As a last ditch effort, I ordered the Affresh pods and used two of 'em. Hallelujah!!! Finally, dishes are coming out clean again. These pods saved me THOUSANDS! So simple and easy to use, I could not be happier." —M

Get it from Amazon for $8.99.
8.
A ChomChom pet hair remover roller that'll pick up fur and lock it inside the roller for an easy peasy cleanup. And this baby doesn't lose its effectiveness after use!

Promising review: "I have Australian Shepherds so hair is a HUGE problem in my household. I have tried everything imaginable to get the hair off fabrics, and nothing has worked... until this!! I cannot believe how well this worked. I was weary of purchasing since I'd tried everything, but this is worth every penny and more!" —Prime Account Holder
Get it from Amazon for $28.95. 
9.
A brush scrubber for dishes with a soap dispenser! Doing the dishes made WAAAAYY easier. No more constantly adding soap to a sponge — just fill-er-up and scrub-a-dub-dub. 

Promising review: "This dish wand is the best I've ever tried, and I have used many others. It's easy to hold, use, refill, and the best feature is that it doesn't leak! I was always frustrated having streams of Dawn dribbling into my sink when I used other brands, so I decided to splurge and give this a try. I use it several times daily and it has not leaked any soap yet. And the brush head works great, effective without being abrasive. I'll probably get another one for scrubbing down the outdoor furniture!" —CarlCyn

Get it from Amazon for $6.47.
10.
A darling, scented fizzy toilet bomb that's almost too cute to throw in the toilet. Each bag contains ten fizzies that'll help get your toilet clean and eliminate funky smells.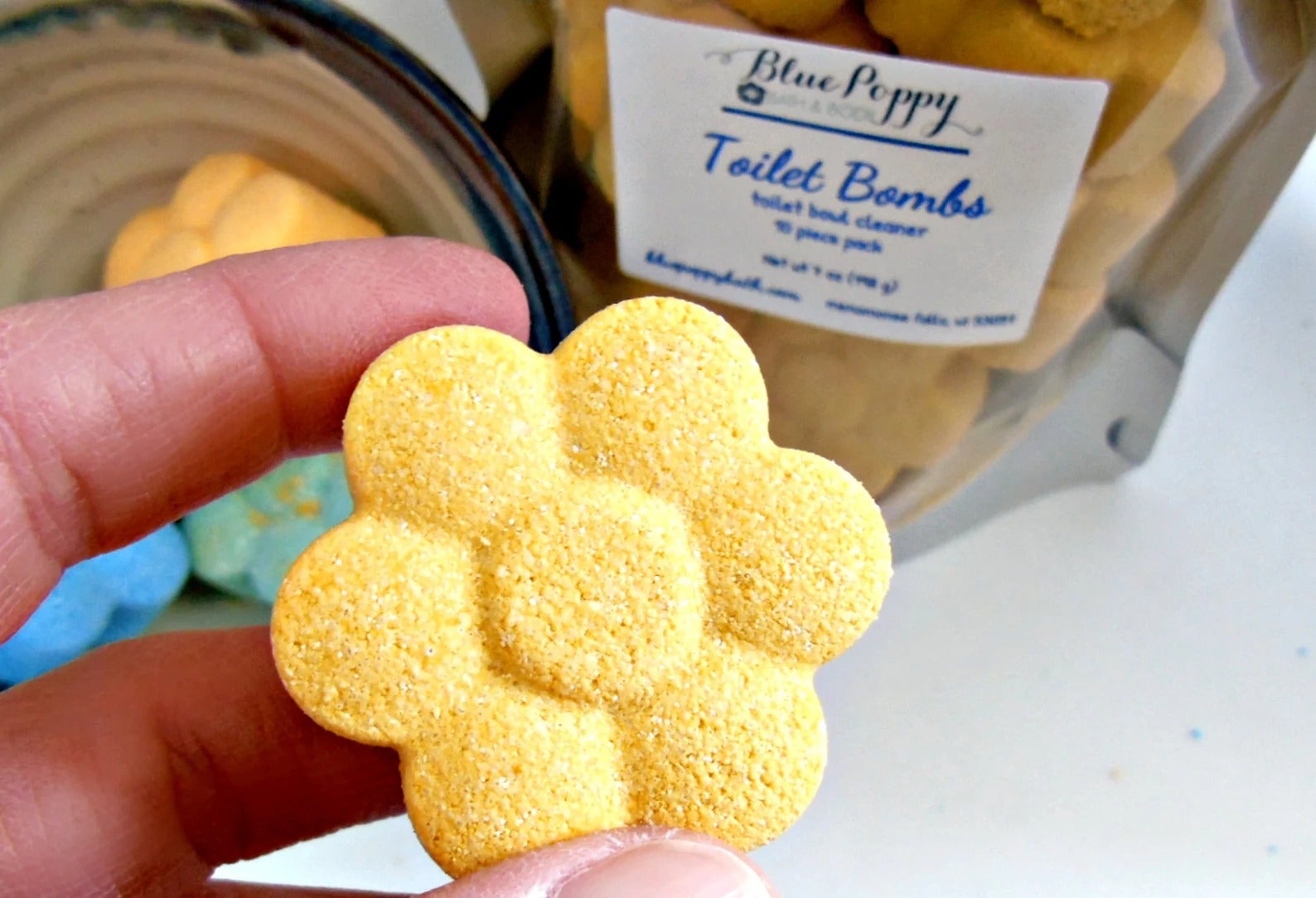 Blue Poppy Bath is a totally adorbz small business based in Wisconsin. They specialize in handmade bath and body products like things for home, the bathroom, stocking stuffers, facial and body products...like they seriously have it all with quite a selection. Their products are both skin-friendly and eco-friendly. 
Promising review: "This really simplified my bathroom upkeep while letting me use more natural products. Already placed an order for more, trying a different scent this time along with the scent I'm familiar with —Tropical Splash." —Sarah A.
Get it from Blue Poppy Bath on Etsy for $9.50 (available in nine scents).
11.
A pumice stone for your toilet so you can ~finally~ get rid of that unattractive ring in the bowl. Keep your throne squeaky clean and looking brand-new! And you can use it on other surfaces like sinks and tubs!

Promising review: "I bought this for that unsightly ring around the toilet. We have new toilets and keep our place clean, yet we still had that ring in one of our toilets. Cleaning and scrubbing with the normal toilet bowl cleaner and toilet brush would not get rid of the ring. But this fantastic pumice stone and a little elbow grease did the trick. Yay!" —Rachel H.

Get it from Amazon for $11.99+ (available in two pack sizes).
12.
A bagless, touchless stationary vacuum that'll do your dust pan's job way better than your dust pan can. Like, why do we need to bend over? This is quite seriously genius and my soon-to-be-30-year-old back is totally intrigued. 

Promising review: "Saw it on TikTok and knew I had to have one. I hate cleaning but get annoyed with the clumps of dog hair and bits of things on my kitchen floor. I usually just vacuum my tile with the vacuum, which is a pain. This thing is so easy to just sweep things into and it sucks them right up. Sure, it's more expensive than my actual vacuum, but I've only had it three days and have used it two times." —Amazon Customer

Get it from Amazon for $129 (available in six colors).
13.
A stain and odor eliminator for those unfortunate times where your furry friend uh...goes...on your carpet. Works anywhere stains happen!

Rocco & Roxie is a small family business that specializes in all things pets! Biscuits, grooming items, cleaning items, and more, all specifically for furry friends!
Promising review: "Initially, I bought this because I'm potty training a puppy and it's not going great. This product really worked well on my carpets for the dog messes! However, I'm writing this review because my jerk cat decided one evening that my new comforter was a great potty spot. Thankfully I noticed the mess immediately so I was able to get this product on it immediately as well. I did let it sit overnight to really penetrate the stuffing even tho that isn't in the directions. I was certain the comforter was a goner. I tossed it in the wash the next morning and I am BLOWN AWAY by the lack of smell or stain. Cat urine is so stubborn and it can easily feel overwhelming when trying to eliminate the smell but this product 100% has my support. I'm buying more the second I'm done with this review. I love it." —lexi

Get it from Amazon for $19.97+ (available in two sizes).