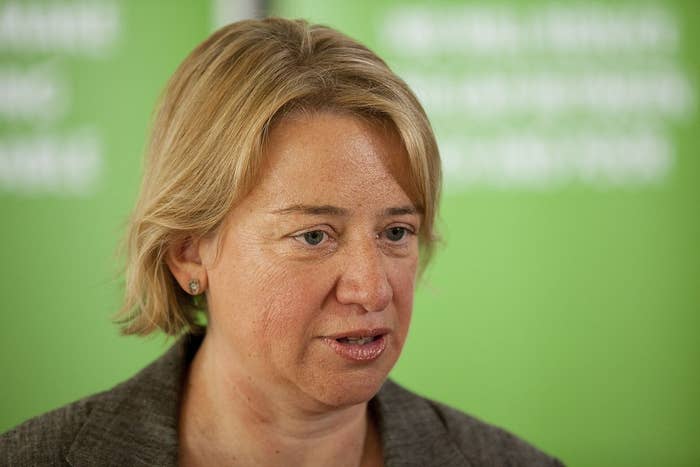 A universal income for all adults will feature prominently in the Green party's pitch to voters in 2015, the party's leader has said.
In an interview with BuzzFeed, party leader Natalie Bennett revealed that the Greens will be campaigning on the policy at the general election next May.
"It'll be more prominent than it's ever been before," she said. "It's really risen up the public agenda. We'll be talking about it during the election."
The exact level of the income has not been set, pending manifesto costing, but a Green party source said it would likely be higher than existing social security payments. Jobseeker's Allowance is currently £72.40 a week for adults, or £3,765 a year.
The payment would replace existing unemployment benefits, but would be paid to people with jobs as well as the unemployed.
The party says the policy would benefit the unemployed because they would not lose benefit income when they found work. It would also reinforce the incomes of people in work.
Bennett told BuzzFeed she regularly faced "extensive" questioning on the policy from audiences: "When I was first elected I hardly ever talked about citizen's income. That's changed in the last year; at the moment, I'm at the level that I probably talk about it extensively to an audience at least once or twice a week."
The universal income, sometimes called a "citizen's income", is a longstanding Green policy, but has not before featured prominently in the party's campaigns. Bennett added that her party was "ahead of the curve" on the issue, which has been the subject of a number of grassroots campaigns over the last year.
"The Citizen's Income Trust has got a lot bigger and stronger, we had an EU citizens' initiative campaign to try and bring it in, and Switzerland is having the referendum on it. As an idea it's very much risen, and we're ahead of the curve."
Other policies set to feature prominently in the Green election campaign are a wealth tax of the kind advocated by "rock star" economist Thomas Piketty, and an increase in the minimum wage to a living wage. Bennett said there would be more announcements to come.
An average of last month's polls shows the Green party would score 6% of the vote in a general election – a significant increase on the 0.9% it scored in 2010.
Bennett would not be drawn on whether she thought the Green party could ultimately beat the Lib Dems, though she predicted a "record result".
"There are no guarantees in this world. We're going into this election like we never have before: we're defending a seat. That's unknown territory."
Recent polling by Lord Ashcroft shows the Green party neck-and-neck with Labour in its key Brighton battleground. Defeat there would mean losing its first and only MP, Caroline Lucas. Bennett said the party was also expecting to do well in Norwich, where it's polling a solid second place, and Bristol.