It's lunchtime at Charlie HR – a startup with offices near Old Street roundabout in east London. Twentysomethings in square-rimmed glasses and expensive knitwear are busy writing lines of code or taking photos of each other for their Instagram feeds. A small fleet of micro scooters is being used by bleary-eyed software engineers to speed cups of coffee back to their desks.

As happens every Monday, team members are taking an hour out of their day to sit down and share some feedback. Specifically, the negative feedback that they've received during the prior week. "I'll go first," says Ben Gateley, the chief operating officer. He's a disarmingly cheerful presence in the small meeting room. "I had some frank feedback from Rob [O'Donovan, the CEO] that I'd been defensive in a few situations where I was challenged. It was really good to have that flagged to me."
O'Donovan goes next. Like Gateley, he's wearing a baseball cap turned backwards. "I had feedback berating me for sending really long emails. Sorry. I'll try and be clearer and more concise."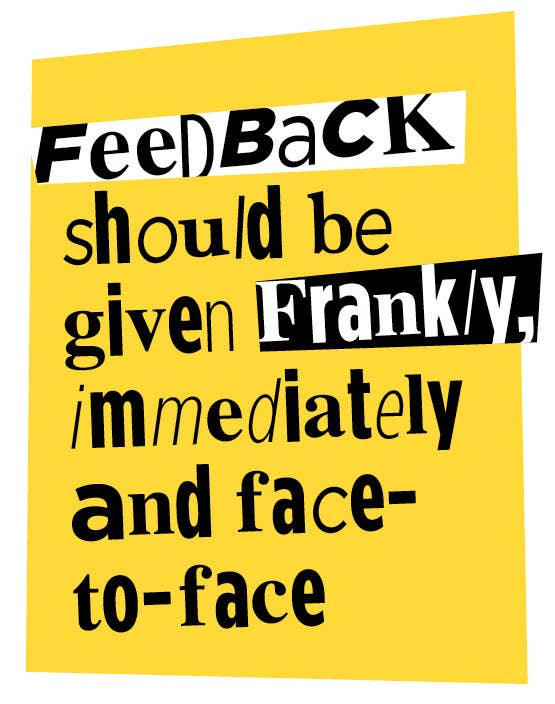 The process moves around the table, with everyone required to share something. One person's been told they need to "suck it up" in morning meetings, because they always seem tired. Another says they ought to stop making decisions that are based too much on their emotions. Someone else has to remember that their job isn't just writing machine code, and to develop some softer skills.
Finally, it's the turn of exuberant lead software engineer Chris Butcher. "I got some pretty savage feedback," he says. "I'm paraphrasing here, but I've been told that what I say is quite shit and I should stop moping around like a big goth." Everyone laughs. Not because it isn't true. And not out of discomfort either.
"I'm not usually a mopey goth," Butcher tells me after the meeting. "But I have been the last couple of weeks." Was that feedback hard to take? "No, I Iove it! I like it to be raw. The more outlandish it is, and the more passion and strength of feeling there is behind it, the better. For me it shows that the person a) trusts me with handling it, and b) hasn't left anything unsaid by the end of it. Imagine if you could run your personal relationships like that? Imagine if you could say to your girlfriend, 'I fucking hate the way you do that. It's a real bummer.' You'd feel so good afterwards. I quite like the idea of it being in all aspects of your life."
The "it" he's referring to is "Radical Candor", the idea that you should be honest with the people you work with, practically all the time. Feedback should be given frankly, immediately, and face-to-face. It can pass from colleague to colleague, from boss to worker, or even from worker to boss.
This – to your average Brit – sounds like a waking nightmare. You have to listen to other people's jibes, put-downs and other petty remarks whenever they feel like sharing, and say "thanks a lot" for the privilege. Worse still, this kind of masochistic experience is something you're encouraged to seek out on a weekly basis. In office politics – as with the real politics of government – the last thing you ever do is say exactly what you're thinking. Instead, you spend hours crafting the perfect passive-aggressive email to send at 5pm on a Friday evening, just so you can be sure that it's going to ruin the other person's weekend.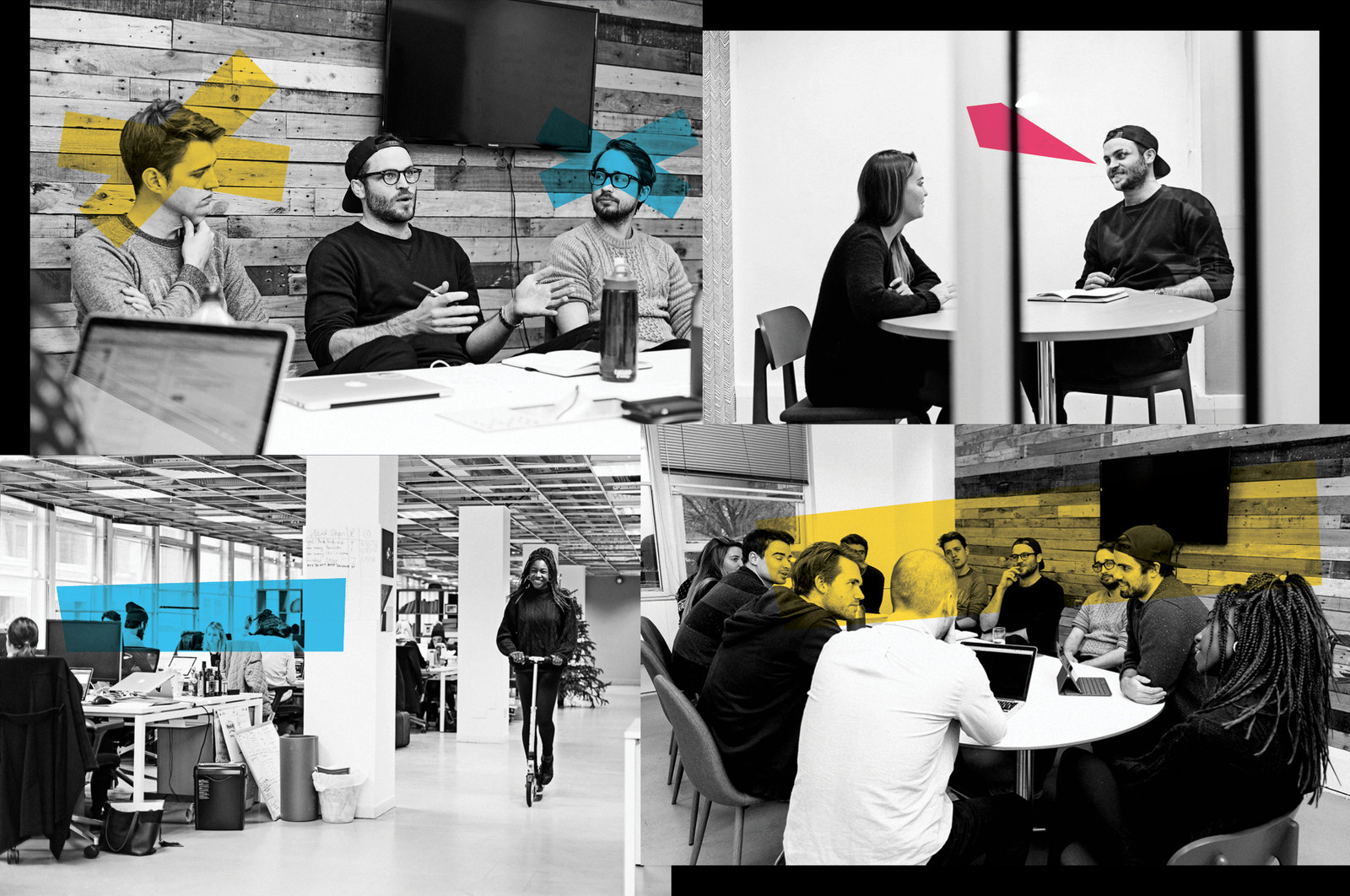 But things are changing. Or at least they will if Kim Scott gets her way. Scott is the inventor of Radical Candor. A former employee of Google and Apple, she now works full-time trying to convince businesses around the world that honesty really is the best policy. In some places she's succeeding – many of the tech companies of Silicon Valley and the hedge funds and ad agencies of New York have sought out the tough love of Scott and her team at Candor Inc.
Now, Candor's beginning to catch on in London, especially among the startups of the East End, where fostering the right kind of working culture is not so much an ambition as an obsession. The first company I contact is Thread – an online clothes retailer that offers bespoke recommendations to customers. "Thread is completely focused on personal development," says a spokesperson. "To illustrate, here's an actual piece of feedback I've received from our CEO: 'We often have moments in conversations where you quickly say your point, then stop abruptly and look at me nervously, bracing yourself and trying to perceive my reaction. It makes me feel uncomfortable. It makes you seem less confident.'"
Thread also operates an "open emailing" policy. Which means – brace yourself – that every email you send appears in the inbox of every employee in the company. This, they say, is for the "avoidance of subconscious office politics". It's a similar story at a wide number of London's most progressive and tech-y companies: Yieldify, Owlr, Settled. And Charlie HR, of course. Where the lack of office politics isn't just remarkable, it's actually quite odd.
"To start off, it is a bit weird," admits O'Donovan, the CEO, who's agreed to let me spend a week in the office. "People are used to having awkward conversations and not being able to walk past each other in the corridor afterwards. Whereas here it's like: Bang, we're happy families again."
Charlie HR has 12 employees, and has developed a cloud-based piece of HR software for office managers. The youngest team member is 22. The oldest – co-founders O'Donovan, Gateley, and Tom Carrington-Smith – are still only 27, and annoyingly successful for their age.
O'Donovan is extremely good-looking, like the malicious leader of some rowdy frat house in an American teen movie. Because of this, it takes a moment to realise that he's actually a nice person. He first came across Radical Candor a few months ago. "A mentor sent me an article about it, and now we use that phrase," he tells me. "Kim Scott's been able to explain it better than we have."
"I'm interested to see what perspective you have on it," he adds. I know what that means. It means that at the end of all this, I'm going to have be candid myself.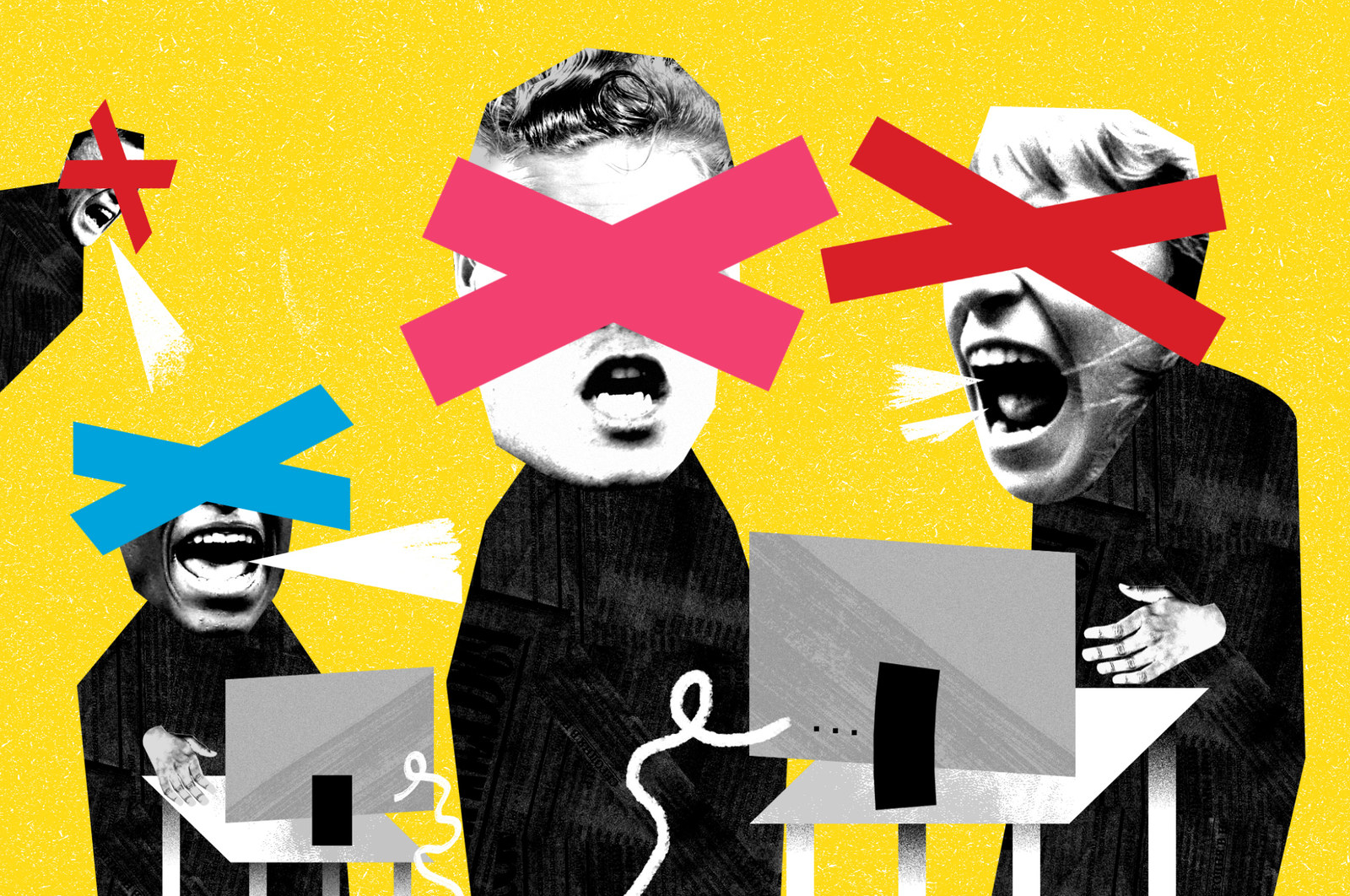 "This is Kim!" An extremely chirpy, and slightly crackly, American voice comes through my iPhone. "I'm in Silicon Valley and the cobbler's children have no shoes," Scott says. "The cellphone coverage is terrible here!"
I've been spending a lot of time on her website, radicalcandor.com, looking through the resources and watching videos of her explaining the concept. She's a small, blonde, extremely focused woman in her forties. "We want you to have better relationships at work and do the best work of your lives!" she whoops at the start of one video. The enthusiasm levels keep rising until, by the end, Scott and her apostles are taking turns hollering the main message of the Radical Candor approach: "Say what you think. Say what you think. Just say what you think! SAY IT!"
Say what, though? Should you tell your boss that he's a fat piece of work? Or your colleague that her presentation was terrible, and by the way there's this thing called deodorant?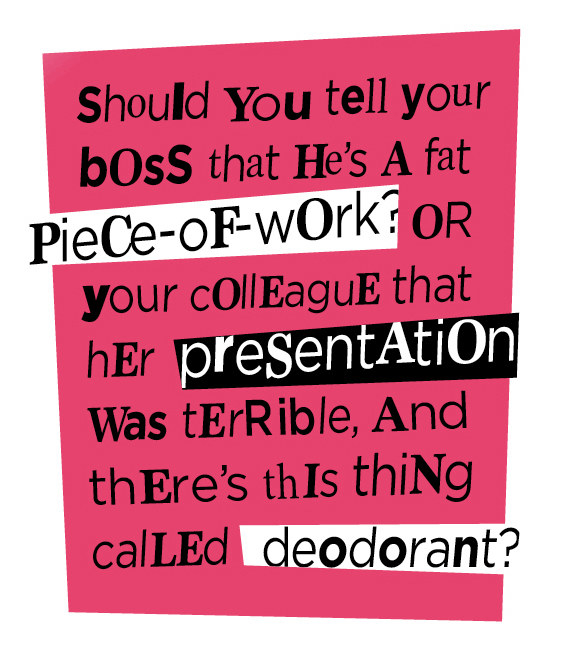 According to Scott: no. Radical Candor isn't a free-for-all. "You have to care personally and challenge directly," she says over the phone. If you're direct but you don't care personally, that's called "obnoxious aggression". "If someone says 'I'm going to be honest with you', they're often about to be obnoxiously aggressive," she warns. Worse still – and far more common – is the opposite, "ruinous empathy", where you care but you haven't got the courage to be direct and properly say what you think. This, I tell her, is a particularly British trait. "No, ruinous empathy is almost always the problem, everywhere," she says. "In every country in the world!"
Scott's seen enough of the world to know. She studied Slavic literature at Princeton and business at Harvard, before heading out to the wild east of post-Soviet Russia in the early '90s. Within a few years she'd opened a diamond-cutting factory in Moscow. By 2004 she was looking for a new challenge and gave her old college friend Sheryl Sandberg a call. Sandberg – now COO of Facebook and author of the bestselling leadership manual Lean In – was at that time working for Google, and helped Scott get a job as a director of its AdSense division.
Scott recalls a crucial presentation she made to Google CEO Eric Schmidt, with Sandberg in the room. "Luckily, when I said how many new AdSense customers we'd added he almost fell off his chair. I felt like the meeting had gone very well, and I was expecting a high five from Sheryl."
Scott didn't get a high five, however. Instead she got some honest feedback. "Sheryl said, 'You said "um" a lot in there.' And I brushed it off – I thought, If that's all I did wrong, who cares? And she stopped and said, 'I can see I'm going to need to be more direct with you. When you say "um" every third word, it makes you sound stupid.'"
"A lot of people would have said that was mean," Scott says. "But, in fact, it was the kindest thing she could have done for me at that moment. I was in my mid-thirties – why had no one ever told me I had that problem? It's like going through your whole career with spinach in your teeth."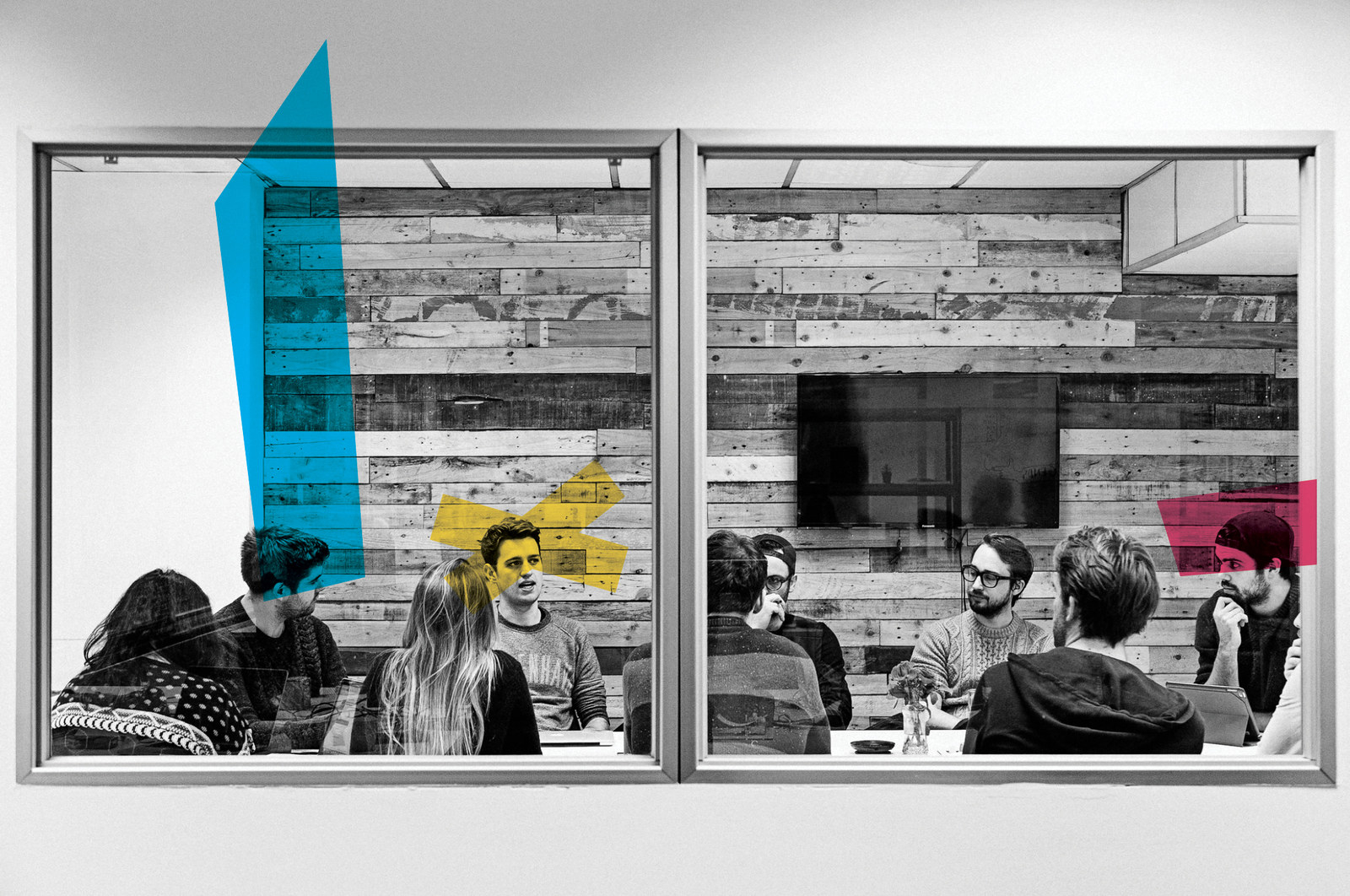 It's my second day at Charlie HR, and I'm sitting in on a morning of monthly "one-to-ones" – catch-up meetings between individual employees and their managers that serve as another opportunity for both sides to get things off their chests. These mostly take place in a coffee shop across the road from the office, where the waiting staff are clearly growing impatient with the fact that a stream of people have been coming in and out for hours and we've only bought two flat whites between us. Luckily they're too polite to say anything.
Topics up for discussion include feelings, productivity, goals, frustrations, friendships, tensions, and home truths. The whole thing is emotionally exhausting – like sitting through back-to-back psychotherapy sessions. Most start with a recap around what's happening in the employee's personal life – what Scott would call "moving up on the care personally axis". That's followed by feedback on things such as time management and communication, where employees are challenged on the ways they work.
In return, criticisms are passed up the chain. For example, one coder isn't pleased that he's having to give up the forthcoming weekend to go on a company retreat to Northumberland. I can empathise – 24 hours of Radical Candor in a isolated house near Bamburgh isn't my idea of nice, relaxing time off either. Another, relatively new member of the development team has some feedback on the whole culture of feedback. "It's a surprise how many meetings there are," he says. "It does eat into coding time."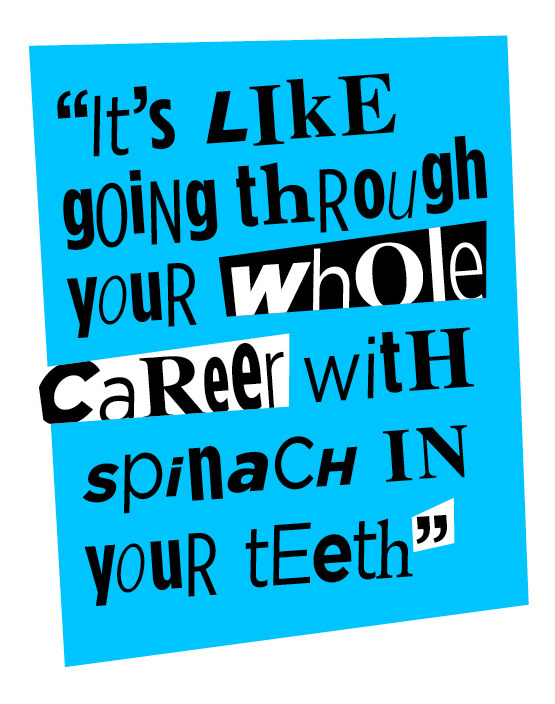 I've been invited to sit in on yet another one-to-one in a few days time by Gateley, the COO. It's becoming clear that he is the mastermind behind the Charlie approach to honesty – the king of Candor.
"He's hyper-, hyper-sensitive to people stuff," one woman tells me. "And so self-reflective. It is quite a therapeutic approach." I'm guessing that Gateley is also the librarian for the large number of leadership, psychology, and self-help books on the Charlie office shelves. I flick through a few titles including Ego Is the Enemy and Hardwiring Happiness. I also see The Interpretation of Dreams and several other books by Sigmund Freud.
"I'm much more of a therapist than an owner of a business," Gateley tells me. He's taken me out for lunch at a nearby Thai restaurant. "I don't believe in work-life. I believe in life," he continues, between mouthfuls of pad Thai. "There's no difference. You can't work well with someone if you don't know them truthfully and in good detail. I like to talk about childhood, about parents. I like to talk about girlfriends and boyfriends. I like to go as deep as I can. If I don't understand that stuff, I can't support them.
"I cannot explain to you the kick and buzz I get from seeing somebody do really, really well. But the part I probably don't talk about that much is: It's really hard to care. Radical Candor is hard. It's emotionally hard. No one is a completely selfless human being. Yet I try to be as selfless as I can."
What about feedback, I ask him. What's been the one piece of feedback that he's found it hardest to deal with?
"'I don't know what you do.'"
Someone's said that to you?
"On multiple occasions. Publicly and privately… But they don't need to know what I do."
How do you cope with something like that?
"For that first instant you have an emotional response. But if you suppress that, just for a minute, and then have a conversation about it, you're much more logical. One of the big things about Candor is that you never argue it. That's dangerous."
But do you have to accept it?
"Yes."
But what if it's incorrect?
"That's OK… No one is perfect at any of this stuff."
It's hard not to admire Gateley's commitment to all of this. In particular, he's looking forward to an upcoming one-on-one with a new team member. He thinks he hasn't yet seen their true face. As we find out, he's right.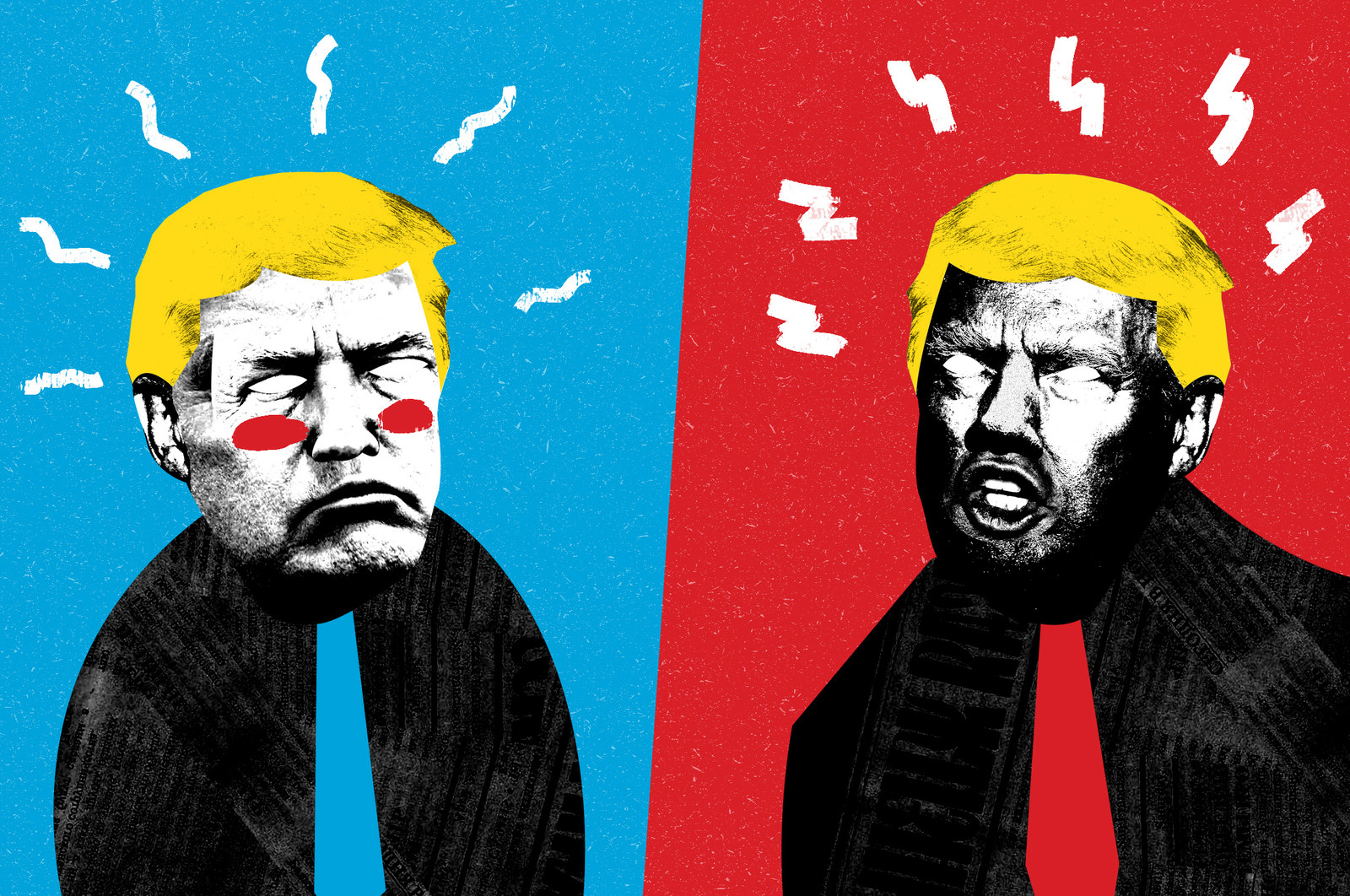 I take a day out of the office to visit Patrick Baert – head of the University of Cambridge Department of Sociology – and get his take on whether human beings are properly equipped to be this transparent with each other all of the time. His office is small, book-lined, and smells reassuringly of dust and learning.
He doesn't share Scott's ideals when it comes to communication. "The very fabric of social interaction relies upon elements of basic diplomacy," he says. "We're able to get on with things that we do, and with other people, partly because we don't tell them all the time what we think, and they don't do that to us either. We've always operated with some level of institutionalised hypocrisy. That's part of human nature."
Even so, he recognises that there's growing support for the idea of "telling it like it is": "I would even say there's a link with some of the political developments that are going at the moment, where people are particularly appreciated if they are seen to be authentic and to speak their mind. Trump's appeal to a large section of his electorate is about appearing authentic – he's not just performing the role of the Republican presidential candidate who has to say this or that, or who can't say this or that. In the UK, in the context of the EU referendum, the appeal of Nigel Farage has been of this kind. Him in a pub with a beer somehow seems to confirm that message."
Trump and Farage, the poster boys for Radical Candor. "It's an absolute disaster!" Baert cries. "With this new Candor, would it be possible for you to tell me that you utterly dislike me because of the accent with which I speak? There must be a grey area where you you can hide behind this facade of authenticity in order to say the most obnoxious things about your colleagues.
"This could never be manifested in its complete form. I think it would be living hell for people."

Back in the Charlie office, it's the Monday after the weekend retreat. No one wants to talk in detail about what went on, but I'm told by several people I would have "freaked out" had I been party to some of the things that were shared. The atmosphere in the office is especially convivial. People are walking around with big smiles on their faces, as if a weight has been lifted.
It's time to join Gateley for the one-to-one, so we head back out to the same long-suffering coffee shop. Gateley begins by reflecting on the weekend's events. "I can imagine some of the situations you've found yourself in are quite intense," he says to his employee, who hasn't been with the company very long. "There's no pressure. We'll talk about whatever you want to talk about."
Five minutes into the conversation, she's in tears. There's been no feedback – negative or positive. She's not crying because Gateley's been mean to her. It's the opposite: He's been overwhelmingly nice. She opens up. Problems are shared, and end up seeming easier to deal with as a result. For a work conversation it's very personal, and I'm happy to agree not to write about any of the detail. But I'm fascinated by the softness of Gateley's approach. "I've been doing this for years," he says, once the first wave of emotion has passed. "I've had lots of tears. That's exactly what I'm here to do – be someone you can release to."
Scott has written before on what she calls "the fear of tears". "It's not your fault when someone else cries," she advises. "Your job is not to prevent tears – it's to react kindly if crying occurs." That seems reasonable, but at the same time I'm surprised at seeing this level of emotion in the workplace. I phone Scott up again to ask for her take: is this still Radical Candor, or has Gateley gone too far?
"I don't think he's gone too far at all. I think it's wonderful," she says. "I think the emotional labour of management is really important. In order to give feedback you need to prove to people that you care at that level."
But as a result, everyone is absolutely knackered, I point out. "That can happen. There's a reason why it's called ruinous empathy – it can be ruinous. The problems occur when you can no longer function well because you're feeling somebody else's pain so acutely."
She adds: "Also, maybe the person doesn't want to tell you stuff. People have a right to privacy."

I have one more task to complete before I leave the business – I have to give feedback myself. And so, at 5pm on the final day, I head to a meeting room with O'Donovan and Gateley. I've promised I'll tell them what I think.
It turns out that I'm not very good at being honest about their culture of honesty. My little speech, though it's preprepared, is still full of lengthy awkward silences as I try to find the most diplomatic way of articulating myself.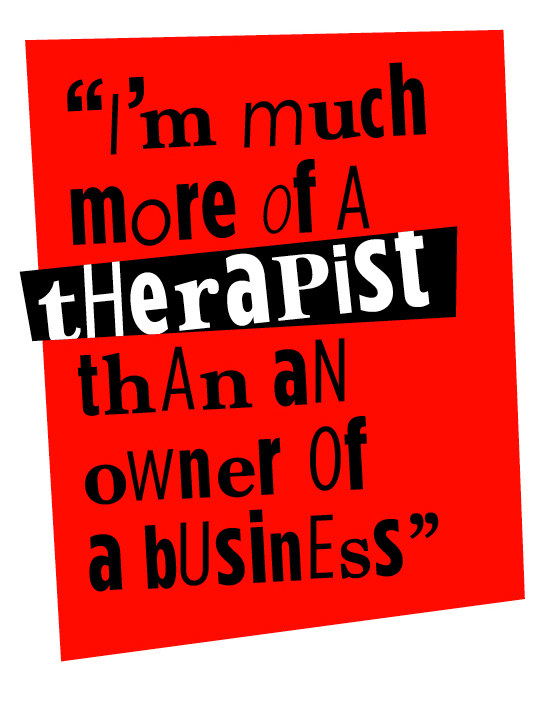 "I've learned a lot being here," I begin. I'm hoping to present my feedback as a "shit sandwich", with thin layers of praise surrounding the central heap of criticism. I tell them there have been lengthy periods of my life that I now realise would have been improved if I'd said whatever was on my mind, and dealt with the pain and awkwardness of that within a few moments, rather than a few months or years.
"But I think there's a desire here to make personal, therapeutic connections with staff members that goes above and beyond the business need," I continue. "Constant self-evaluation is – er – exhausting. And I worry that the therapising causes an eventual erosion of a person's – um – core, where what's left is the process, and not actually the – er – human.
"But I've really enjoyed being here," I conclude, putting the final layer on the sandwich.
Gateley considers this. "The thing I'm thinking is, Do I crave people's need of us?" he says, after a while. "I find the feeling of having someone confide in you, and you supporting them, incredibly addictive. But it takes its toll." I know what he means. I'm tired from simply spending five minutes speaking my mind. But, the big question is, did I do it properly? Was that Radical Candor?
"No," O'Donovan responds, instantly. "You could have given it to us in 15 seconds. No bullshit. Just what you feel."
He's right, I could have. And maybe I should have.

Radical Candor: Be a Kickass Boss Without Losing Your Humanity by Kim Scott will be published by St. Martin's Press in March 2017.