1.
A set of sunscreen reminder stickers — they'll change colors 1) to let you know when your SPF is working, and 2) to alert you when it's time to reapply! These water-resistant stickers work for up to 12 hours, making them great for long days out in the sun. 

Check out a TikTok of the sunscreen stickers in action. 
Promising review: "After yet another bad sunburn even though I'm trying VERY HARD to keep sunscreen on, I bought these. First use was at Disneyland on a 90-degree zero clouds day. This helped so much! I kept an eye (as did my friends) on the dot so we all knew when to reapply sunscreen, and not one of us got burned. I also used these on a weeklong hiking adventure in Utah where it was also in the 90s with an extreme UV index. None of us got burned, so all in all this is one of the best inventions!" —Catherine Shock
Get two packs of 16 stickers from Amazon for $25.99 (also available as a pack of 48).

2.
A dual-head undercoat rake brush that seems to magically yet gently and smoothly remove mats and help you get through shedding season — especially if your pet has thick, long fur that you struggle to keep up with.
Promising review: "Game changer! I can't believe I went so long without this dog brush. I own a German 'shedder' and if you own one too, you know the hair struggle is real. It's like living in a never-ending snow globe of fur. I've tried other brushes that promise the moon but do nothing more than waste money. Not this one! It's like a magic wand for dog hair. With each swipe, it's like I'm peeling away a layer of fluffy clouds.
It's not one of those brushes that cling onto the fur for dear life. Cleaning it is a breeze. Just a quick shake and it's ready for action again. No more wrestling with tangled fur. If you've got a German shepherd in your life, this dog brush is a blessing. It simplifies life, keeps the fur at bay, and turns grooming into a tail-wagging good time. Your couch, bed, and rugs will thank you!" —Elaine
Get it on Amazon for $15.77+ (available in four colors).
3.
A pair of extra-long oven mitts to better protect your wrists and forearms from the hot hot oven.
Promising review: "There is nothing to dislike about these oven mitts. They arrived quickly and I use them every day. I've baked cookies and bread and roasted meat and veggies without a single burn, which is a first for me. These long mitts protect way up on my arms and they are very flexible. No more pans slipping out of my hands because of padded cotton mitts that are too bulky to allow for a good grip. I will never use anything but these mitts, and I'm buying some for my daughter as well!" —Georgia grandma
Get it from Amazon for $14.18+ (available in 12 colors, as well as a slightly smaller size). 
4.
An indoor insect trap that uses a UV light to attract bugs, a fan to suck them in when they get too close, and sticky glue boards to trap them inside. It looks much nicer than most indoor bug traps and does a great job reducing the number of mosquitos, fruit flies, and other insects trying to invade your home.
It's also a great alternative to other sticky traps that sometimes unintentionally trap rodents, leading to a cruel and inhumane death.
Promising review: "This is an amazing product! I woke up in the middle of the night with itching on my hand and face. Now, I live in south Mississippi, and anyone who lives here knows that our mosquito population is healthy! So, I researched and found this product. It had good reviews, so I bought it. Let me tell you, this thing is nothing short of amazing! 
The first night, it caught four mosquitoes in my bedroom. The second night, five in my daughter's room. I set it in all four bedrooms for over a week and caught mosquitoes in all rooms. In the kitchen/living room — six mosquitoes, two house flies, and three fruit fly-looking things in one night. I turn it on every night somewhere in the house and it catches mosquitos....every night. Bottom line, it works very very well! If you see one mosquito in your house, there are likely dozens, and every time you open the door, more come in. Buy it, it works!" —Vincent
Get it from Amazon for $39.59+ (available in two colors and three strengths).
5.
A Goody Hair Spin Pin capable of doing the work of 20 bobby pins for an impressive and easy-to-achieve all-day hold!

Simply gather your hair into a ponytail, twist your hair into a tight bun and tuck in the ends, then spin one pin from the top and the other from the base.

Promising review: "I must confess I am obsessed with these. I discovered spin pins this summer. I love them!! I have medium-thickness hair, and these work well for me. They are so simple to use and keep my hair up all day!! I own several pair." —kc in va

Get a set of three from Amazon for $6.89+ (available in two styles).
6.
A windowsill sweeper with five different-sized brushes to help you reach those troublesome nooks and crannies around your windows, sliding door tracks, and other tight spaces that are tough to clean.

It comes with a regular brush, a small brush, a bristle brush, a slimmer one for tight spaces, and a duster specifically meant for blinds!
Promising review: "This set is great! Sure, I could get by with only one for just windows, but to have all the options lets me clean a multitude of different areas. I am obsessed with these and have been finding new places I never thought needed it, but I do! I love these!" —Annie Stasand
Get it from Amazon for $11.99. 
7.
The famous Alleyoop Pen Pal, which is a multicolor eyeliner, lip liner, highlighter, *and* an eyebrow pencil in ONE tool so you can stop lugging around jam-packed makeup bag.
It's vegan, cruelty- and paraben-free, and the packaging is recyclable! 
Alleyoop is a woman-owned small biz that takes "beauty efficiency" to a new level. Most of their products are compact and have several functions!
Promising review: "This 4-in-1 touchup pen has been such a lifesaver! It is super compact and convenient for on-the-go. I always make sure to have it in my purse before I head out the door. The colors are pigmented, creamy, and glide on the skin easily. Each color is perfect for what I need. I'm obsessed!" —ana, Alleyoop Customer
Get it from Amazon or straight from Alleyoop for $25 (available in three shades).
8.
A bestselling, double-sided PharMeDoc pregnancy pillow with over 59K 5-star ratings from reviewers who *adore* it. If you've been struggling to get some relief and a good night's rest throughout your pregnancy, you'll love how this super soft and breathable pillow's design will accommodate a variety of comfy positions that could make a huge difference!
Promising review: "I'm six months pregnant and I decided to get a pillow. There were a lot of choices and it seemed a little overwhelming. I didn't want to buy a crappy deflated pillow. I purchased this one based on the stars. It seemed versatile and like it wouldn't engulf my whole bed. It came in the mail and immediately poofed up. The cover was cottony and soft. It was nice and full. The price was right, and I didn't have to worry about buying a separate slipcover. I'm really glad the pillow didn't have an odor or look/feel cheap. It has improved my sleeping and has helped me be more on my left side. It's comfortable and leaves an opening for my husband to cuddle me. I would recommend it. I'm literally laying on it now writing this review." —DrM@
Get it from Amazon for $34.95+ (available in seven colors)
9.
A lovely smelling odor-eliminating spray — it's seriously powerful when it comes to helping pet banish smells and stains both new and old. And when it's done, it'll leave behind the scent of fresh-squeezed oranges instead of irritating chemicals.

While reviewers love the way this stuff deals with gross smells, they warn not to spray it directly on pets as some may find it irritating.
Promising review: "LOVE this stuff! Great smell, and stains come right out! New puppy went frequently in one room. That room stunk even after using almost a whole bottle of a different cleaner! I sprayed one time with this, and all the smell was gone! In the pics, the before is of a puppy accident after cleanup with paper towels, and the after picture shows how it looked after using Angry Orange." —Jamie L Stewart
Get it from Amazon for $19.97
10.
A water bottle cup holder adapter because your ginormous Hydro Flask water bottle and Yeti coffee tumbler deserve a place to call home that *isn't* the floor of your car where they spill, rattle, and roll into the never-ending abyss that is the underside of your passenger seat.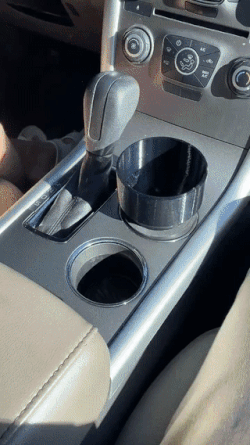 Wine and Whiskey Co / Etsy
It fits 32-ounce and 40-ounce bottles.
Wine and Whiskey Co. is a small business that makes clothes, phone cases, and car accessories!

Promising review: "Love it. Perfectly holds my 40-ounce Hydro Flask. No more rolling around the truck cab. Arrived quickly and works as described." —Jason J. Mease
Get it from Wine and Whiskey Co. on Etsy for $12.99+ (also available in multipacks).
11.
A silicone facial applicator brush for anyone who hates how much product you lose when struggling to apply face masks evenly with your hands. Plus, this thing is most likely cleaner than your hands after a long day of doin' stuff. 
Promising review: "I absolutely love these. I saw them on TikTok and ordered them right away. I've been using them for months now and they make applying masks so much easier. I get a much more even application than I did with my hands or with other brushes. Extremely easy to use, clean, and store. Love love love!" —caterina

Get it from Amazon for $5.50.
12.
An illustrated yoga mat with detailed graphics featuring 70 printed yoga poses to help you build your own routine without having to actually go to a class or pay an instructor.
The mat  is 24" wide x 68" long and 5mm thick! It's made with a moisture-wicking material that'll keep sweat at bay and is great for hot yoga, too.
Promising review: "I use this mat more than I ever took classes. Not sure if it is good for beginners, but if you have basic class instruction already, it gives you a great sequence of moves you are familiar with. Most I can do, but there are a few I have never done." —Mng Parker
Get it from Amazon for $27.55+ (available in eight colors).