1.
A facial ice roller you'll love pulling out of the fridge or freezer to treat your face to some cool relief after spending all day simmering in the sun. 
Reviewers also swear by this for puffiness and migraines!
Promising review: "Well made for the price. I find it's helpful in the morning for puffy eyes. It's great to use after a workout in sunny Florida. I use it to cool down and reduce redness after exercising." —Amazon Customer
Get it from Amazon for $12.99+ (available in nine colors).
2.
A helpful and aesthetically pleasing BruMate insulated can cooler because nothing's more disappointing than your crisp, refreshing White Claw losing its chill before you're even halfway through drinking it. Reviewers love how 1) there's no condensation, 2) it has a non-slip base that fits in most cup holders 3) it's 20 TIMES colder than standard can-coolers, *and* 4) it comes in a variety of super ~cool~ colors so you can choose the one that perfectly matches your vibe.
This fits a standard 12-ounce slim can, and was designed to still be able to fit in car cup holders. It'll keep drinks icy cold for several hours, and twenty times colder than a standard neoprene can cooler. Psst — you can check out the rest of BruMate's options for different-sized cans, wines, cocktails, and more.
Promising review: "I ordered two, one for myself and one for my husband. I've got to say these are an absolutely amazing product. We live in Southwest Florida (it ALWAYS HOTT 🔥). So needless to say having a coolie that actually keeps our drinks COLD, is truly awesome! We absolutely LOVE them. Not only do they keep your drink very cold, they keep them cold for hours. I accidentally left my drink in the car (our very black car) on a day that was pushing just over 98°-not including the 'feels like' temp. When I got back to the car, about 1.5 hours later, drink was STILL VERY COLD! I was absolutely amazed! There isn't ever any condensation, it feels sturdy in your hand, not 'slippery,' and it it not bulky or awkward! Those are just a few of the reasons why I am ordering several more. If you're on the fence, BUY them. They pay for themselves over and over again!" —Kara Ohlsen
Get it from Amazon for $19.99 (available in 24 colors).
3.
A hugely popular set of breathable, cooling bed sheets for all you hot sleepers out there who just cannot seem to nod off without a sheet over your body... even when it's boiling hot in your apartment. Thanks to this set — which has earned over 88,000 5-star reviews — your nightly troubles may finally be over.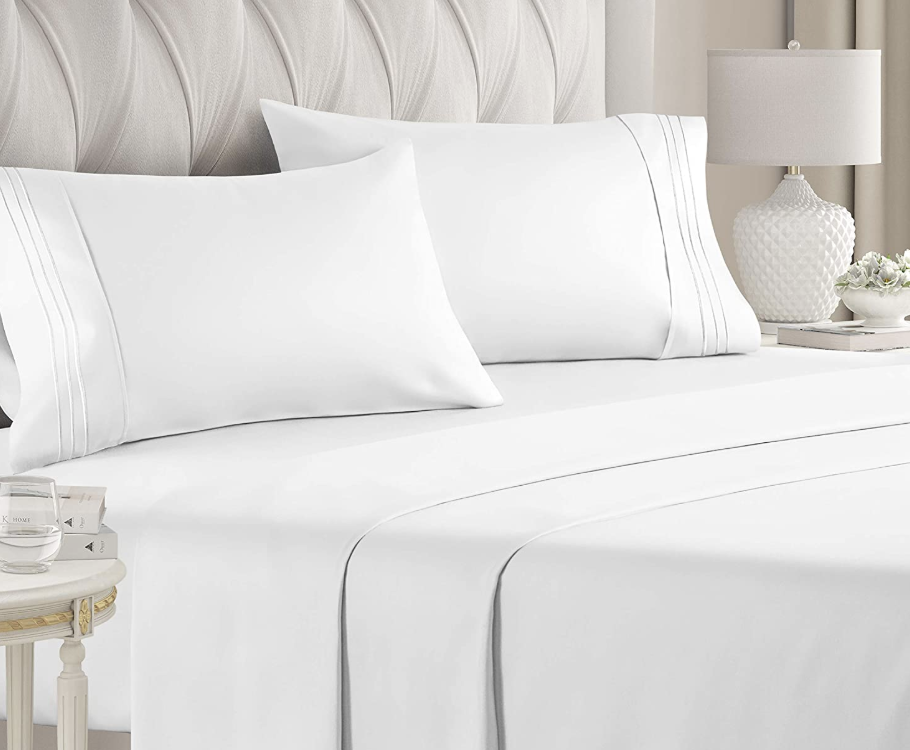 Promising review: "I bought two sets of the sheets, one in navy blue and one in white. I have had the most fun with interchanging the colors so it's really like I have three or four sets sheets. These sheets are just the best, they wash well don't wrinkle even after you slept on them and they just feels so great on the skin. I live in Florida and they are just the best weight ever for the hot humid nights down here, and even if it gets a little chilly with the AC on the body adjust to the cool air with the help of the sheets. I guarantee you won't be sorry that you purchased the sheets. They are reasonably priced — I'm sure there's better for several hundred dollars, but that's out of my budget. I highly recommend these for grandparents moms and dads kids and teens, they are just great!" —HarmonyLady
Get it from Amazon for $27.99+ (available in seven sizes and 19 colors).
4.
And a set of cooling satin pillowcases perfect for anyone who is constantly flipping their pillow to the ~cool side~.  Plus, they're super soft on your skin and help keep your hair from turning into a tangled mess while you snooze. 
Promising review: "I've been using these pillowcases for about a week now and I have to say that they have really seemed to help my hair not be so frizzy when I wake up! I live in a hot and humid climate and my hair normally just makes my life awful this time of year (summer). I have been trying a couple of new things to help my hair, like using Moroccan Oil on the ends and these pillowcases and it's really a lot better. I also feel better about sleeping on my side now and don't worry so much that I'm creating wrinkles. I would definitely buy these again and recommend them!" —R. Spann
Get a set of two from Amazon for $9.99 (available in 23 colors and four sizes).
5.
A hands-free portable neck fan that's a game changer when you have no choice but to be on the go during the hottest time of the year. It charges via USB and will make any outfit look *and* feel much much ~cooler~!
It has three speeds to choose from and also lights up, making you more visible at night. Reviewers note that you should definitely put your hair in a ponytail (but that it's easy to unsnag if it gets caught).
Promising review: "This neck fan is really lightweight and fashionable design. And I'm happy with the powerful airflow, good solution to keeping cool. The mini neck fan can be adjusted between three speed modes: low, medium and high, depending on your needs. Easy to fit in any backpack, also it can be placed on the table as a desk fan. A very nice product." —Ashley
Get it from Amazon for $11.99 (available in six colors).
6.
A lightweight ventilated cooling cap with UPF 50 protection you can wear on its own *or* under a hat or helmet to help beat the heat. All you have to do is get it wet, and it will instantly chill to 30 degrees below average body temperature in under 30 seconds so you can stay cool for hours! Plus, it'll help keep sweat from dripping into your eyes, which we can all agree is the WORST.

7.
A set of popular moisture-wicking exercise socks designed to help keep your feet cool and dry, while also helping prevent blisters so you can go about your regular routine even on the hottest days without dealing with sweaty, painful foot discomfort. 
Promising review: "Great running socks! I got these for the tab in the back that fits high enough in my running shoes to eliminate blisters. These definitely handle moisture, even in the Florida heat." —Leslie Cornwall

Get a pack of six from Amazon for $14.95+ (available in four color combos and sizes S-L).
8.
An easy-to-use Takeya cold brew maker with an an airtight lid and stainless-steel filter so you can just pop in some water and your favorite grounds, leave it in the fridge overnight, and have 4 servings of perfect cold brew ready to chill you out on hot days — without having to leave the house and face the boiling sun! 
Just add up to six tablespoons of your go-to coffee beans into the filter, fill it with water, and leave it in the fridge for 24 or up to 36 hours. Then, remove the filter from the pitcher and — BAM — you've got some delicious coffee that'll stay fresh for up to two weeks in the fridge!
Promising review: "This was my first cold brewing experience, but this product made it easy! Just put your coffee in the filter, fill it with water, and forget it in the fridge for a day! Plus, I love that everything comes apart easily and can be put in the dishwasher." —shackelforrd
Get it from Amazon for $19.99+ (available in two sizes and three colors).
Check out one BuzzFeeder's full review to learn more about why we love it.
9.
Or a HyperChiller for anyone looking for more immediate chilling action. This thing will turn any hot or cold non-carbonated drink into an iced one in *less than 60 seconds* WITHOUT watering it down. Try it out with wine, cocktails, or even steaming hot coffee and thank me later! 

Promising review: "I'm absolutely in love with the Hyperchiller!!!! I live in South Texas. It's HOT and that makes it hard to enjoy my coffee in the morning. This little thing gives you iced coffee without watering it down!! There are three compartments- outer most compartment is where you put in water to freeze, middle is where the coffee is poured and then inner most compartment is more ice. When you're ready for your coffee you pour it directly into the lid which goes into the center compartment. You can let it sit or swirl it around. And WHALAHH!!!! It's honestly the coolest thing!!" —Staci Leitko

Get it from Amazon for $24.99+ (available in three colors). 
10.
A set of insulated blackout curtains to form a barrier between your bedroom and the scorching heat just outside your windows so you can stop feeling like you're waking up inside a sauna every morning. Plus, it'll also help keep light and noise out so you can sleep in without being disturbed!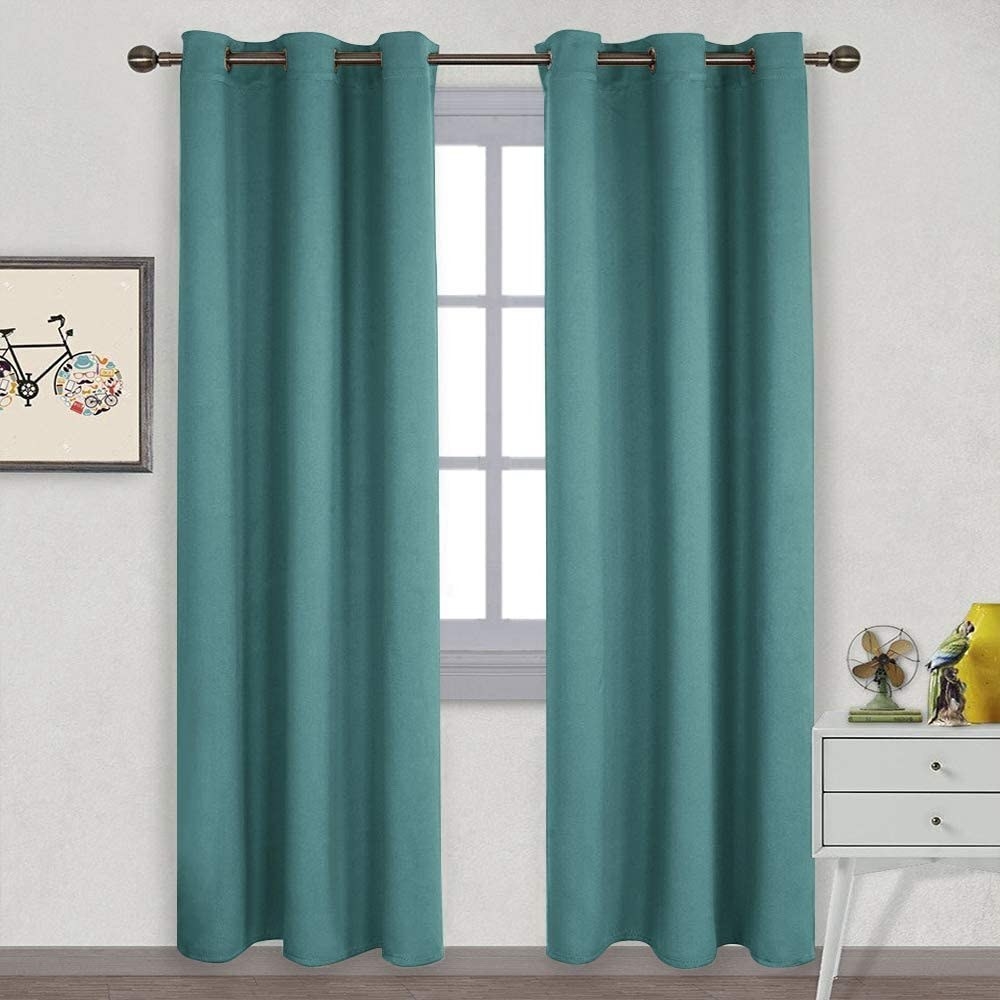 Plus, these come in a bunch of colors so you can find ones that match your home's aesthetic perfectly!
Promising review: "The material is soft, not the hard cardboard feeling. We bought the smoke grey and boy, looks elegant when hung up. I couldn't believe the difference it made, it blocked out the sunlight! Yes it made the room dark but look at what I'm buying. That room would get so hot, you could feel the heat from the sun the glass sliding door and through the curtains. Game-changer with these new curtains. Just one day after after installing them, I walked in and I couldn't believe how cool the room was. Totally recommend this product." —Mo Mo
Get it from Amazon for $20.90+ (available in 10 sizes and 25 colors).
11.
An ultra-cooling bamboo fabric sleep set so you can stop waking up in the middle of the night to remove sweat-covered layers of sleep clothes.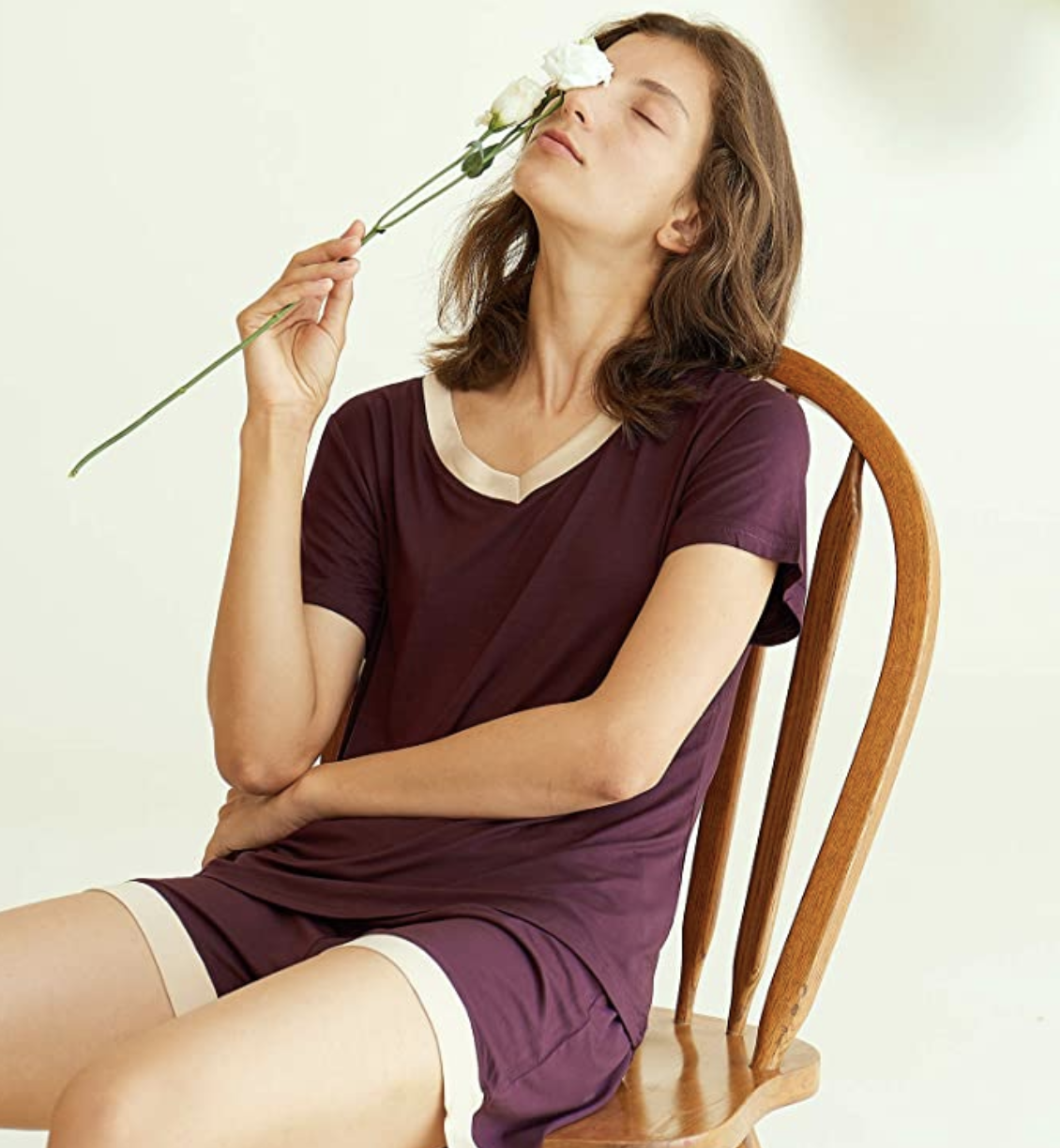 Promising review: "I will never buy another pair of warm weather PJs again other than these. I am a thirtysomething post-baby lady, and with my hormones paired with living in Arizona, I needed PJs that were cool and comfortable. But I often found that the fabric of other PJs would rapidly get worn, pilled, and rough. These silky soft PJs have been going strong for months now through countless hot flashes and heat waves when it would get into the 80s in our bedroom. If you are a hot-blooded person and need to cool down, I can't recommend these PJs enough. I literally never leave reviews but felt compelled to preach to others the good word of Latuza's PJs." —Margery
Get it from Amazon for $21.99+ (available in women's sizes S-4X and 13 colors).
12.
A durable adjustable folding umbrella for when you wanna spend the day out in the yard, but need somewhere shadey to hide from the sun.
13.
Or a "sport-brella" — an adjustable personal umbrella complete with a universal clamp so you can latch it onto *any* chair for instant shade no matter where you are! Plus, it easily folds down and comes with a compact, lightweight carrying case, making it easy to transport if you're on the go.
Psst — a lot of reviewers swear by this for easy hands-free shade solutions for strollers and wheelchairs as well!
Promising review: "I live in Florida and have two children in sports that I spend countless hours going to practice and games in the hot summer sun... I quickly learned to get a clip-on fan and umbrella to help stay cool, but the small sporting goods store umbrellas only ever seem to work if the sun is directly over your head, not coming from the side, or roasting your back or neck. Finding this Sport-Brella was like a gift from above. It is bigger, blocks more sun, and most importantly, can be adjusted into all kinds of angles to block the sun from whatever direction it comes from. It is also more durable than previous sport umbrellas I've used in the past. I'm sold on this... it costs a little more, but well worth the investment if you need to spend a lot of time at games and practice." —Wolfshanze
Get it from Amazon for $22.48+ (available in two sizes and eight colors).
15.
A convenient tabletop fan designed so you can have your own personal breeze whenever you need it most. Reviewers also love how the white noise it gives off helps them focus or fall asleep. 
Promising review: "I was blown away (no pun intended) by how well it circulates air in a child's bedroom! We set it on the dresser and it easily reaches the other side of the room with air even on the low setting and keeps the room cool at night very well on the high setting. We live in Arizona so we need the circulation! Overall wonderful fan for the price!" —Sarah

Get it from Amazon for $21.18+ (available in two colors).