1.
Genius "No Splash" nail clippers designed to catch the nail clippings instead of letting them fly every which way (except for *into* the trash can). Now you can avoid having to go on a scavenger hunt for sharp pieces of nail every time you wanna give yours a quick trim.
Promising review: "Best nail clipper I've ever owned. All my life I've had stainless-steel nail clippers that slip from my fingers whenever I have to cut my nails, which bends the nail and adds pressure onto my nail bed. With these clippers, the groove lets my thumb sit comfortably. It cuts very well, and there's no need to put too much pressure when cutting a tough nail. The nail catcher is a good bonus. It prevents your nail debris from flying all over the place so you don't need to hover over the trash can. I use the built-in nail file to shape those sharp edges and it does the job very well. It eliminates the use of switching over to an individual nail file. I also like the little case that it comes in. It keeps me from losing my nail clippers." —Jasmine

Get them from Amazon for $13.99.
2.
A single-handed tape dispenser that'll make you wonder why you ever struggled with any other kind. Now you can quickly and easily wrap gifts, seal up envelopes, and more while making them look *way* neater. Simply pull the trigger to release the tape, and let the trigger go to cut the tape — it's that simple!
Promising review: "My last tape dispenser was awful. Threading the tape through the mechanism was a PITA. The gears and springs would fall out when you opened the damn thing. Eventually, the tape started to cling to the roller and would rip the paper I was trying to tape. This design is great; the tape self threads itself when you put it on the rubber bands, the tape stays on the inside of the device until you press the trigger to release it, the tape self cuts when you let go of the trigger. Everything can be done with one hand. Wonderful!" —Billster

Get it from Amazon for $13.99 (available in four colors).

3.
Some Sevích hairline shadow — it makes it easy to touch up graying roots and fill in thinning areas without the hassle of going to a salon or dying your hair at home. Simply dip the applicator into the powder and dab it into your hair for fuller-looking hair!
This stuff is cruelty-free and contains nontoxic plant fibers and beeswax so it's safe to use on your skin.
Promising review: "This product is AMAZING! If you have thinning hair or graying hair, this powder is a must-have. It even creates a bit of volume to my very thin hair. I've purchased many different hair products to conceal my thinning hair, most are ineffective, messy, or leave my hair feeling greasy. This is super easy to use; I even use it for my sparse eyebrows: I simply use a soft, small lip liner brush to fill in my brows for a natural look. I also love that it lasts till your next shampoo. At first I didn't like the built-in sponge, but I've grown to really like it. The powder sticks to the sponge, making it easy to apply to whatever area you want to cover up, and the powder doesn't come off on pillows if you leave it on overnight." —Amazon Customer
Get it from Amazon for $9.98 (available in 12 shades).
4.
A versatile chop, slice, and dice unit here to simplify your meal prepping! Forget chopping your veggies one by one and having to clean a cutting board when you can just toss 'em in this device! And when you're done, just pop out the interchangeable blades and throw 'em in the dishwasher!

Check out a TikTok of the veggie chopper in action. 
Promising review: "Makes life so much easier. I can't imagine chopping onions or bell peppers by hand anymore, and it does so much more. We used to have a Prepworks chopper which was a similar idea, but you had to press so hard to chop, and it broke after not too long. This one requires very little effort to cut through the food and it has a generous container." —Amazon Customer
Get it from Amazon for $29.99 (available in three colors).
5.
An apple slicer that makes preparing a quick snack almost absurdly quick and easy. Try drizzling some honey over your perfect slices and thank me later. You'll never cut an apple by hand again!
Promising review: "I didn't know that an apple slicer could be this amazing! I no longer have to fight to get the apple slices out of the slicer and rip them apart. The bottom of this slicer pushes the slices through which separates them. Mind blown! And as a bonus, the bottom protects the blade while being stored. It just keeps getting better!" —AZMom
Get it from Amazon for $7.99.
6.
A "flossing toothbrush" great for anyone (kids *and* adults) who hate flossing and will do anything to avoid it. This toothbrush has a second layer of bristles that are longer and ten times thinner so they can get between teeth and function like floss while you brush for an extra deep clean. Reviewers also note that this toothbrush is great for people with sensitive teeth when used gently!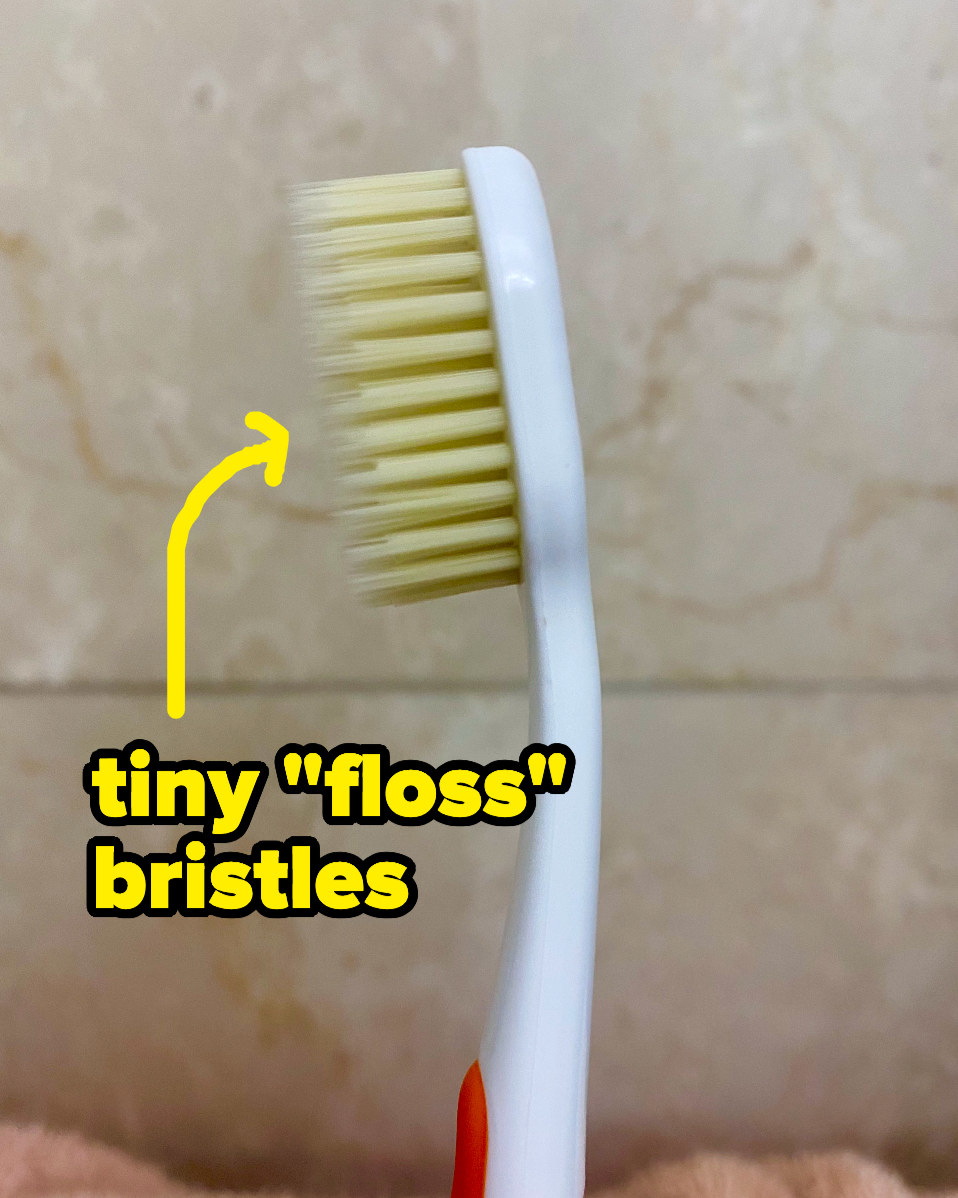 Mouthwatchers is a small business established by Ronald Plotka, DDS, that specializes in antimicrobial toothbrushes designed to get deeper cleans even patients with "great" dental hygiene might miss with traditional brush and floss routines. 
Here's why BuzzFeed writer Emma Lord loves this toothbrush:
I personally bought this a few months ago and love it! I use an electric toothbrush usually, but I feel like I'm getting a much more satisfying clean from these?? Especially because I tend to get yellow stains between my teeth no matter *how* much I floss, and these bristles seem to actually target that a lot more effectively. I've switched to using this in the morning and the electric one at night and definitely see a difference in that area in particular. 
Promising review: "This was another one of my TikTok purchases! I was skeptical but my kids hate flossing their teeth so thought this might help in between making them floss. They work amazing! My kids said they could see and feel a different on the first use and I agree! They are definitely with a try! I would suggest not pushing too hard, those tiny bristles really get in there and if you push too hard you nights be sore like I was. It felt like after going to a dental cleaning." —Amy N. 
Get a two-pack from Amazon for $9.90. 

7.
Some Wet & Forget shower cleaner — it makes it easy to keep your tub and shower nice and shiny. All you have to do is spray, let it sit, and rinse — and it'll clean and prevent scummy buildup all on its own. No scrubbing or wiping required — hooray!
Promising review: "This stuff is amazing! I had a horrible gray ring in the bottom of my shower that was impossible to remove. I had tried the Dawn dish soap method (with a lot of scrubbing) and had even used toilet bowl cleaner to try to remove the soap scum. My next step was to tear out and replace the shower pan and tile. I figured this was my last chance. I ordered the Wet & Forget spray and really coated the shower walls and floor pan and walked away. I CANNOT begin to tell you how happy I was to rinse down the walls sometime later and watch all that crud roll right down the drain!! This is the best product I have ever used in my life!! Works great and no toxic fumes!!" —Amazon Customer
Get it from Amazon for $20.52 (available in two scents and two sizes).

8.
An automatic pet feeder so you don't have to base your entire lifestyle around your pets' feeding schedule. Simply program this device to release the appropriate amount at food at the time you specify, and it'll handle the rest! 
Promising review: "This cat feeder is amazing! We bought it for when we go on vacation in September but wanted to try it out before we leave. It was very easy to setup, and we have two feeding times a day. It has operated with batteries just fine. It saved our mornings from our two cats crying outside our door for food early in the morning! Have not had any issues with it for over a month. I would highly recommend this product for your vacation or your sanity!" —Amanda Roper
Get it from Amazon for $69.99. 
9.
A Magnetic lash kit for anyone who hates struggling with falsies that require glue and are a hassle to put on. With these, all you have to do is apply the magnetic eyeliner just like any liquid eyeliner, and then place the magnetic eyelash right on top, where it'll instantly attach all by itself!
You'll get five differing styles of *reusable* lashes to meet your different needs, and two tubes of magnetic eyeliner.
Promising review: "They look beautiful. I am so impressed with these lashes. This is the first time I have tried magnetic eyelashes and they work so well. I tend to wear them once a week or so. They are all fun and so easy to put on. I have had these for a couple of months and they still work great! I suggest cleaning them after each use with makeup remover like Neutrogena (the one with the oil in it that you have to shake) and they come out beautiful and clean. When putting them on I did discover with trial and error to first put the eyeliner on and then let it dry by doing other makeup or getting dressed. Then after that is set then put them on. I have small eyes so I found putting them on too close to the inner corner of the eye can be irritating to me and bothersome when I blink. If I put them a tiny bit away from the inner eye they work beautifully. I would definitely buy these again!" —Holly
Get an eight-piece set from Amazon for $17.99 (also available in larger set sizes).
10.
A pack of dishwasher-cleaning tablets because the thing that washes your dishes needs to be cleaned sometimes, too. Not to worry though, you won't ~actually~ be the one cleaning it! Just pop one of these tabs in, run it through a cycle, and that's it. Now your dishes'll come out sparkling and any odor emanating from your machine will be long gone!
These tablets are designed to penetrate, dissolve, and remove odor-causing residue that accumulates inside your dishwasher over time, as well as remove lime and mineral build-up. Using Affresh tablets once a month can prolong the life of your dishwasher and make it more effective at doing its job: cleaning your dishes.
Promising review: "Works extremely well. We haven't done any cleaning on our dishwasher in five years, and the sliding dish trays were tough to pull out or push in, there was detergent build up all over the inside, and there was a milky film on all our cups. I bought Affresh, ran the dishwasher with two tablets while it was empty, and the difference was astounding. There was still some build up and I figured it would require another cycle, so I popped another two tablets in, ran the machine a second time, and now it looks and sounds brand new. No more film on the glasses, no more dirty dishes from clogged sprayers, no more odors, or build up around the door seals. I'm going to be buying Affresh from now on, and hopefully it will extend the life of my dishwasher." —Martoune
Get it from Amazon for $8.99.
11.
A flip top bottle attachment — now instead of struggling to squeeze or dig out every last drop of your expensive lotion, shampoo, condiments, and more, simply attach this nozzle with three legs so you can store it upside down and let gravity do its thing. 
Promising review: "No more wasting product. I love these so much I had to get the six-pack so I can use them around the house for everything. I love that once the bottle is done, you just clean this lid and put it on something else. I love that the bottles don't fall while the product is slowly dripping inside the bottle, and if you use the stoppers, it doesn't leak. The only thing is I wish it came with a lot more stoppers other than that. This is a must-have in your house." —Em
Get a six-pack from Amazon for $25.
12.
Shark Tank-approved Stank Stix that'll absorb moisture and eliminate odors from stinky shoes, gym bags, gloves, and more when simply placed inside.  Now you can stop struggling to get smells out with sprays full of harsh chemicals, and let these Stank Stix do all the hard work for ya!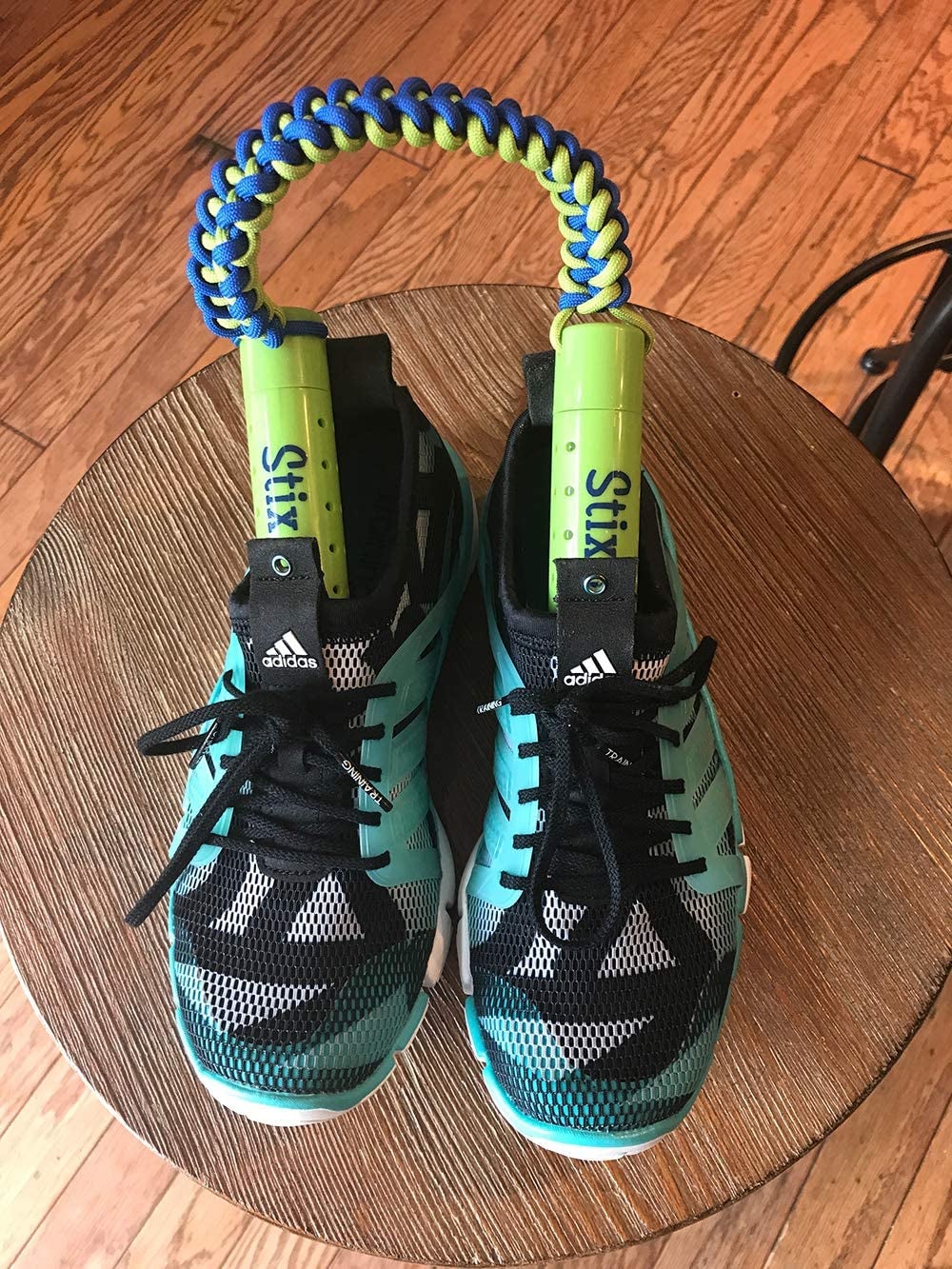 BTW — Lauri did invest in this small, woman-owned biz! You can simply replace the insert ($10.99 for a two-pack) every couple of months!
Promising reviews: "We purchased these for our son's soccer cleats that smelled like cat pee and a dead buffalo that has been eaten, puked up and eaten again and then that animal died and a buzzard ate it and then pooped it out...THEY WERE HORRIBLE!!! The ninja ShoeStix's worked GREAT!!! WILL BE BUYING MORE for our daughters dance shoes!!!" —Matthew Parker
"These ShoeStix have been amazing. I didn't think anything could help with the awful cat urine like smell emanating from my son's soccer cleats, but these inserts have done the trick. Now if you put your nose in the shoe, yes, it will still still smell pretty bad. But they no longer make the entire house smell like cleats and I can now leave the shoes in the house or in the car and not feel the urge to puke. We also use them for my daughter's volleyball shoes and kneepads. If you've ever experienced the stench that exists once a volleyball player removes the kneepads, then you know the pain I experience multiple times a week. Just put the ShoeStix inside the kneepads and put them inside a closed plastic bag and let the Stix do their magic. Definitely worth the money." —K Terry
Get a set (you can detach the handle to separate the two) from Amazon for $29.99 (available in two colors).
13.
An impressively realistic clip-in messy bun — it comes in a variety of hair colors so you can simply attach it to your updo and be on your merry way. Order two if you wanna try out some fun space buns!
INH Hair is a woman-owned small biz based in Los Angeles. Their buns are made of vegan synthetic fiber from Japan. Make sure to read their tips on styling and care!
Promising review (for the messy bun): "My bun game has gone to a new level! Very easy to apply and the feel is very realistic, it doesn't feel like a synthetic hair! The color match was to a T. I have quite fine hair so my usual buns look very odd (like a round pot handle vibe) but with the Sammy, I feel so confident and put-together. The application was super easy and unlike some of the ponies that make you feel weighted, there was no issues with feeling tightened or restricted on my scalp." —Jia
Get them from INH Hair: the messy bun for $45 (originally $45; available in a variety of colors) and the space buns for $37.80 (originally $54; available in three colors).
14.
A pair of fillable paint touch-up pens that make it easy to target small marks, scratches, and scuffs on walls and furniture — no mess, no hassle, and no struggling to use a paintbrush in tough areas. These'll give you pro-looking results with minimal effort!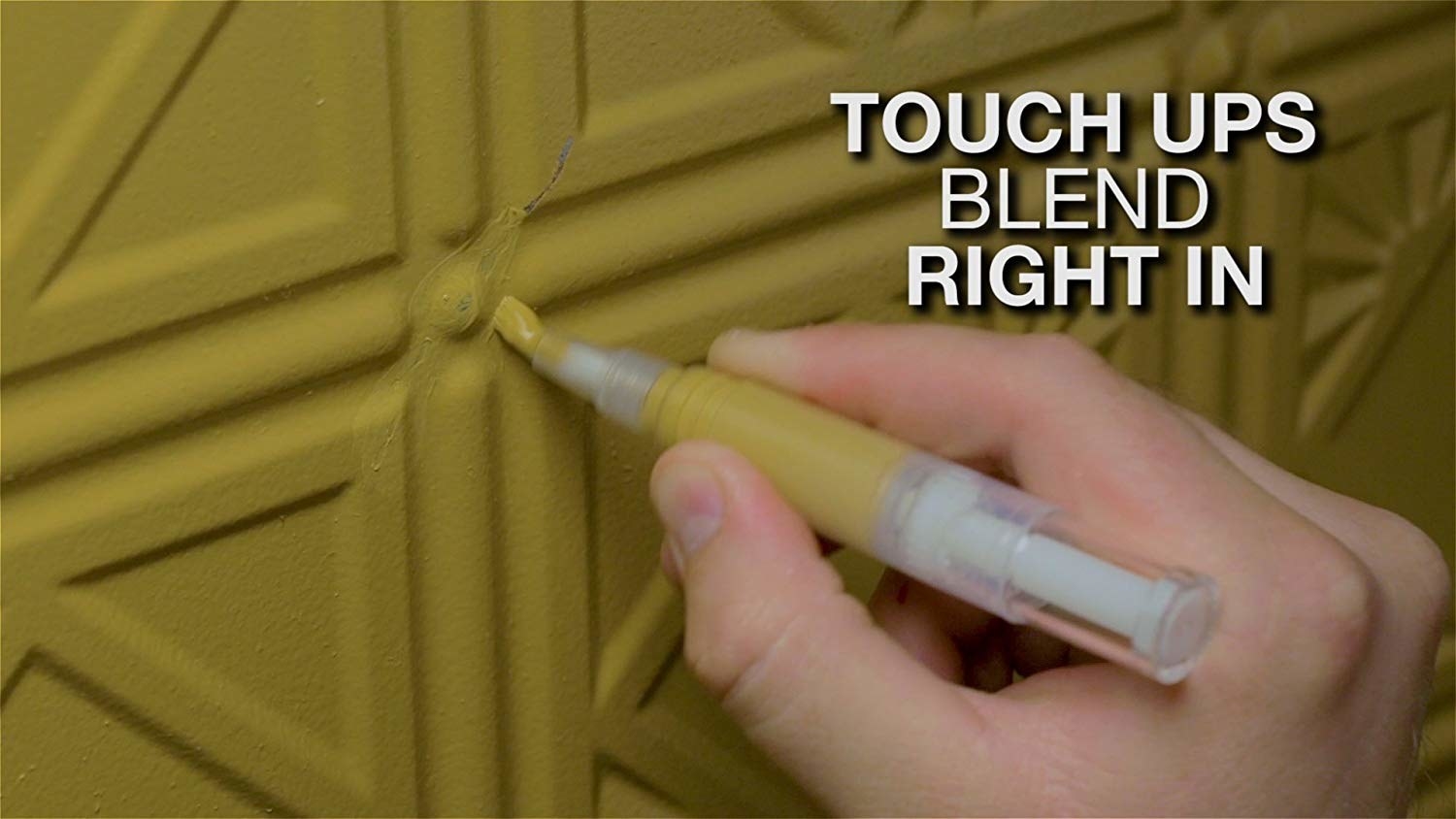 Some reviewers have reported having trouble refilling the pen, but this reviewer has a helpful explanation of how to refill them. Reviewers also say these are *great* for ensuring crisp lines when working with stencils!
Promising review: "How did I ever live without these?! I had these in my cart forever but the price seemed a bit high for what they are. Finally on an impulse I pulled the trigger and bought them. I'm now kicking myself for not doing it sooner. These are fantastic!!! They make small fixes a breeze, especially when two paint colors butt up next to each other at a corner. The brush fibers are great are great and smoothly put the paint in the exact spot. I had even tried buying artists brushes for touchups in the past but they never worked well and I no longer need to pull out the whole can to do one tiny touch up. I have these locked and loaded with every paint color in my house and am ready to go." —AAG338
Get a two-pack from Amazon for $19.99 (also available in a five-pack).