1.
A hydrating intense-therapy lip balm reviewers say is faster *and* more effective than other brands. Not only will it help quickly repair your chapped lips, but reviewers say it'll also help protect them from the sun, wind, and extreme temps so you can ~kiss~ bleeding and cracks goodbye!
Promising review: "My lips usually crack and bleed in the winter no matter what I put on them. This is literally the first winter ever that my lips are perfect. This is the best product I've ever used! It's nice and soft, not greasy. I've bought it for several coworkers who also suffer like I do. I hope they never stop making this!" —Mel Belle
Get it from Amazon for $8 (available in various flavors, multi packs, and variety packs).
2.
A "wrinkle release" spray if taking the time to warm up an iron in the morning is simply impossible. It's also great for those days when you don't notice the wrinkles until the last minute.
Promising review: "HOLY SMOKES. I wasn't expecting this product to work so well. Literally 10 seconds after spraying and gently stretching as the directions suggested, this was the difference! I let it hang for another 15 mins with a subtle improvement, but the first few seconds after were mind blowing. Highly suggest this product if wrinkled garments are planning your closet." —Desiree
Get two bottles from Amazon for $15.94.
3.
A bottle of hard water booster powder you can simply add into your dishwasher if you tend to end up with spots, residue, and hard water film all over your dishes, cups, and silverware even *after* they've been through a cycle.
Promising review: "I could not get my flatware to come out clean from the dishwasher and I wondered if it was the hard water. I was using up to three soap blocks in each load with only partial improvement. I used this the first time and voilà! Perfectly clean flatware for the first time. I LOVE this!" —Susan A
Get it from Amazon for $6.12.
4.
A color-depositing conditioner brilliantly designed to instantly infuse color into your hair with every wash so you can stop dealing with messy home dyes or pricey salon appointments. Plus, the color will become even more vibrant every time you wash your hair using this magical conditioner!
Promising review: "I love this! Never using traditional home dye again. I ordered pastel pink. It was so easy; I hopped in the shower, got my hair wet, and added several pumps to my palm. Then I used my hands to work it through my strands like conditioner. I waited for the five minutes, finished showering, then it was time to rinse. That's it. From bleached blonde to pastel pink in less than 10 minutes total. Results were even better than expected. And I didn't need gloves; my hands didn't get dyed." —Tabatha Carpenter
Get it from Amazon for $22 (available in two sizes and 19 colors).
5.
A bottle of Drop It that naturally removes wine sulfates and tannins in just 20 seconds *without* altering the flavor, instead of the single-use wands that have to sit in your glass and require three minutes of stirring.
Drop It is a quick, portable, cost-effective, and discreet solution that's been verified as the *only* product that removes these compounds in red, white, rosé, and sparkling wine. Plus, one lil' bottle can be used for up to 55 glasses of vino, *and* it's made with an all-natural, keto-friendly formula that doesn't contain any gluten, soy, dairy, or GMOs! 
Drop It recommends one to two drops for each glass of white wine, two to three for a glass of red, and seven to nine if you're treating the whole bottle at once. Once it's in the glass, swirl lightly for 20 seconds, and you should be good to go!
Promising review: "I became really sensitive to wine in my 30s and through a lot of trial and painful error, I thought I might have to give up on wine altogether. Then I found out about the preservatives being a possible cause and decided to give this product a shot. So glad I did!! I'm still pretty sensitive to reds but this helps tremendously so that I can have a glass with dinner without a headache immediately settling in. Whites cause me no problem what so ever! I love that it takes so little product to make a difference to a whole bottle. Just a few drops, a few minutes, and we are good to go." —CastawayIrons
Get it from Amazon for $14.99.
6.
A bottle of Mike's Hot Honey if you wanna add a warming kick to any hot beverage, cocktail, dinner, *or* dessert! This honey is infused with chili peppers for a sweet and spicy combo that's not overwhelmingly hot, but adds a complex flavor reviewers can't get enough of. Some reviewers find that it can also be super soothing for sore throats and colds.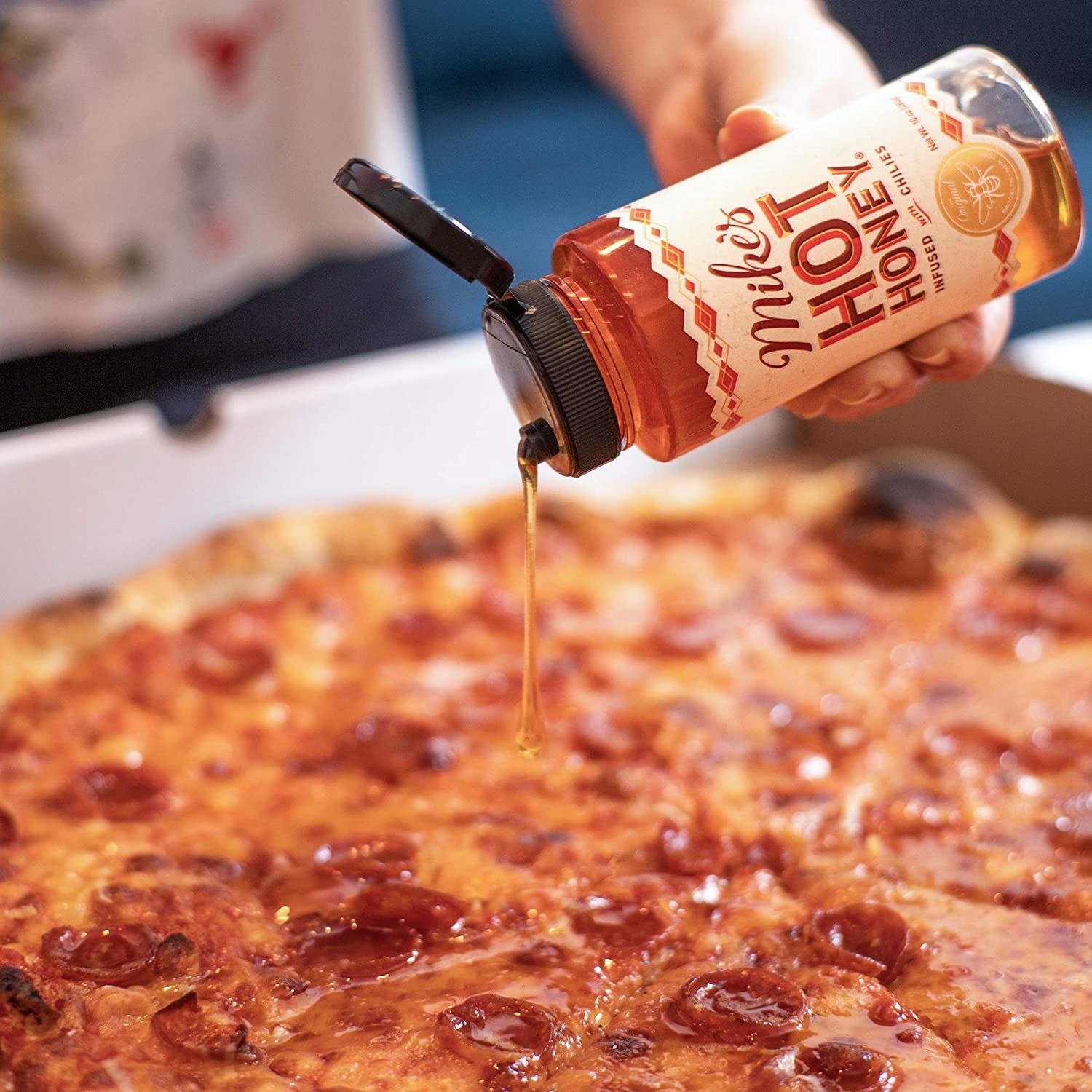 Promising reviews: "It's just the right amount of heat to make it interesting, but not so hot that it'll interfere with other flavors. One of my peeves about spicy versions of normally non-spicy items is that it's often all about the heat but the flavors imparted by the chilies aren't particularly noticeable or interesting. This honey has a great chili FLAVOR to it, in addition to the heat, but it doesn't overwhelm the flavor of the honey at all. I like it on buttered toast and on fried chicken equally well, and this has definitely become a staple 'sauce' for me!" —S. Ferguson
"Lovely in tea. This is my new sore throat reliever. Stirred into hot tea, it's not intensely hot at all, but adds a soothing warm sweetness that really helped." —CAM

Get it from Amazon for $9.98.
And read one BuzzFeeder's full review of the hot honey to learn more reasons why we love this stuff.
7.
A citronella outdoor candle to help dissuade mosquitoes from turning you into their snack every time you just wanna chill in the yard.
8.
Some incredible smelling shower steamers you can place in the corner of your shower to release calming fragrances while you unwind, because shower people deserve bath bombs too!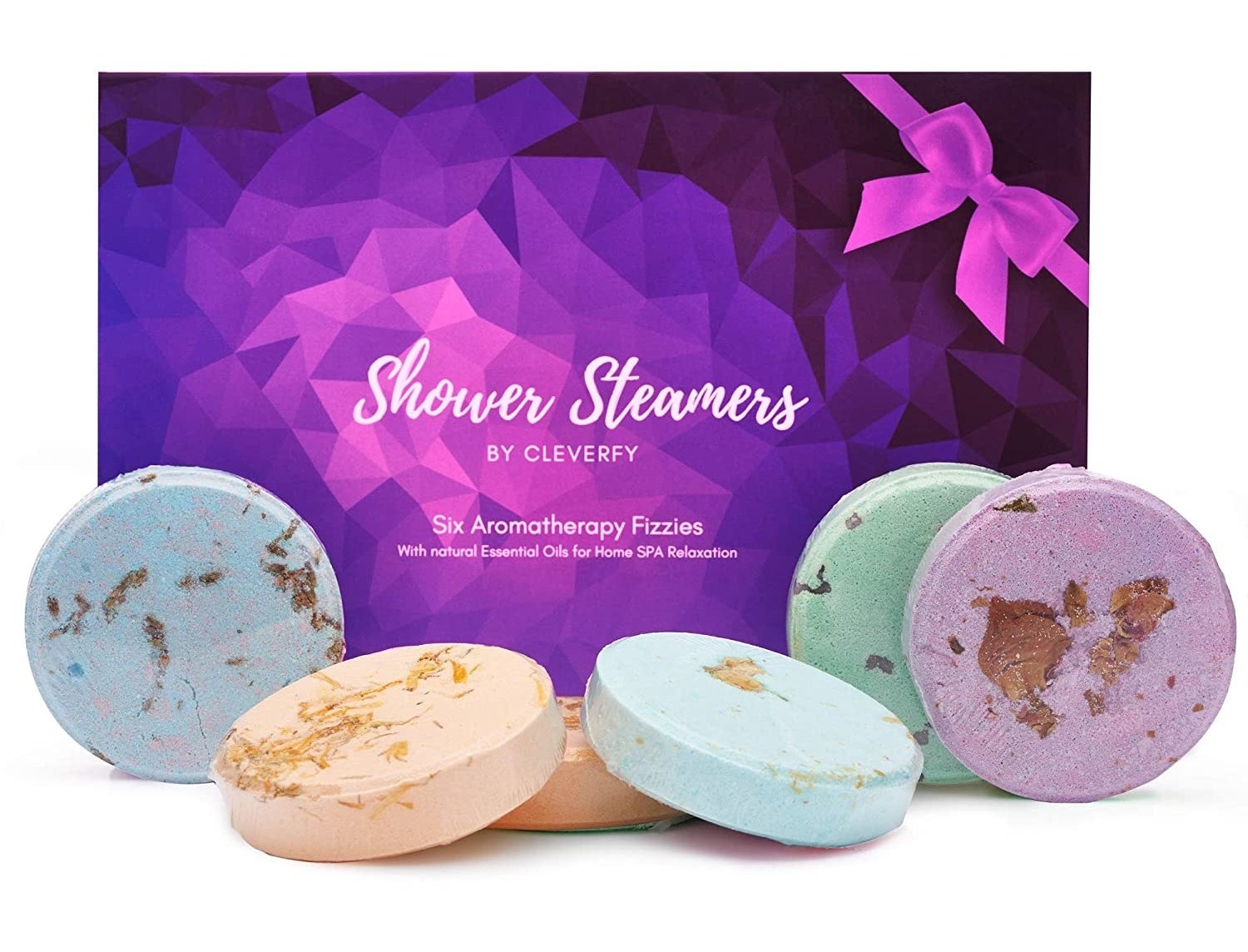 Promising review: "These are the best shower steamers I've ever tried. Usually they aren't strong enough or they melt too quickly to even enjoy. They are also bigger than what you can buy at the store. I'd say they are about a hockey puck size. One lasted my entire shower and still smelled amazing even after I was done. These are the best shower steamers hands-down. I would definitely buy these again." —Krista
Get a pack of six from Amazon for $14.99+ (available in three scent combos and as a pack of 12).
9.
A pack of Tide To Go stain removing pen to save the day and remove those unexpected stains that happen while you're exploring (and eating) your way through a fun (but potentially messy) trip.
Promising review: "These were a lifesaver. I was walking to the bus and decided it was a great decision to drink coffee while walking. Like a scene from an infomercial, I spilled coffee all over my white shirt. Yes, the classic coffee on the white shirt. Luckily I had one of these in my bag (I put one in each of my most-used purses in anticipation of my clumsiness). I went into a store bathroom and quickly scrubbed the Tide To-Go on my shirt. All of the coffee blobs went away and once the awkward wet splotches dried up, my shirt was perfectly white again. You've got yourself a big fan, Tide." —NAD
Get a pack of three from Amazon for $7.74.
10.
A CeraVe salicylic acid body wash for anyone who wants to say "see ya never" to rough, bumpy skin without dealing with the harshness of microbeads. This stuff'll lift away dead skin while leaving behind moisturizing hyaluronic acid and calming niacinamide for a softer and smoother look and feel that'll make people with sensitive skin rejoice!
Promising review: "I never do reviews...but this product WORKS! I have KP on my legs and it got rid of it 10000%. It must be used consistently and you have to also exfoliate with an actual natural loofa or something similar, but YOU WILL SEE RESULTS. Great product for a great price! Would give 100 stars if I could!" —layla mahmoud
Get it from Amazon for $13.99.
11.
Some all-natural, no-scrub Bottle Bright tablets — they'll banish those stains, smells, and tastes lingering in your bottles and Thermoses...pretty much all on their own. Just fill your bottle with warm water and drop in a tab, let it sit and fizz for 15 to 20 minutes, empty and rinse, and that's it!
Promising review: "At work, we have stainless-steel coffee pots with a plastic top that no one cleans and they are often left on for hours at a time. The bottoms got very gross and someone tried to clean them with hot water and soap but not much happened. I bought these, added hot water and two tablets (since they are bigger than a water bottle), and let the pots sit overnight. So much came off with no scrubbing! I then soaked again for about another hour with two more tablets and almost all of the grime was gone. I did scrub just a tiny bit to get all the stains out with a brush I had... They are almost like new! I did this on two pots and we were all amazed by the results. I'm ordering more so that we can clean regularly since it's so easy!" —Heather
Get a pack of 36 from Amazon for $24+ (also available as a pack of 78).
12.
A jar of Sichuan Chili Crisp from Fly By Jing you'll wanna use on EVERYTHING. Seriously. It's hot and tingly without being overwhelmingly spicy, and its bold flavor is so delicious, you won't be able to get enough. This sauce is mind-blowing on everything from noodles and eggs to pizza and even ice cream! *Plus*, it's vegan, sugar free, gluten free, and made without preservatives or artificial flavors.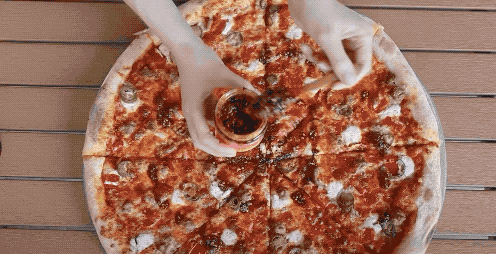 Jing Gao, the founder and CEO of Fly By Jing, is a chef, entrepreneur, and a globally renowned expert on Chinese cuisine. While the flavors are inspired by her hometown of Chengdu, Jing's recipes are deeply personal and offer a unique taste you won't find anywhere else.
I got this sauce as a gift, and I have been obsessed ever since I tried it. It combines the most prized Szechuan peppercorns with fragrant dried chilies, fermented black beans, garlic, shallots and more for a numbing, umami-rich flavor that has enhanced truly everything I've tried it on — without overpowering the other flavors. I've been struggling to find the right sauce to take my home-cooked dishes to the next level, and let me tell you, this is it! Plus, the packaging is super cute and thoughtful, and mine even came with a beautiful little zine that includes a breakdown of the ingredients, some amazing recipe ideas, and more!
Get it from Fly By Jing for $15 or a pack of two from Amazon for $35.96. 
13.
A soft-chew allergy supplement for itchy doggos that can help boost the immune system and relieve allergies and skin sensitivities.
Promising reviews: "Love this product! I would give six stars if I could. My dog loves the flavors and always look forward to get his snack." —The TRUTH
"I have recommended this to everyone who has dogs with allergy issues. Within a week my itchy girl stopped biting and licking and scratching her skin. Her coat is soft and she is happy! All of the stars!" —Lauren
Get a pack of 90 from Amazon for $28.97 (available in five styles and a pack of 250).
14.
A strangely fun-to-use universal cleaning putty that'll get to those nearly impossible-to-reach nooks and crannies in your keyboard, car vents, printer, and other appliances where dust and crumbs are steadily building up.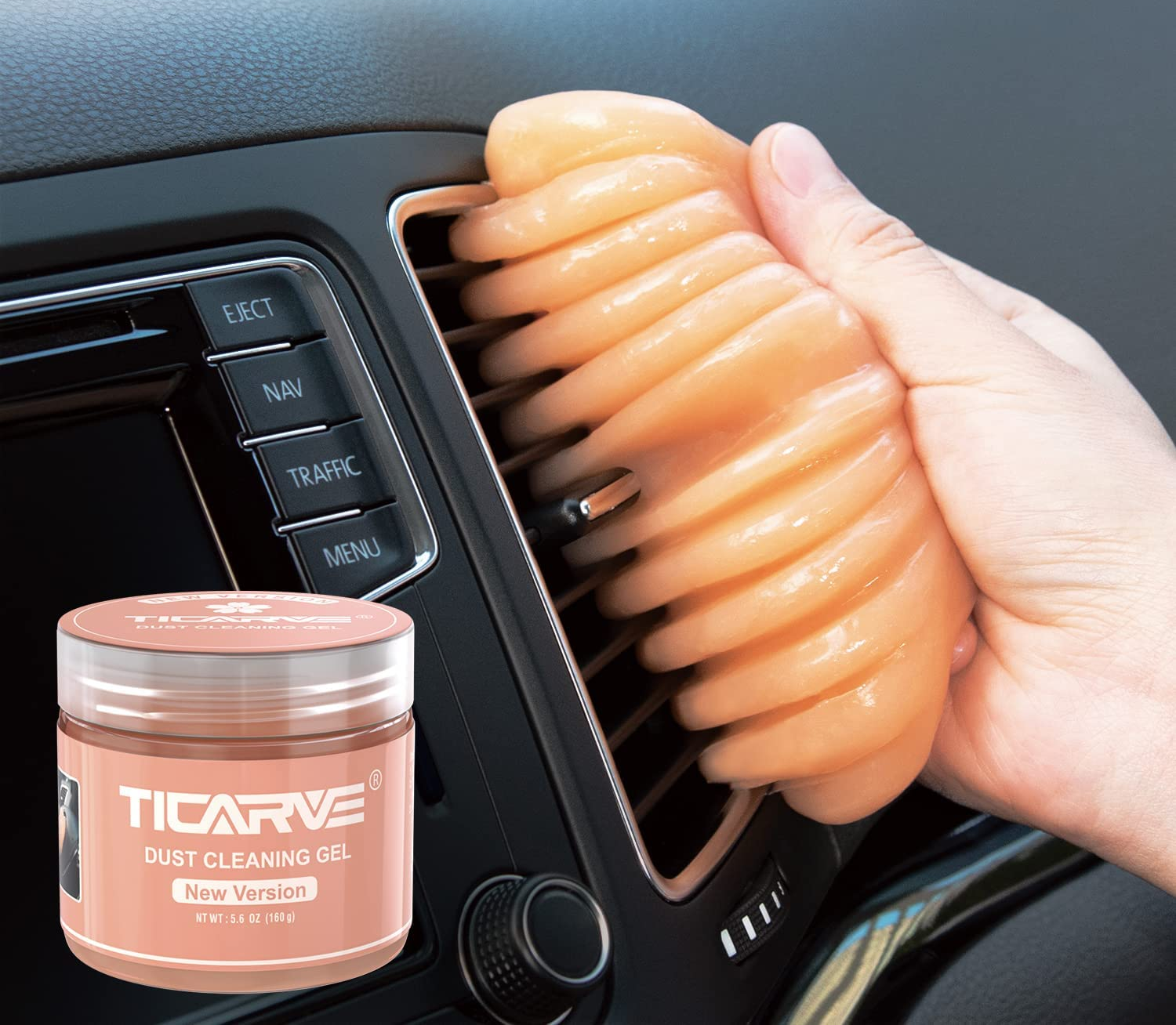 See it in use on TikTok!
Promising review: "This product does exactly what it says it does. I saw this product from TikTok. I was surprised at how easily it picks up dust and small debris, especially from inside of vents and cup holders. The only complaint is the very artificial smell when you use it. It doesn't last, just when it's out of the container!" —Loren

Get it from Amazon for $6.88.
15.
A painless mint-flavored Venus teeth-whitening pen designed to give you quick results with just 30 seconds (!) of daily use. Even *years* of stains from things like coffee, tea, wine, smoking, soda, and more are no match for this thing.
Promising review: "I really liked this product because it gave me significant results in just a few days. I have tried other whitening products but I definitely think this one is my favorite because its not only easy to use but also works very well. There is also no weird aftertaste, and all I do is keep my mouth open wide for around 30 seconds. The whitening capabilities were also great, and I know this because my teeth were stained before but now they are not. Lastly, these pens were very easy to use because all you have to do is twist the dial at the bottom of the pen clockwise, and product comes out. So overall I would rate this pen a 10/10 and I am definitely planning on buying more in the future." —Roy Joseph
Get a two-pack from Amazon for $19.99.